bwin News interviewed Jan Ceulemans, the legendary Club Brugge and Belgium player and triple winner of the Golden Shoe. 'Strong Jan' as his nickname was, gives his opinion on Club Brugge and the Belgian play-off system and looks ahead to his country's chances at World Cup 2018 in Russia.
Club Brugge
Club Brugge started Play-off 1 as the team to beat, but after New Year things seem to have gone wrong. Can they recover, or do you think Anderlecht will become champions?
"I think things still look very promising for them. They have indeed had a lesser period with, if I am not mistaken, seven points out of 18, but other clubs have of course also dropped points, and Club is now 12 points ahead. That is a lot.
"Naturally, the system in Belgium is the play-off system. That means that the first six play the Play-off 1, with the halving of the points. So Anderlecht will immediately come to six points. If everything goes against Club Brugge, and they play their first match against Anderlecht and lose, then they are on three points and everything is possible again. Conversely, of course, if Club Brugge wins, they are nine points ahead, and then it is done in a manner of speaking.
"These play-offs have been introduced to make it more attractive. Otherwise the champion would have been known for a long time already, now the tension remains. I think Club Brugge is still the favourite, but in Play-off 1 everything can happen. "
What do you think of Ivan Leko – has he surprised you?
Yes, of course. I think it was a surprise to everyone that a young trainer, who was laid off at Leuven and then had a good time at Sint Truiden, would do so well at Club Brugge. He had some problems in the beginning. He wanted a new system, wanted to introduce his way of playing football. There were some questions, but he has continued to do things his own way. And let's face it, it's the first time in the league that Club Brugge gets 67 points. So you can say that the combination Leko-Brugge has succeeded."
Diaby seems to be the only Club Brugge player who consistently performs to his best ability – how do you judge the performance of the club's attackers, for example Wesley, Vossen, Dennis?
"The great advantage of Club Brugge is that the substitutes almost always score. If it was not Vossen, it was Diaby, Wesley or Dennis. Those men always scored a goal. I think this is one of the strengths of Club Brugge, and it can become very important in the play-offs. They'll have to stay concentrated, that is also the job of a trainer like Leko, who rather likes to change his attack.
"If you always play, it gives confidence. But you must also be able to stimulate those men. If you sit on the bench, that is not so interesting, then you are disappointed. That is also a plus of Leko, that he can do that, keep those men stimulated, and we will see that in the play-offs. That gives confidence, and Club Brugge does need that, I think."
Are they similar to Celtic – dominant in their national competition, but unable to impress in Europe?
"In Scotland there is only Celtic, the rest does not exist there. That is not the case in Belgium, is it? Here one year Club Brugge plays for the championship and another year Anderlecht. In the past you had Rangers, but now there is only one good team and that is not a good situation either.
"Celtic dominates the home competition, but they do not compete at a European level and that is the same in Belgium. The Belgian level has also seriously deteriorated, for the simple reason that all good Belgians play abroad. Now 15-year-old, 16-year-old talented boys are already bought by foreign clubs. What plays in Belgium is solid, but absolutely no top."
You actually gave an answer to my next question. Why are things so difficult in a European context? Is that a problem of the Belgian competition as a whole?
"Yes, and of course it's financially, eh. I think there's money at Celtic, but do the real toppers want to play there? They can earn a lot of money, but they are not interested, because the competition does not represent anything. The real toppers play in England, Italy and Spain, but the big reason in Belgium is a financial one. You cannot compete against the Champions League teams in any way. You can participate once in a while, that happened a few years ago with Gent, who had a beautiful run, but it's more luck than anything else. We cannot achieve this constantly because the financial difference is too big. "
The club is trying to extend the loan contract of Jordy Clasie until the end of the next season – what do you think of his performance?
"That's a case of trial and error, eh. He came as a very great talent – is that also, I think – but he has not yet brought what they expected from him. He can deliver 200%, but we have to give him the time for that. He also came in the middle of the season, which is not always that simple, joining a team. Now he is there and if he stays for another year, we can really judge whether he is an added value or not.
"He has the qualities and he now also gets more preference from Leko, but I still add a bit of a question mark. And whether they can extend the contract, that is also the question. If they can bind that player for another year, I think much will be possible. "
The play-offs
Which teams and players are you looking forward to the most in the next 10 matches?
"Yes, you always look forward to the top matches. In Play-off 1 you basically have two good teams playing each other every week. And then I think that a lot of people want to see the performances of Club Brugge, the boss in the Belgian competition. But that competition is only starting now, isn't it?
"I expect Anderlecht to start showing something again. They have had an incredible amount of criticism the past year, and rightly so. That tactical, technical football that Anderlecht has always played, that is a little bit gone, but I expect a lot from them, plus Gent. These are the three teams that I expect the most from. These are the clubs that are still participating in the title race."
Are there any specific players that you expect to shine at the end of the season?
"Oh yes, I expect the most from Teodorzyc, who we all laughed at, and actually rightly so, because it was sometimes laughable. And then suddenly he scores three or four goals in a match. We all know that he is not a great technical player, but that boy has led Anderlecht to the title last year, with about 20 goals. I expect quite a lot from him.
"I also think Wesley from Club Brugge. He is still young, is now in his second year, becoming more and more a first choice, and I think he has the qualities to become a real good target man. I think these play-offs are going to make clear whether he is capable of that or not.
"And then there will no doubt be some player in Gent or in Charleroi or at Standard who will have a very good time in the play-offs and be able to surprise."
Which clubs do you rate above average and which ones did you expect more from?
"The clubs that are in the first six have reached their goal. I think the teams that now play Play-off 1 have also earned that and that the other clubs, such as Antwerp and Kortrijk, who are now outside, are not too disappointed."
Belgium World Cup chances
How far do you think Belgium will go in Russia? Do you think they are real contenders to win the World Cup?
"They can go a long way if everyone is fit and I mean in particular the defence because that is the delicate point. We saw that two years ago, against Wales, when quite a few boys were injured. I think we have a very strong team, but that is the question: how far we can get?
"If we assume that we will get Germany or Brazil in the quarter-finals… you can only beat such teams if everyone is fit. Then we must have a good Kompany, a good Vermaelen, Alderweireld, Vertonghen. Those boys must all be fit and really have the form, then we can get very, very far. And you know, for everyone in Belgium this is the best batch we have ever had. We have not achieved any results yet, but now these men come at the age of 27, 28, 29 years, they are at their best."
Fancy Belgium to win the World Cup? BET HERE!
Is this the last chance for this big generation?
"No, not for all of them. There are also boys of 25, 26 years old, who are not going to drop out. They may still have two or three tournaments. Lukaku for example, how old is Lukaku? 24? 25? A large part of this core will remain. At the moment the only question is: what do we have for replacements? And then we come to the conclusion that the problem will be at the back. Because there are still attacking talents around, but the problem is again with the defenders."
Who is more important for Belgian success, Eden Hazard or Kevin De Bruyne? Who is the most likely contender for the Ballon d'Or?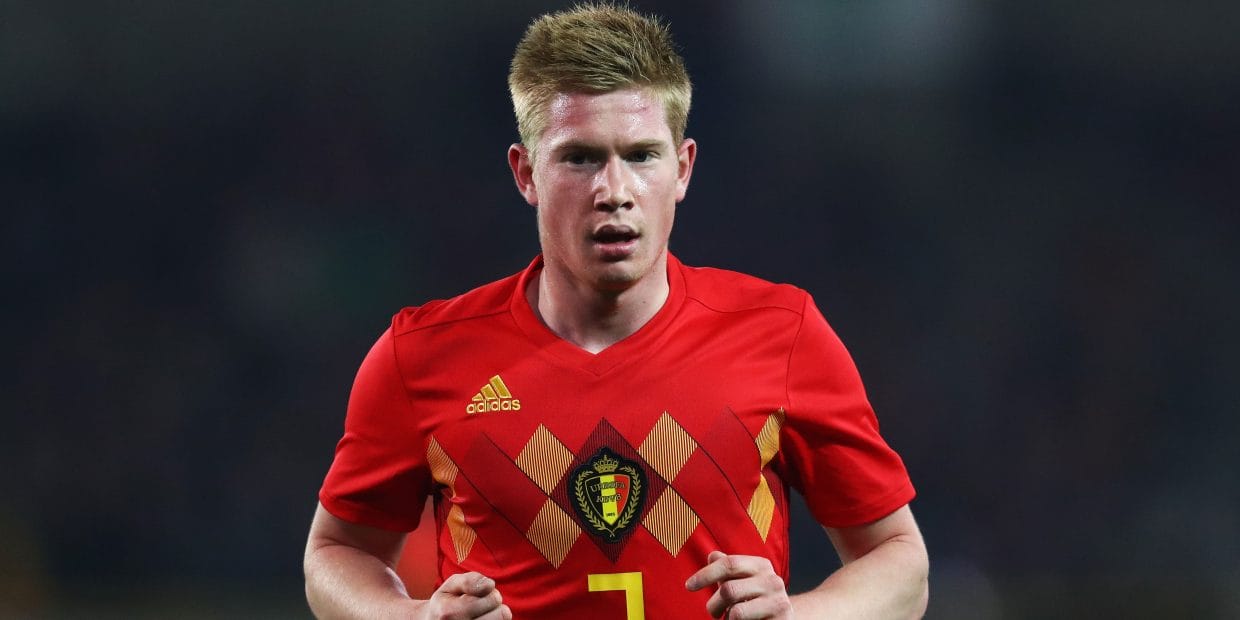 "It is already a big thing that they are on that list. If De Bruyne plays as he plays at City, then he is the boss, where the team can evolve around, and Hazard is the player who can force it individually. On paper these are perhaps our best players, but also a Lukaku, a Mertens … I would rather have them in the team than to play against them.
"Whether De Bruyne is better than Hazard or vice versa, I do not think that matters. If you want to achieve results, want to become world champion, that's a collective effort. Then the whole team must be there, everyone has to perform at his best, and in that case a player like De Bruyne or Hazard can give that 'something extra'.
"I think the collective is the most important thing anyway, and that is the task of the trainer. If you are trainer of the national team of Belgium, it starts at the tournament. Those qualifying matches do not count because you play against Janneke and Mieke, the Belgians could always qualify. But now it's going to start, eh. Now we will see how strong that team is. Are they mentally ready? Because we do have a favourite role. Belgium is seen as one of the better teams, which sometimes makes it more difficult. "
What do you think of Romelu Lukaku and his achievements for the national team? Can he inspire the team, is he good enough?
Yes, I think so. Lukaku is Belgian top scorer. If you play four or five years in England and make 20 goals every year, you cannot fool me that he doesn't know how to play football. He has taken that step every time; West Brom, Everton, Manchester United. I think they are very happy with him there.
"And also, the Belgian team at the moment. It used to be between him and Benteke: which of the two is going to play? I think that at the moment it is 100% clear that Lukaku is the number one. That gives confidence, and a striker with confidence can always do something more. I've always preferred him to Benteke, I do not know why. Maybe because he was younger, and because he went for it. By trial and error, that is true, but always keep going. A boy who also tries to be even better every week, such a type is Lukaku. And that, in one way or another, is going to pay off at the end of the ride."
Is there room for Benteke and Origi in the Belgium team? Who would you take with you?
"Batshuayi and Lukaku are going 100% anyway, but I think you do need four strikers. I think Martinez will take both Benteke and Origi with him. Origi can be played in a number of places. Benteke, of course, a little less, you should not put him left wing instead of Hazard, or right instead of Mertens. He is a real centre-forward."
Is there a young player in the Belgian selection that you think will be the star of the future – someone we do not know yet?
"Uh … that's a very difficult question. What great talents do we have here? They all play abroad. You had Tielemans, who went to Monaco, a very smart transfer in my eyes. Not the absolute top, he can still learn there, is not yet a fixed value. But that boy is not yet 22 years old. That is a talent.
"And then everyone is talking about Dendoncker, but Dendoncker has had an incredibly difficult year. That is also a talent, only he has to confirm his talent now, because I think that under these conditions he is going to have a hard time getting in. That's going to be very difficult on the basis of his season. On the other hand, the 10 games that are coming now will decide whether he will be going or not.
"I do not think there will be many surprises in Martinez's selection. I cannot imagine that suddenly one or two names come up that we have not heard of so far. The core is there. I understand that he follows 50 players, which in itself is very good, but there will not be too many surprises, I think. The talents, yes indeed Dendoncker and Tielemans, who still have the age but they have to confirm it. And for that they have to play better than they have done this season."
Is it worrying that Alderweireld has been injured for so long this season? How high do you rate him as a central defender?
"Very high. He has proven himself, first as a right back and then as a central defender. Solid choice at Tottenham, one of the better defenders in the Premier League. He has, of course, been out very long now, but he still has some time. Two and a half, three months, that must be okay. That is what I just said: those guys have to be fit, because otherwise we will get into trouble anyway. Up front and midfield you can put another one, but at the back it becomes more difficult, because they are such great talents.
"If you can play with Vermaelen, Kompany, Vertonghen and Alderweireld, then you have a very good defence and that, again, is the big problem. So, it is important that Alderweireld is also completely fit. These are four boys who are around 30 years old. That is experience, and that is what we need at such a tournament, where you want to play as long as possible."
Vincent Kompany, the captain of the national team, does not really have the best record when it comes to injuries. Is it a risk for him to play matches at the World Cup in quick succession?
"That question always comes up. We never know whether Kompany is fit or not. If he is, we not only have a very good football player but, more importantly, a real leader respected by those other boys, who are also good footballers. So, much will of course depend on that. The only question is: can we risk that?"
Does Carrasco risk his place in the World Cup team due to his departure to China?
"I personally do not think so. If he had stayed with Atletico, he would not have played there anyway. The only question is: he is 24, is that going to be a disadvantage in the long term? I do not know what those men are doing there in China. If you can earn 10 million, yes, that is incredibly cool, but for the national team … the others all play at top teams. In Manchester, at Chelsea, you name them. But I think, in three months' time, he will do everything in his own way to get to the selection. It's a boy who is physically okay, who can keep running all that way, that is a big advantage. Only, he has to do that in China too, it is one of his strengths outside his football qualities.
Why is De Bruyne so good? Because he can play football very well, he sees things, but one of the main reasons is that he can keep running for 90 minutes. In my view, that is also one of the reasons why Carrasco went to Madrid, because the trainer saw a boy who had a lot of football qualities, but also had that running ability."
Tielemans seems to be one of the greatest young talents – do you think the Red Devils will benefit from his move from Anderlecht to Monaco?
"I think that's a very good question. Monaco is not the absolute top, but better than Belgium. He has already taken a step forward. He does not always play there, they do not burn him up, but bring him calmly. I think he's only 20 years old, isn't he? For me, that was a very sensible choice, to say: I'm going to Monaco instead of an English middle-motor or even a bit lower. Now he is allowed the time to grow. And yes, he does have the qualities, that running ability, a beautiful touch of the ball. In that respect he should be able to become one of the future leaders, but you must give him a chance."
What is your impression of Roberto Martinez since he took the team under his wing? What are the main differences in his style and approach compared to Wilmots? Do you think he will still be there after the World Cup?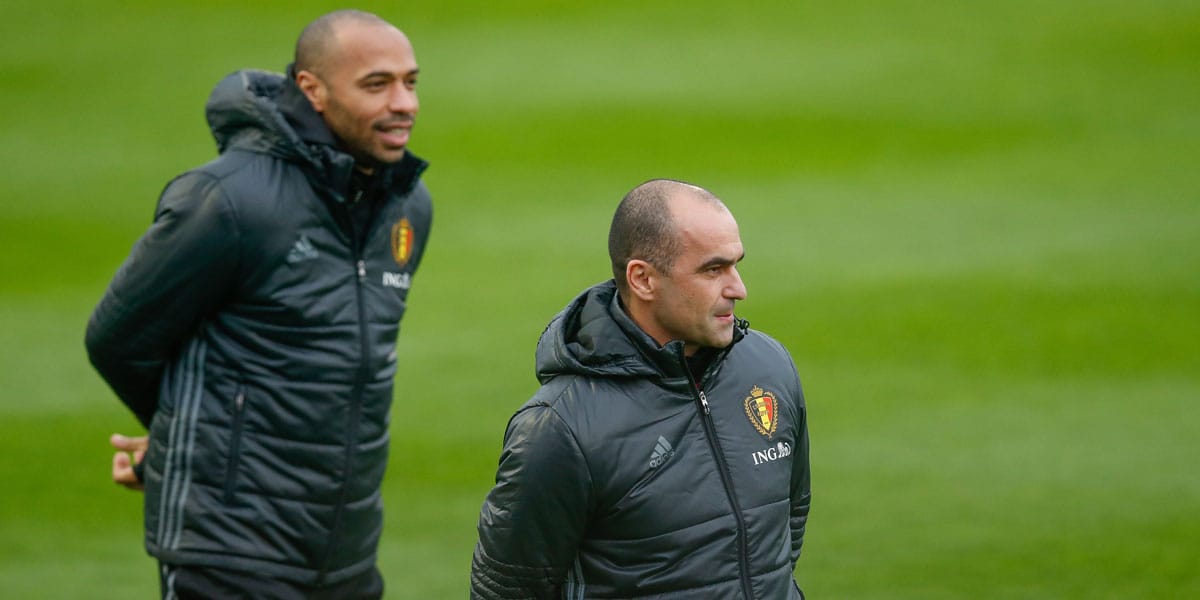 "Yes, I think you cannot say much about that now. I have just said it: we can assess Martinez within three months. With the qualification matches it is exactly the same as the Belgian competition. These are all teams that the Belgians can easily defeat. If you become a trainer of the national team, you want to be able to play the European Championship with that team in two years. I think he does have the experience. At first sight a very jovial bloke, who knows the tricks. But he will be judged at the World Cup tournament, and he knows that."
Fancy Belgium to win the World Cup? BET HERE!
Which player do you think will learn the most from Thierry Henry? Is there a Red Devil that can be compared with him?
"No, I do not think so. They are all different types. But I think every striker will listen with attention when Henry says something to him. I know that from experience, I've been a striker myself. If you say something to a young guest, he picks it up or not. Somewhat less for a defender, of course. "Kompany, now you have to listen …," that does not work, does it?
"Everyone has their own quality of football. He's been a striker, he knows how it works, and then you can learn something from him, even these guys. And I think he does that in his own way. You do not see a lot of him, for such a world player. He is not coming to the forefront, and I think that is a very great quality. That he just says: "I am here, I like to do this and help in my own way by talking to the strikers."
Belgium will play against England at the World Cup. Do you think it's an advantage that the team has so many Premier League players?
"Yes, I think that's something everyone will look forward to. Playing against team-mates, I mean. I think that it is very pleasant to play with your country against the country where you have spent most of your career. Playing against team-mates, that's always fun."
Stay close to the action with bwin app. Access more markets than any other betting provider and scan our in-depth statistics menu to find and make your bet selections fast. Download now the best betting app.