A devastating phenomenon that regularly impacts on the physical and mental well being of players and managers alike, the festive football schedule is adored by English football fans across the country.
Another dose of incessant Yuletide soccer is upon us once more with all 20 Premier League outfits in action on the Christmas programme curtain-raiser, Boxing Day.
Having examined the results of every December 26th fixture card since the 1992/93 campaign, the news.bwin stats compilers have identified who performs best and worst when arriving at this action-packed seasonal checkpoint.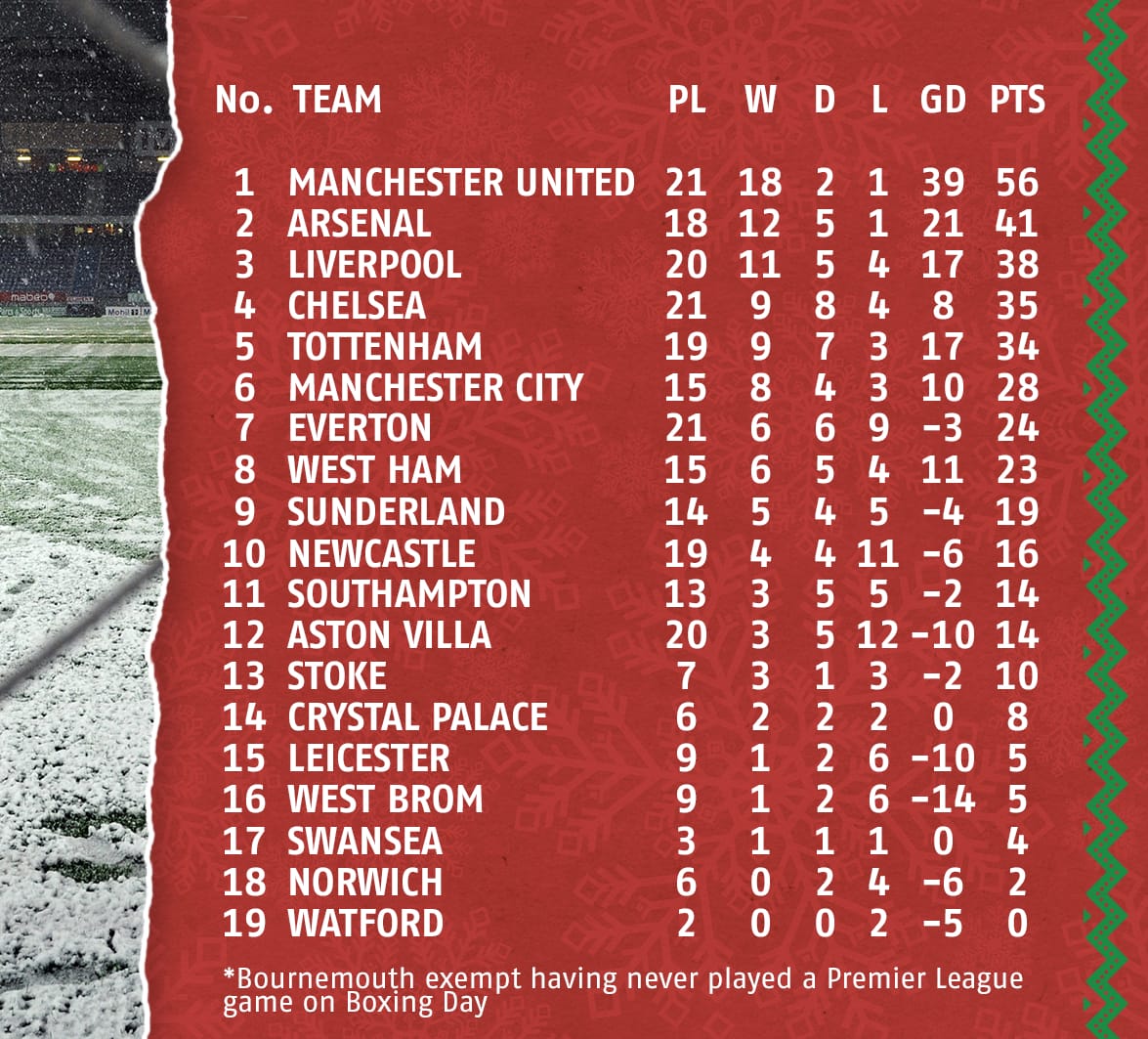 No side can rival Manchester United for Boxing Day dominance, with the Red Devils winning a staggering 18 of 21 post-Christmas fixtures, racking up 56 points at a rate of 2.6 per outing.
Their unrivalled supremacy is epitomised by the fact the next best December 26th side is Arsenal, whose haul of 41 is 15 shy of the pace set by Louis van Gaal's troops.
The north Londoners have contested three fewer fixtures, but a points-per-game rate of 2.3 means that, based on previous performances, they'd still be behind United were their number of matches played identical.


Picking up points at an average of 1.9 per game, Liverpool sit third in the all-time Boxing Day standings. The Reds, however, have relinquished the festive spoils four times, a total matched by fixture veterans Chelsea and West Ham, despite their lowly-by-comparison positions.
Two of those defeats came over the last three Dec 26th duels and the record may well worsen, with high-flying Leicester the scheduled opponents this term, though the Foxes' record of one win from nine on this date is anything but confidence-inspiring.
The Midlanders share a basement dwelling with West Brom, whose return is identical, and Norwich, who are yet to prevail in six outings.
Their inability to bag a Boxing Day win derives from their shortcomings in the box, with a goals-per-game rate of 0.3 the worst of the current Premier League roster.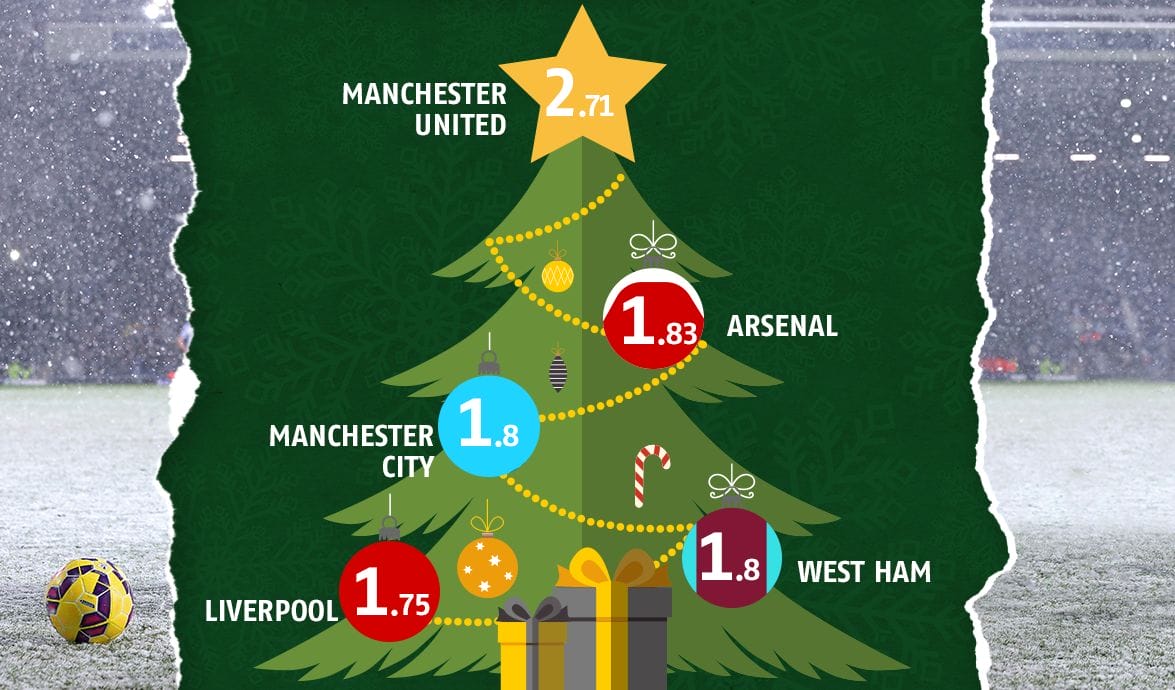 Unlike the Canaries, United are masters in the art of rippling the Yuletide net, scoring an average of 2.7 every time they take the field.
It's a figure far removed from what will be expected of them at one of the division's finest clean-sheet-keepers Stoke, whose seven shut outs so far will ensure they're confident of stifling a widely-chastised attack that is notching at an uncharacteristic 1.3 strikes per game.
Once again, it's Arsenal who trail United, with another wide discrepancy between the Gunners' goal return and the Red Devils'.
Tottenham weigh in surprisingly highly too, to which they owe a few poundings administered at Aston Villa's expense.
The Villans have historically been as hapless on Boxing Day as they have throughout the entirety of this campaign, leaking 31 goals in 20 games, creating a 1.6 concessions-per-game average inferior to all bar a select number of teams.
Technically, it's Watford with the worst record record in this department, but having only played twice on Boxing Day, their stats are somewhat distorted. With nine appearances under their belt and a 2.1 concessions per game average, it's West Brom whose defence has the most to be ashamed of.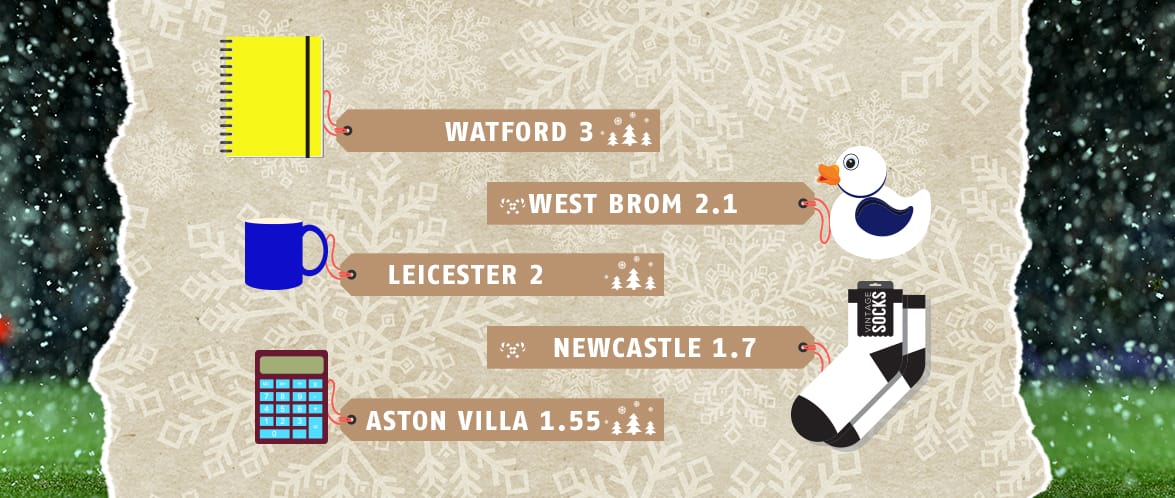 Breached 19 times in nine games, the Baggies have shipped nearly four times the number they've scored, though, understandably, this woeful record has improved in recent campaigns.
Over the last three seasons, Tony Pulis' men have scored 80% of their allocation of Dec 26th strikes and conceded just five. A mean of 1.3 points per game amassed across this timeframe is a vast upgrade on an overall record of 0.5 and their ripening spells bad news for stuttering Swansea.
Chasing West Brom in the worst Boxing Day defence stakes is Newcastle, who ship at 1.7 per match, while Everton are more porous than one might expect too, only just missing out on a top five berth.
Only two present Premier League teams – the Villans and Magpies – have conceded more goals than their all-time total of 30, equating to an average of 1.4 per match.
They renew hostilities with Newcastle this time around and their respective tendencies to lower defensive inhibitions around the festive period promise plenty for the highlights compilers.
Steve McClaren's side's last three fixtures on this date have seen the net bulge 17 times, but a 5-1 walloping of Stoke has kept them out of the blue denoting those shortest of Boxing Day form.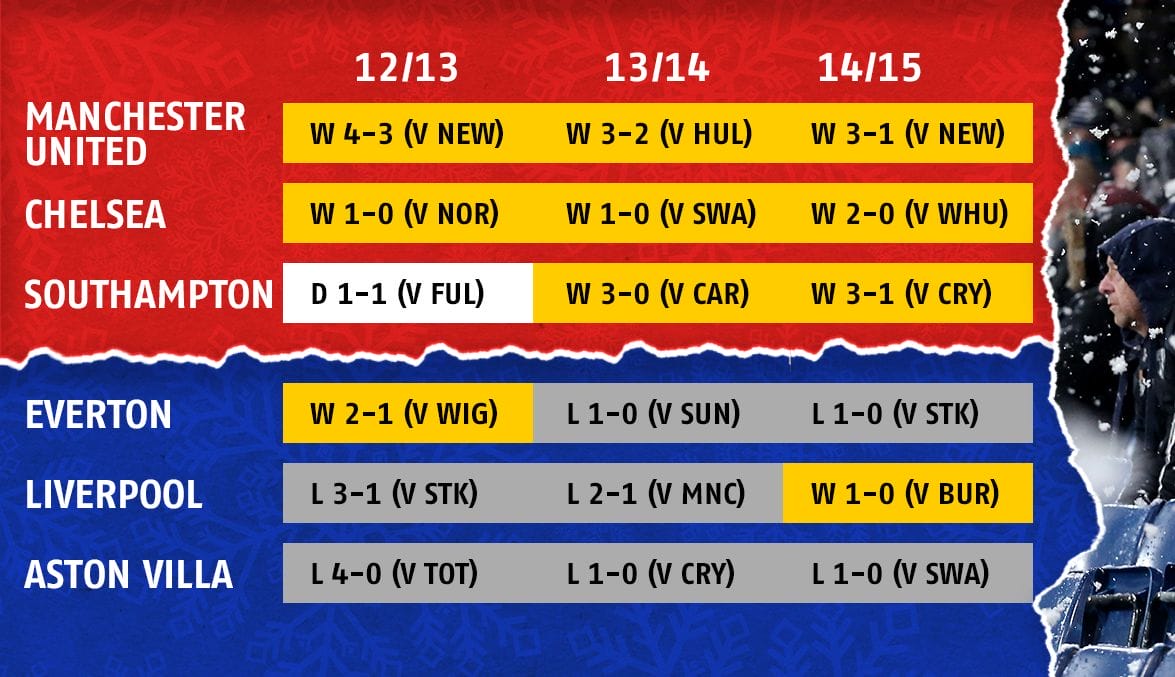 With three straight defeats, no goals scored and six against, it's, quelle surprise, Aston Villa who are the coldest of the cold.
Norwich and West Ham have both lost on their last two Dec 26th appearances, while Liverpool snapped a two-match losing streak with a win at Burnley last term.
In terms of the hot streaks, Boxing Day overlords United can't be topped with three straight successes, a run that Chelsea can match, though theirs is bolstered by a hat-trick of clean sheets.
Manchester City will join the three-consecutive-win brigade with victory over Sunderland, though this will be no mean feat given the Black Cats have triumphed in two of their last three on this day, one of which came against the Citizens.
With one of Boxing Day's biggest rabbits at the helm in Sam Allardyce, however, the Wearsiders' chances of repeating their 2012/13 City-slaying heroics are diminished somewhat.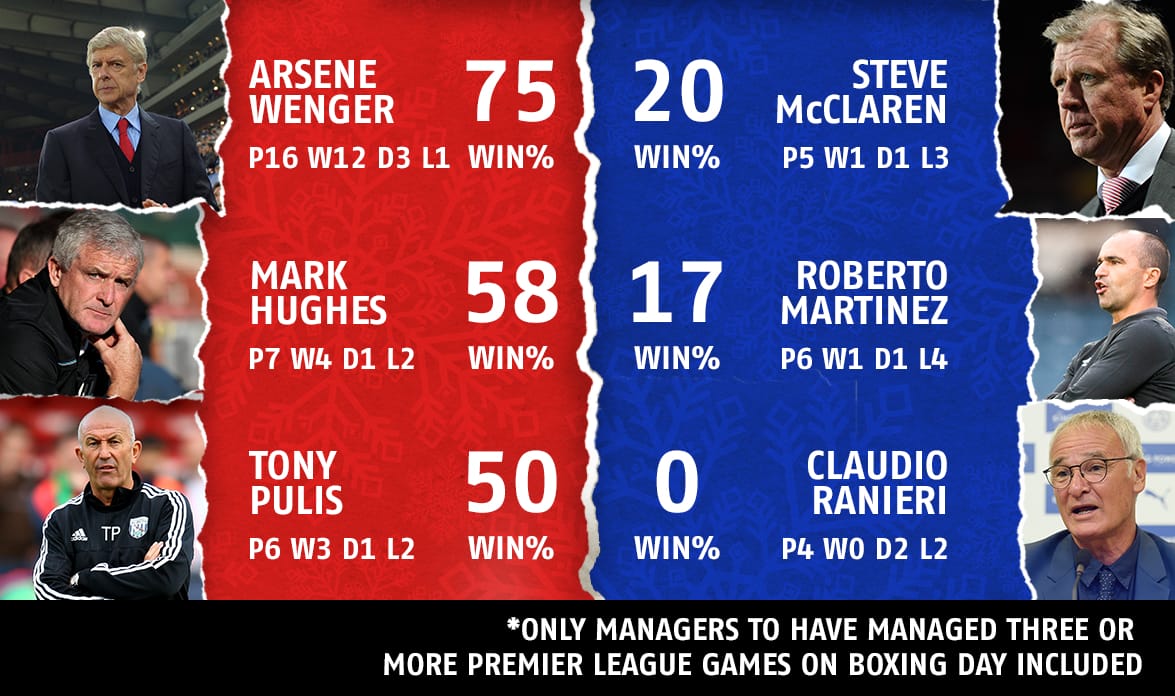 Of the active gaffers in the Premier League at present, only Arsene Wenger has managed more Dec 26th matches than Big Sam, who has just three wins to show from his 12 outings.
In total, the Sunderland chief averages one point per game. It's a poor return, but not the worst, with this particular ignominy on Claudio Ranieri's back.
The Italian's mean points per match stands at a dismal 0.5 from four appearances, ensuring he resides slightly below the 0.6 Roberto Martinez has mustered in spells with Wigan and Everton, where his sides have scored just four times and leaked 11.
Wenger's position of prominence (as those to have managed fewer than three games are excluded) is hardly a shock, but his 2.44 average edges that of recently-ousted Chelsea boss Jose Mourinho, who has recorded 2.4 points per match over his two spells at Stamford Bridge.
Conclusion
The raft of stats served above reveal many secrets for Boxing Day betting, the most striking being the value in a United win at Stoke.
Perennial victors on Dec 26th, the Red Devils and their vast goalscoring muscle can't be overlooked in the Potteries, despite their current form desperately trying to undermine the data compiled here.
Elsewhere, while West Ham at home represents a genuine point-pilfering opportunity for Aston Villa, the kind of which they can no longer afford to pass up, the Irons must be considered a good bet against, historically and currently, the worst team on Boxing Day.


Goals are guaranteed at St James' Park, where Newcastle host Everton. Intent on hogging Christmas-time headlines, both protagonists have demonstrated scant regard for the unattractive aspects of the game on this day in season's past and are ripe to land an ambitious overs punt. Premier League betting odds are 39/20 for over 3.5 goals on Tyneside.
Finally, Allardyce's festive-fixture toil takes a shock Sunderland win off the cards with City in town, while Arsenal rate a good bet to win at Southampton based on the record of their manager too, in what promises to be a smooth afternoon for the two title favourites.