Tyson Fury vs Oleksandr Usyk in a battle for the undisputed world heavyweight championship has been confirmed for February 17 in Saudi Arabia.
Fury is the WBC title holder while Usyk owns the IBF, WBA and WBO belts, with the winner set to become boxing's first undisputed world heavyweight champion since Lennox Lewis in 1999.
We have analysed the records of both men to predict what might happen when they come face-to-face.
Who has the best record?
Despite being the younger of the two by around 19 months, Fury is the more experienced boxer, with 35 bouts to his name compared with Usyk's 21.
Both fighters are undefeated but – while Usyk has an unblemished record – the Gypsy King drew the first of his three meetings with former world champion Deontay Wilder.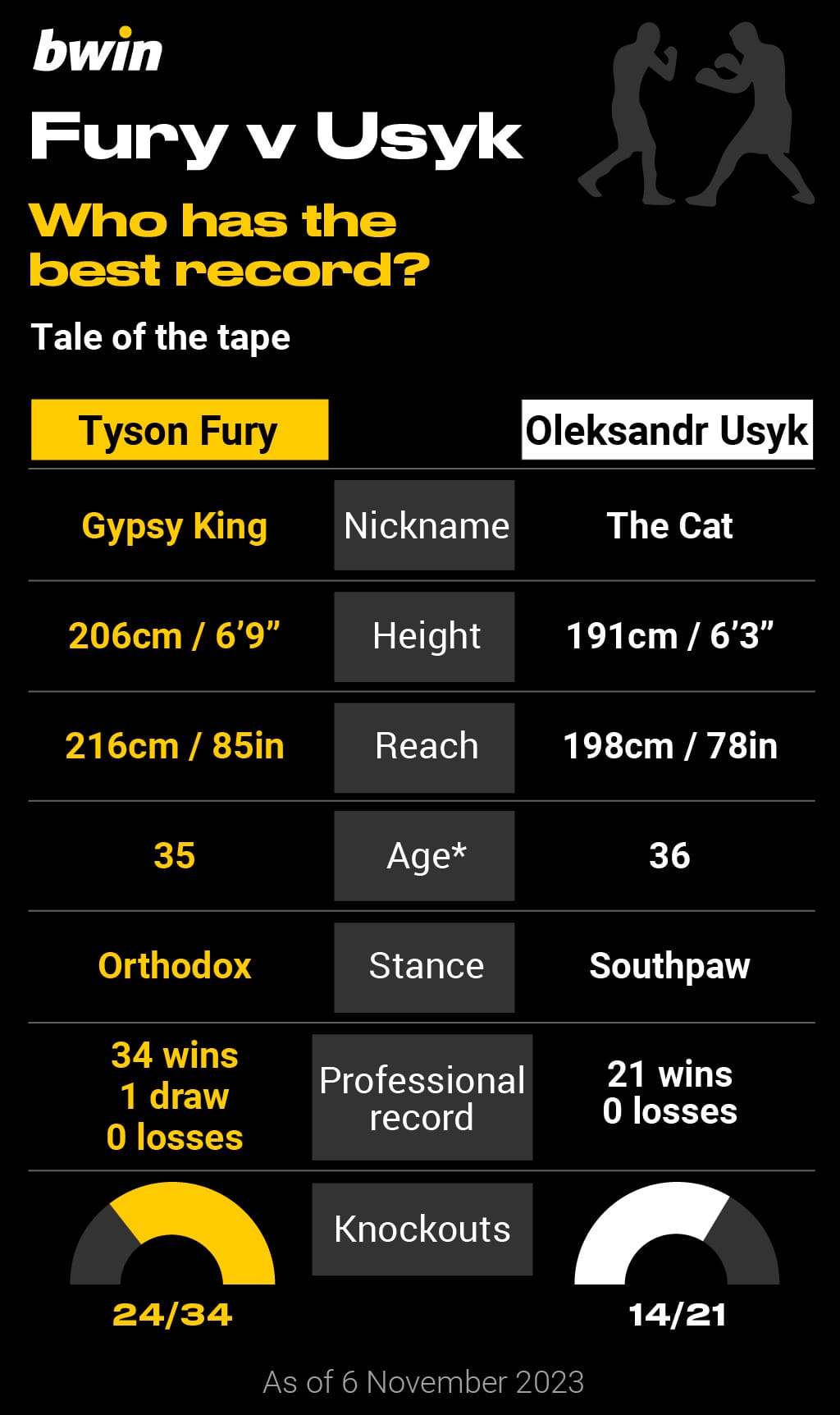 Standing at 6'9″ (206 cm) tall, Fury has a significant height and reach advantage over his Ukrainian counterpart, who comes in at 6'3″ (191cm).
Nicknamed 'The Cat', Usyk has overcome a height deficit on several previous occasions, most notably in twin victories over Anthony Joshua who is 6'6″ (198cm), but Fury's size advantage is twice that of his fellow Brit.
Which rounds could be the most explosive?
We have looked back at punching statistics since the start of 2018, with Fury having entered the ring 10 times compared with Usyk's eight.
We have excluded Fury's wins over Sefer Seferi and Tom Schwarz, which were completed inside four and two rounds respectively.
Usyk is clearly the busier fighter, having landed more punches on average in all but one round from the fourth onwards. The sole exception is the ninth round, during which Fury averages 16 blows to Usyk's 15.
Expect a tentative start when these two meet – both men average fewer than eight successful punches in the first round.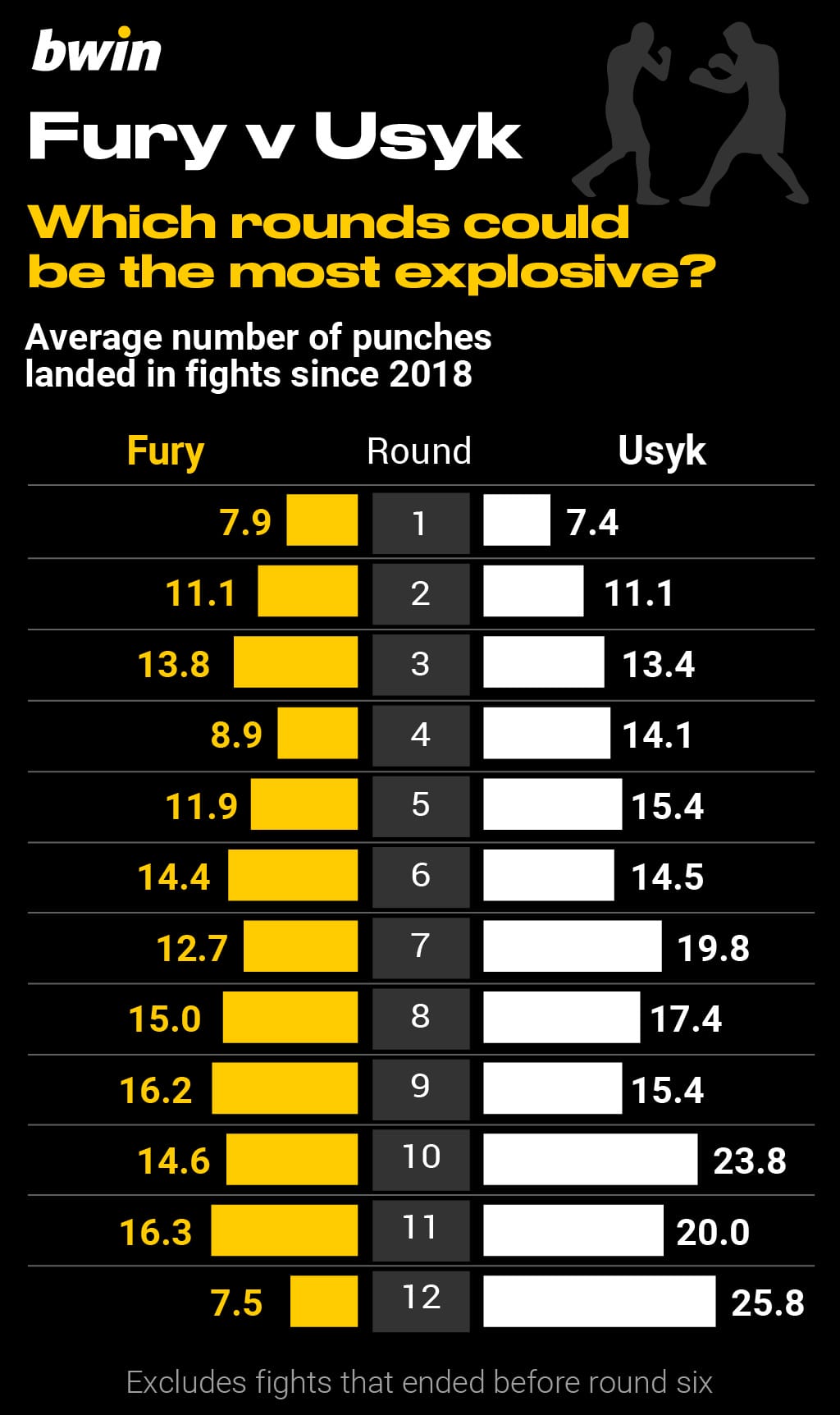 It is interesting to observe how each fighter's energy levels change over the course of a bout.
The Ukrainian generally raises his intensity as the fight goes on, with the first three rounds seeing him land the fewest blows while the last three produce his most successful strikes.
Fury – on the other hand – tends to attack in surges, with the frequency of his punches increasing in three-round blocks before dropping off temporarily.
Does Fury struggle against southpaws?
Usyk was watching ringside during Fury's unconvincing win over Francis Ngannou and was visibly shocked when the Gypsy King was knocked down in the third round.
Ngannou proved to be a far tougher proposition than expected on his boxing debut, with the former UFC fighter crediting his success in part due to the times he switched to the southpaw stance.
In a video interview uploaded on his personal YouTube channel, Ngannou said: "One thing that happened, southpaw. I switched southpaw.
"The first time as soon as I switched, he did the same. But he wasn't that confident.
"His jab from the southpaw wasn't [proficient] at all. It was easy for me to slip and move left and get this angle, where he was very exposed. So, I realised that and I was using that a lot."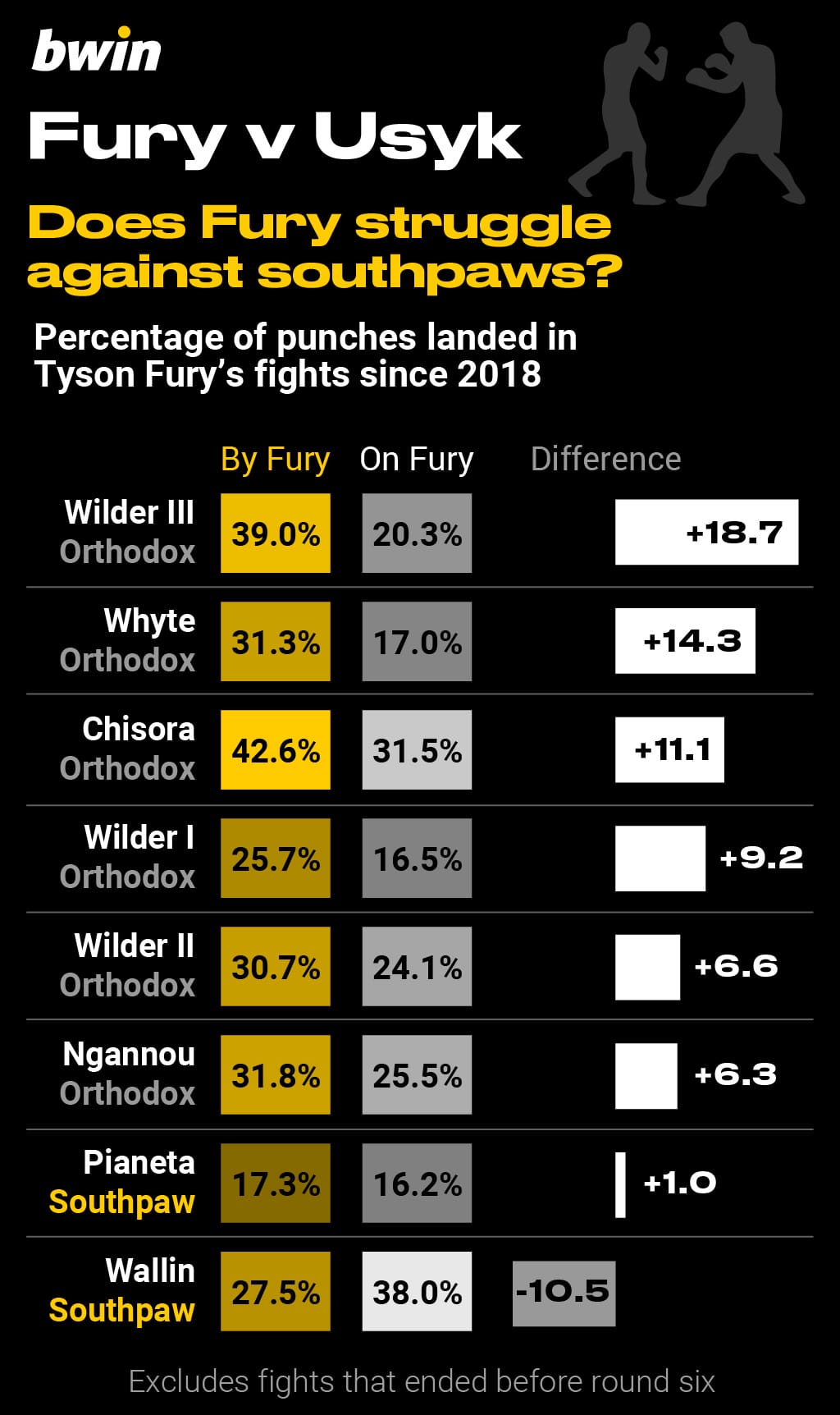 As a southpaw himself, those words are likely to provide Usyk with plenty of encouragement, as will Fury's recent record against left-handed opponents.
Since returning to the ring in 2018, Fury has faced two exclusively southpaw fighters – Otto Wallin and Francis Pianeta.
Despite winning both bouts on points, the Gypsy King struggled to impose himself in the same way as he does against orthodox boxers.
The 127 punches landed on Fury by Wallin is the most anyone has managed in a 12-round fight while the Brit was successful with just 17 per cent of his blows against Pianeta – his lowest strike rate since 2018.
What happened when they met Chisora?
Although Fury and Usyk have never faced each other, they have both fought Derek Chisora in recent years.
Fury stopped his fellow Brit in the 10th round of their trilogy bout in December 2022 while Usyk won by unanimous decision in October 2020 – his last fight before dethroning Anthony Joshua and becoming a world heavyweight champion.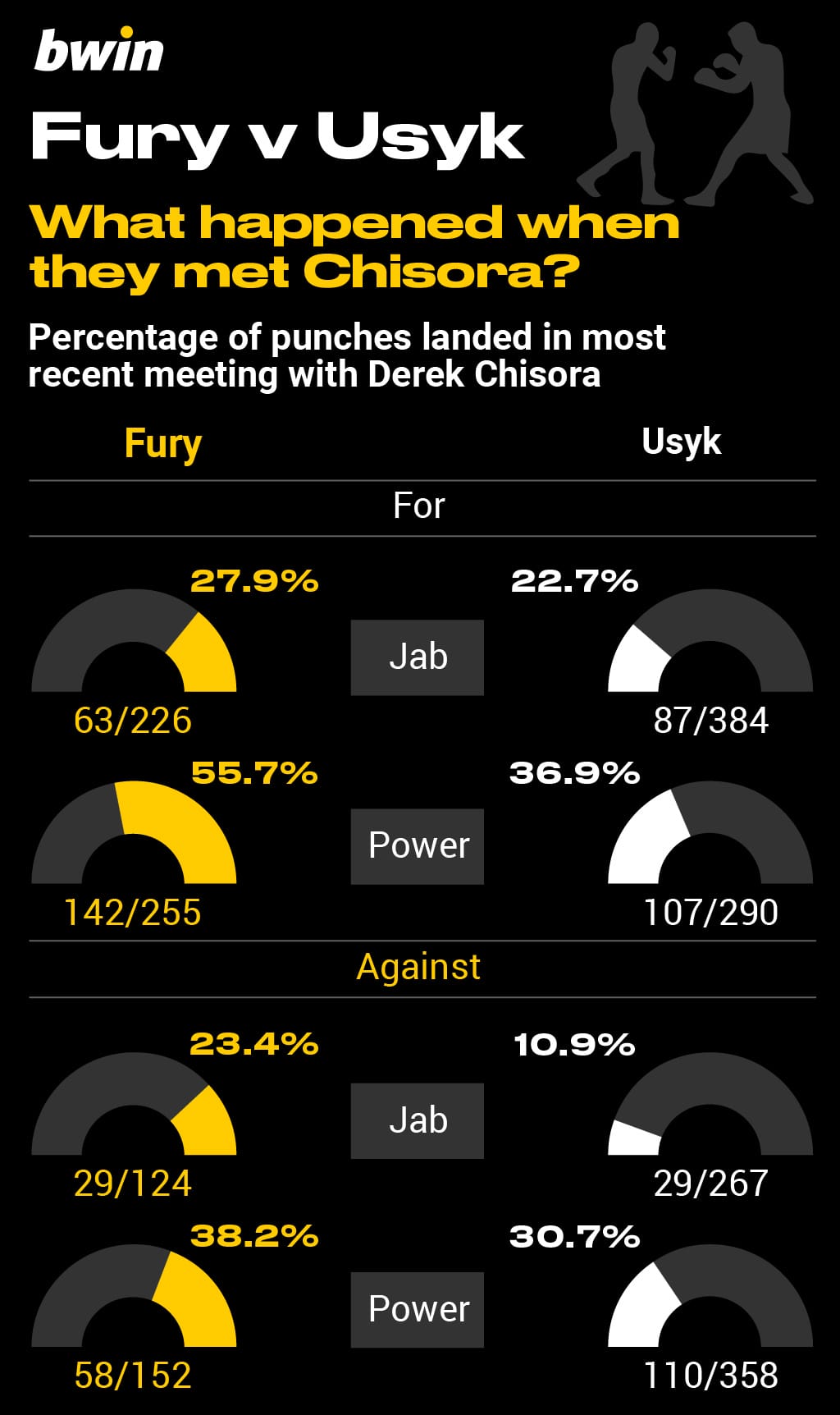 Comparing the punch stats from each fight, Fury was more offensive than Usyk against Chisora.
While the Ukrainian was happy to attack behind his jab, the Gypsy King preferred to throw power punches, with the majority finding the target in a knockout win.
However, Fury also absorbed a greater amount of punishment than Usyk, with Chisora landing 23 per cent of his jabs and 38 per cent of his power punches.
Could we see the greatest card in heavyweight history?
Fury's bout with Usyk could be part of a sensational double bill with Joshua and Wilder reportedly in talks to meet on the same night.
Joshua's promoter Eddie Hearn has claimed a fight with Wilder is already agreed, with AJ subsequently floating the tantalising prospect of their bout preceding Fury vs Usyk in what would be arguably the greatest card in boxing history.
All four fighters are current or former world champions, with multiple title fights to their name.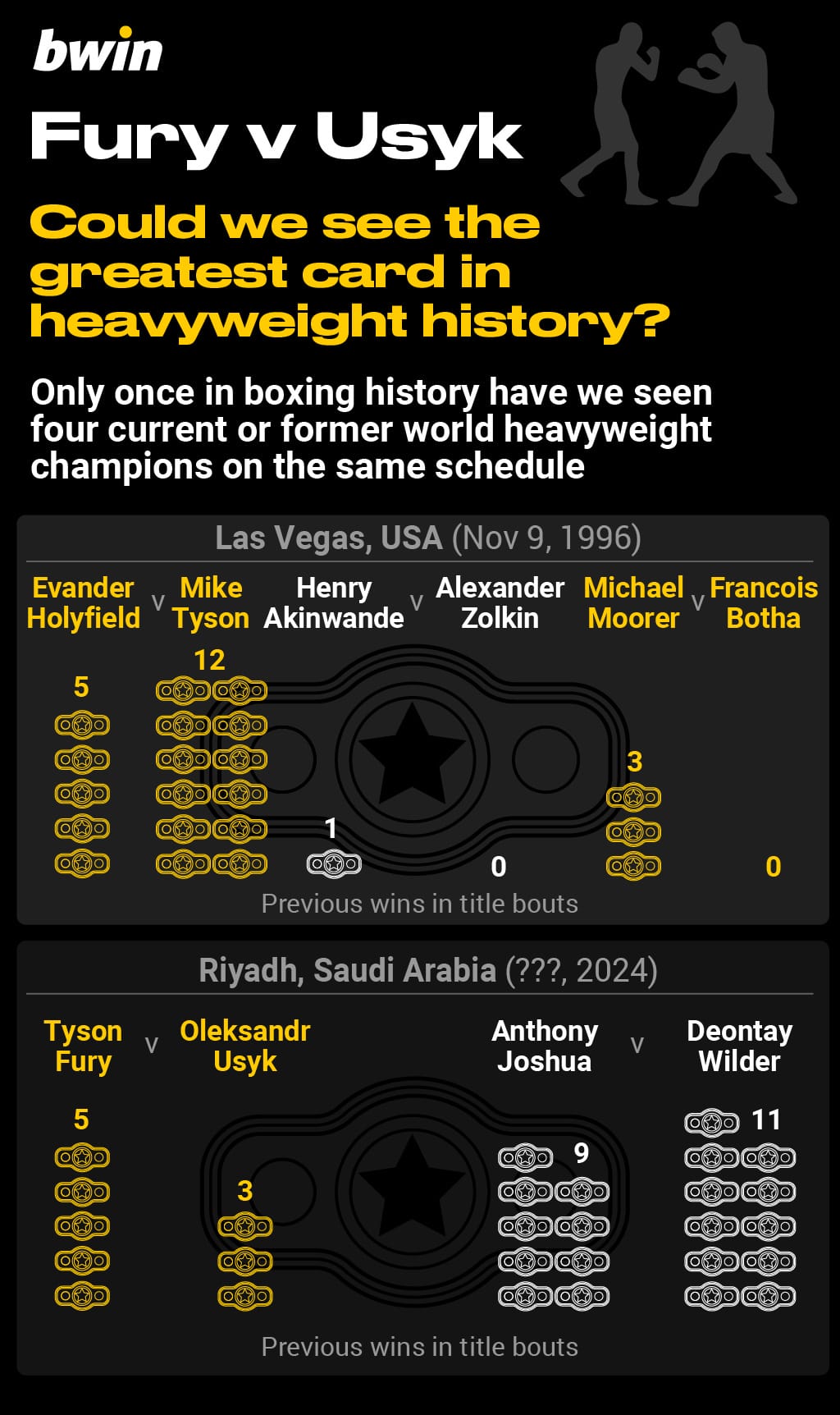 Only once before have we seen a similar card in the heavyweight division, with four current or ex-champions on the same schedule.
That was in November 1996, when Evander Holyfield and Mike Tyson headlined a mega card at the MGM Grand in Las Vegas.
Holyfield – a two-time former world champ – beat Tyson and reclaimed the WBA belt in an epic bout that ended with an 11th round knockout.
Their fight was preceded by Henry Akinwande and Michael Moorer's defences of their WBO and IBF titles, respectively.
Both were successful on the night but went on to lose their belts in the following year, with Akinwande suffering defeat against Lewis and Moorer falling short against Holyfield.
Join bwin today and receive up to £20 money back as a FreeBet if your first wager (3+ selections at odds of 1/2 (1.5) or greater) is a loser! Terms and conditions apply.