As predicted before the start of the 2023-24 season, Premier League referees are clamping down on player ill-discipline.
Seventeen players have been sent off in the first seven rounds of matches, compared with 30 across the whole of the previous campaign.
This follows the release of new guidelines during the summer, which recommended automatic yellow cards for dissent and time wasting.
To highlight the early and potential future impacts of these changes, we have looked at data from the 'big five' European leagues since the start of the 2020-21 season.
Are we seeing more cards this season?
While it is still early in the campaign, this season's figures back up the notion that referees are dishing out cards more readily.
Players have been carded for every 4.31 fouls committed on average in 2023-24, compared with 6.07 in the previous three seasons.
This is the lowest average in Europe's big five leagues, beating La Liga (4.91) which racked up a staggering 137 red cards in 2022-23.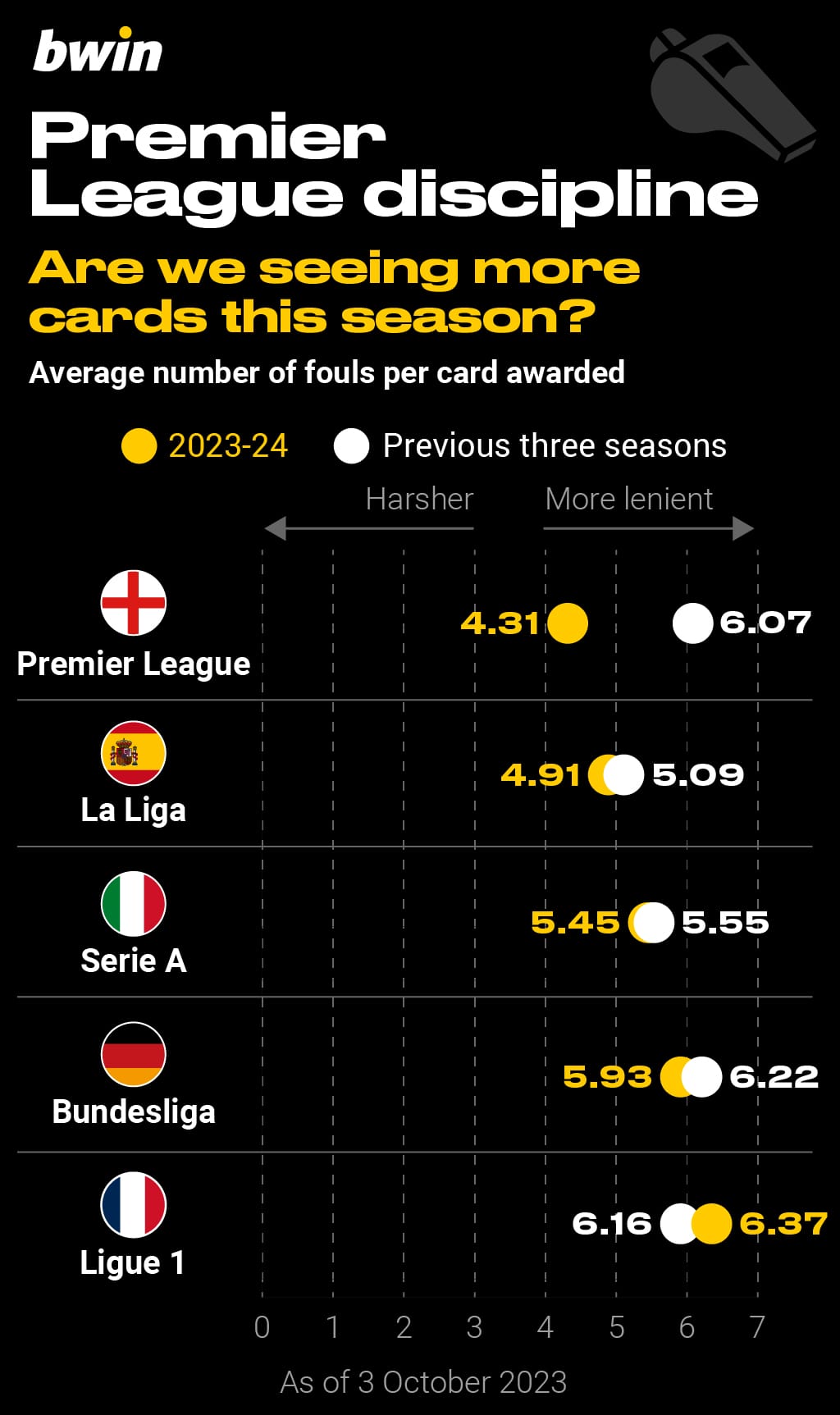 Ligue 1 is the only one of the big five divisions to see an increase in the number of fouls per card awarded, from 6.16 between 2020-21 and 2022-23 to 6.37 in 2023-24.
Which clubs have been most affected?
The Premier League's tougher rules have seen English clubs collect cards at a faster rate than sides based elsewhere in Europe.
Nottingham Forest players have been reprimanded by officials for every 2.92 fouls committed, the lowest average in Europe's big five leagues.
Fulham (3.13) rank second on this metric, ahead of Tottenham (3.27), Chelsea (3.48) and Sheffield United (3.50).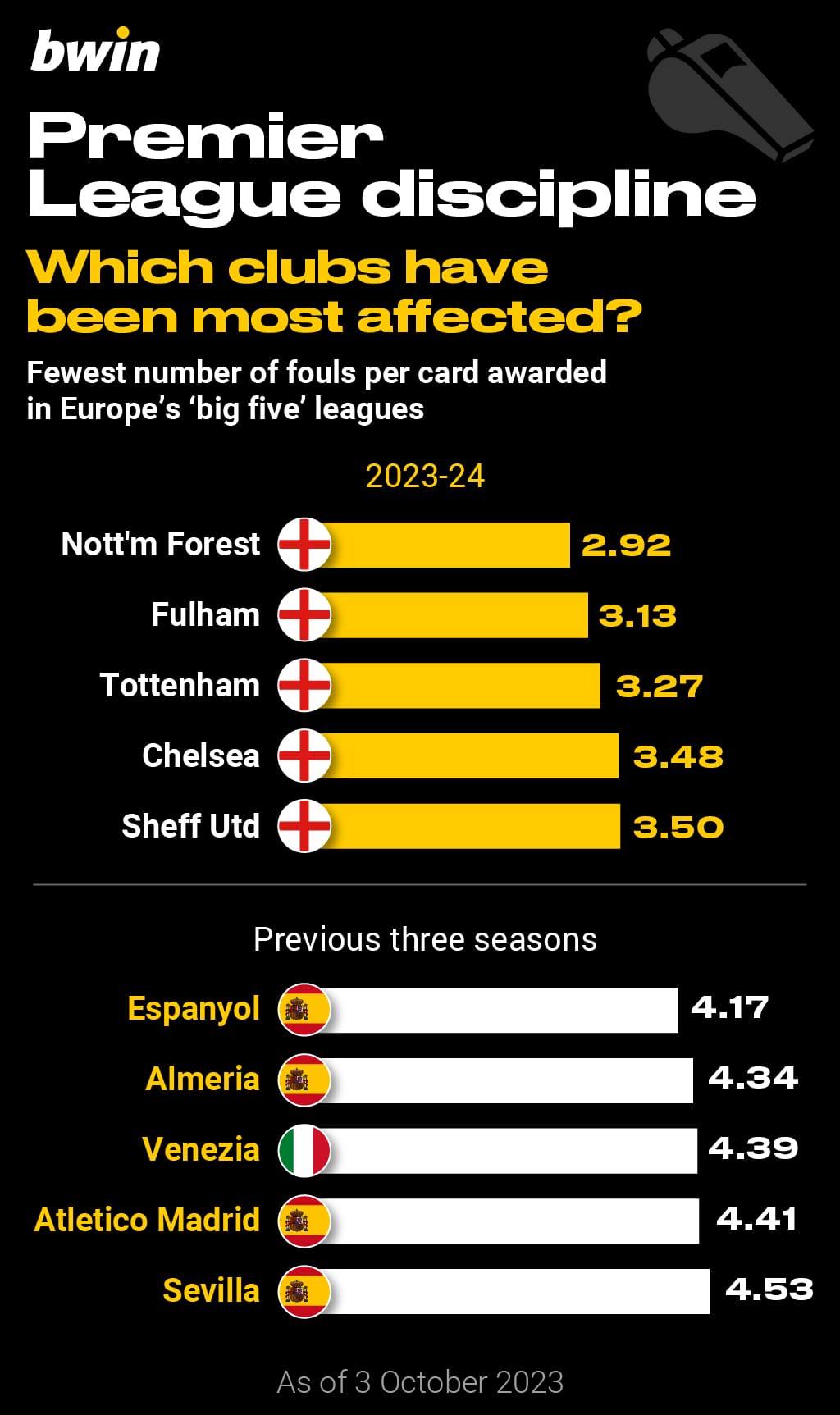 This is in stark contrast to the previous three seasons, in which only Everton averaged fewer than five fouls per card awarded (4.96) among English clubs.
The Toffees ranked 18th in Europe for indiscipline during that period, with La Liga dominating the top five through Espanyol (4.17), Almeria (4.34), Atletico Madrid (4.41) and Sevilla (4.53).
Which referees are strictest?
It is worth checking a referee's history before trying to predict the number of cards in an upcoming fixture.
Among officials to referee at least 10 Premier League matches since 2020-21 including one this season, John Brooks is the biggest disciplinarian, having handed out a card for every 4.77 fouls on average.
Peter Bankes comes next on 5.06 fouls per card awarded, with the Lancastrian having dished out 12 bookings – the most in a single game since 2020-21 – and a red card in Tottenham's stoppage-time win over Sheffield United in September.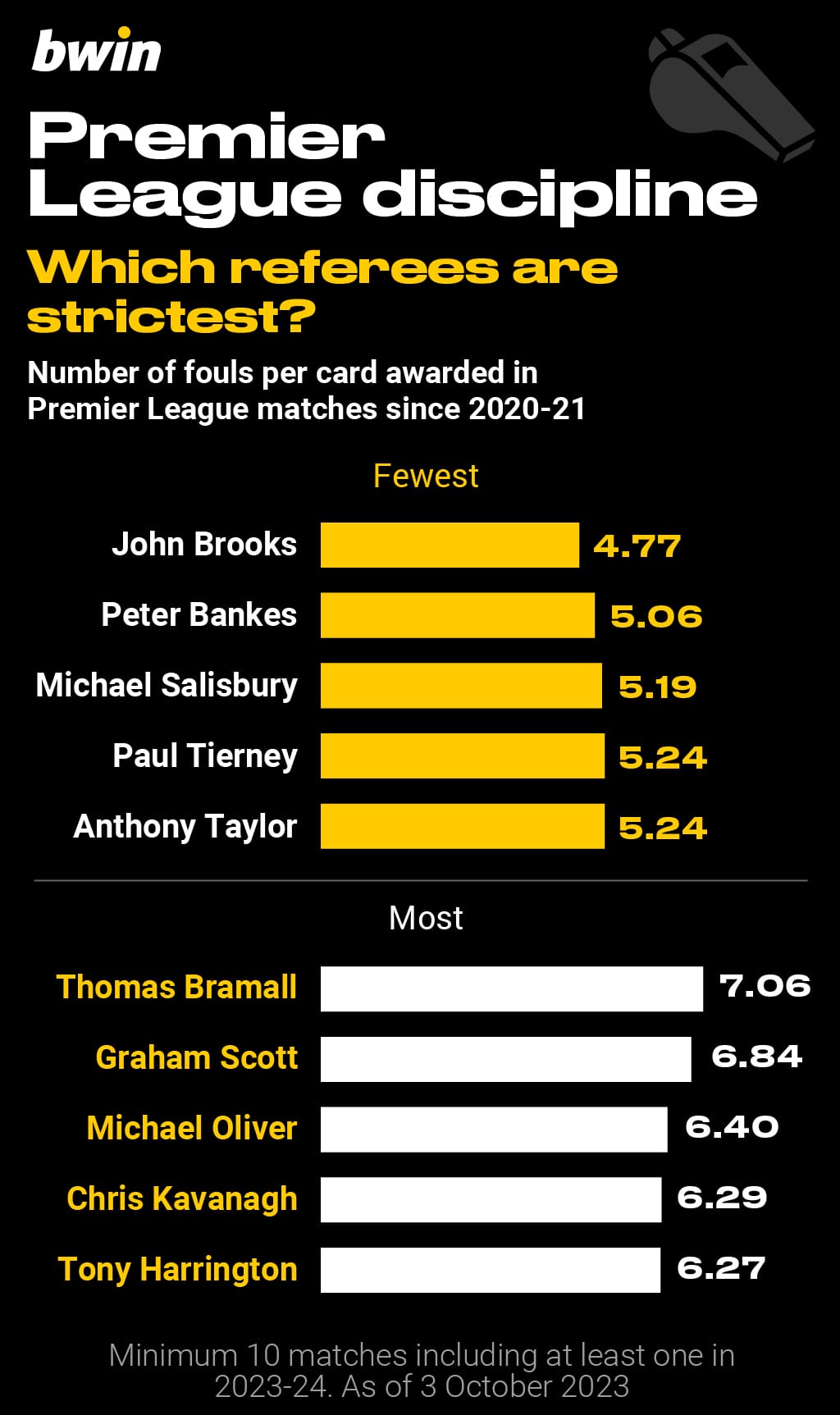 At the other end of the spectrum, Thomas Bramall has generally stopped short of going to his pocket, having averaged 7.06 fouls per card awarded in his 10 Premier League matches to date.
The 33-year-old is yet to book more than five players in a single game, although his only dismissal – Liverpool's Alexis Mac Allister in August – was overturned on appeal.
Who makes and draws the most fouls?
Some players are likely to pick up booking because of the sheer volume of fouls they commit while others tend to draw a lot of fouls which can lead to their opposite number being cautioned.
Based on data from Europe's top five leagues since 2020-21, West Ham's Lucas Paqueta fouls most frequently. The Brazilian attacking midfielder – who was a reported target for Manchester City in the summer – averages 2.38 fouls per 90 minutes.
Manchester United's new signing Sofyan Amrabat – on loan from Fiorentina – is also regularly pulled up by referees, averaging 2.27 fouls per game.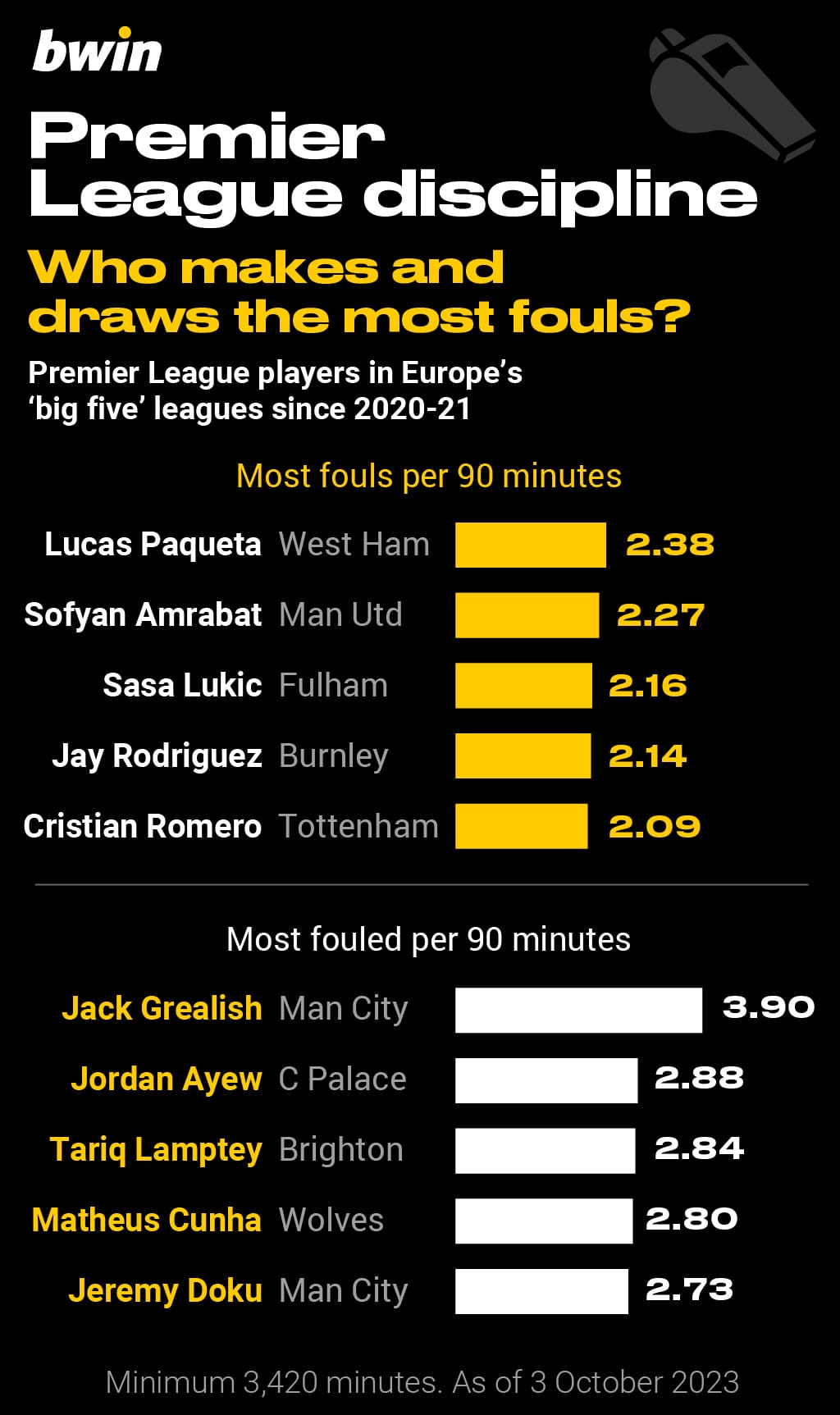 Meanwhile, Jack Grealish is streets ahead of the competition when it comes to drawing fouls. The City and England winger has earned an average of 3.90 free kicks per 90 minutes for his club, with Crystal Palace's Jordan Ayew ranking second by this measure on 2.88.
Premier League discipline
It is not just fouls that players need to be careful of this season, with referees also punishing them for time wasting and dissent.
Arsenal's Takehiro Tomiyasu found this out to his cost in the Gunners' 1-0 win at Crystal Palace in August – the Japanese was sent off for bringing down Ayew just moments after being booked for taking too long over a throw-in.
Since the start of the 2020-21 season, Aston Villa goalkeeper and master of the dark arts Emiliano Martinez has picked up the most bookings for time wasting among Premier League players (11).
Fellow shot-stoppers Jordan Pickford (eight), Ederson and Robert Sanchez (both six) are the only other players with more than five yellows for winding down the clock.
Manchester United captain Bruno Fernandes has a habit of approaching referees regarding their decisions, with the Portuguese having picked up 10 bookings for dissent in the last three-and-a-bit seasons – four more than any other Premier League player.
Brighton's Pascal Gross and his former team-mate Yves Bissouma have been shown six yellow cards apiece for arguing with officials while Newcastle's Sandro Tonali, Tottenham's James Maddison and City's Grealish have five bookings for the same offence.
Join bwin today and receive up to £20 money back as a FreeBet if your first wager (3+ selections at odds of 1/2 (1.5) or greater) is a loser! Terms and conditions apply.