Millions of Premier League fantasy football managers are tinkering with their teams ahead of next weekend's opening round of fixtures.
Launched back in 2002-03, Fantasy Premier League (FPL) continues to grow in popularity, with the number of managers increasing from fewer than 100,000 in its first year to 11.4 million at the end of last season.
Here, PA Sport Data Journalist Phil Leake provides some tips for effective squad selection, using data from the game's official website.
Follow the fixtures
FPL managers study players' form and fixtures when choosing a squad, but – with only pre-season friendlies to go on – the latter takes precedence at the start of a new campaign.
Thanks to a metric that powers the website's Fixture Difficulty Ratings, it is possible to rank teams according to their opponents' strength.
Chelsea have the easiest start to the season based on opposition ratings up to gameweek eight, with Mauricio Pochettino's side facing Luton, Nottingham Forest, Bournemouth, Fulham and Burnley during that period.
The Blues' players could become popular picks again having barely featured in FPL teams during their disastrous finish to 2022-23.
Last season's title rivals Manchester City and Arsenal could prove valuable sources of premium players, with both sides benefiting from appealing fixtures until their meeting on October 7, while managers may look to Everton for budget options given their generous early schedule.
In contrast, several teams that battled relegation last season – most notably Wolves and Forest – have been handed tricky starts, as have the three promoted sides.
Burnley and Luton are especially hard done by with tough openers against City and Brighton respectively preceding a blank gameweek, caused by the postponement of their scheduled match at Kenilworth Road.
Back the best teams
According to latest ownership figures, almost one-fifth of FPL spending is on Manchester City players at present, with the average manager using £19.2m of their £100m budget on the reigning champions.
As well as being the most expensive player in the game at £14.0m, Erling Haaland is comfortably the most popular pick, with the Norwegian currently appearing in more than 86 per cent of teams.
Arsenal players are also generating plenty of interest, with £15.3m of a typical budget being allocated to Mikel Arteta's men.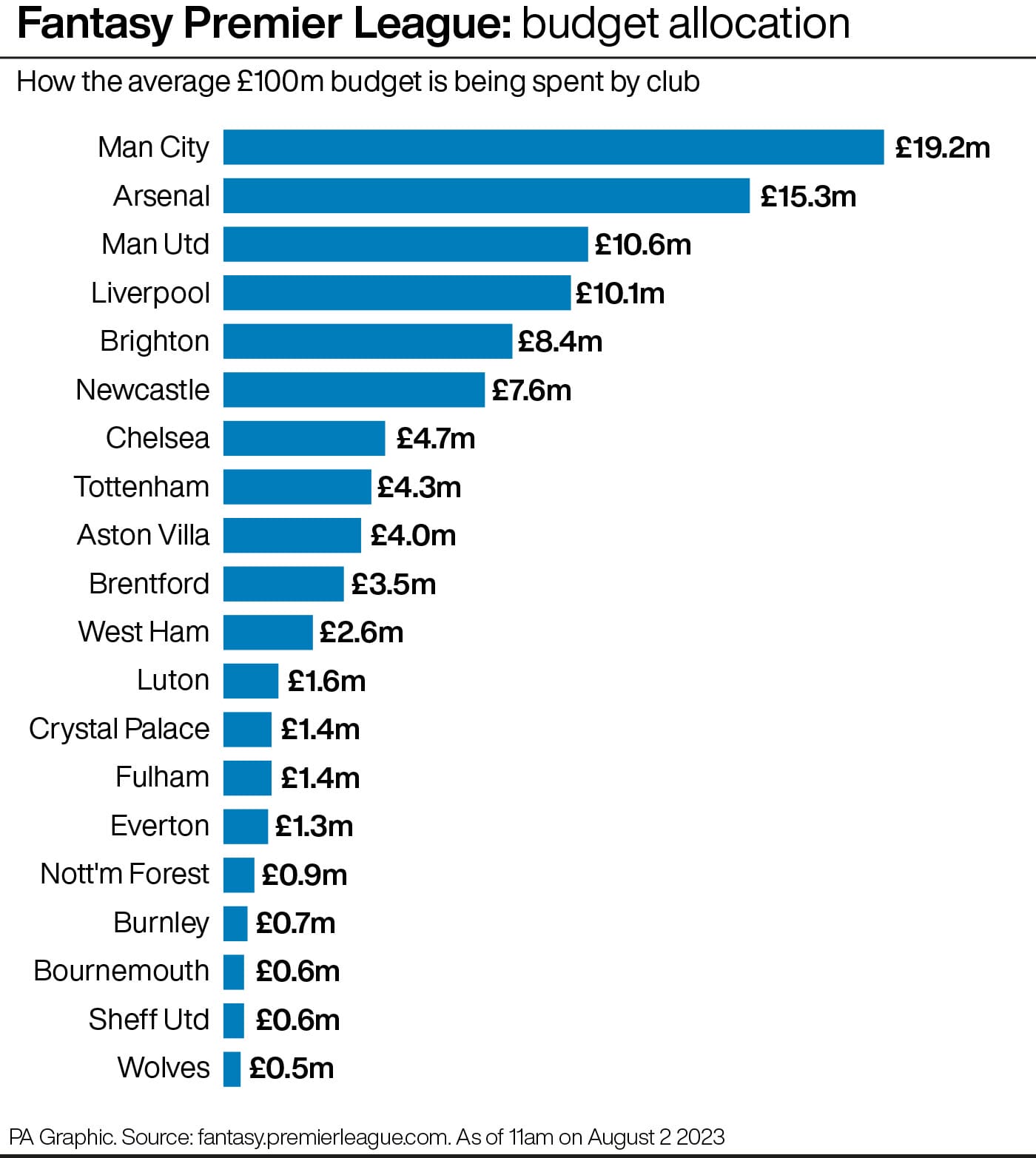 Bukayo Saka is the Gunners' most prized asset, selected by 55 per cent of managers, ahead of Gabriel Jesus whose ownership is falling after the Brazilian sustained a knee injury in pre-season.
Manchester United (£10.6m) and Liverpool (£10.1m) players are attracting investment too, while Brighton (£8.4m) and Newcastle (£7.6m) are proving more popular than Chelsea (£4.7m) and Tottenham (£4.3m) despite having tougher early fixtures.
FPL managers appear to be most pessimistic about Wolves' prospects, with just £0.5m out of every £100m being spent on their players.
Check the underlying stats
With managers looking to gain an edge over an increasing number of rivals, the FPL website has started publishing players' expected goals and assists alongside their actual returns.
This allows virtual bosses to identify players who are over and underperforming their projected output, perhaps due to their finishing ability or a run of good or bad luck.
Among players who recorded at least 10 expected goal involvements last season, Manchester City's Phil Foden was the biggest overachiever.
The England midfielder scored 11 goals and provided seven assists, which represented an increase of 72 per cent on his expected returns.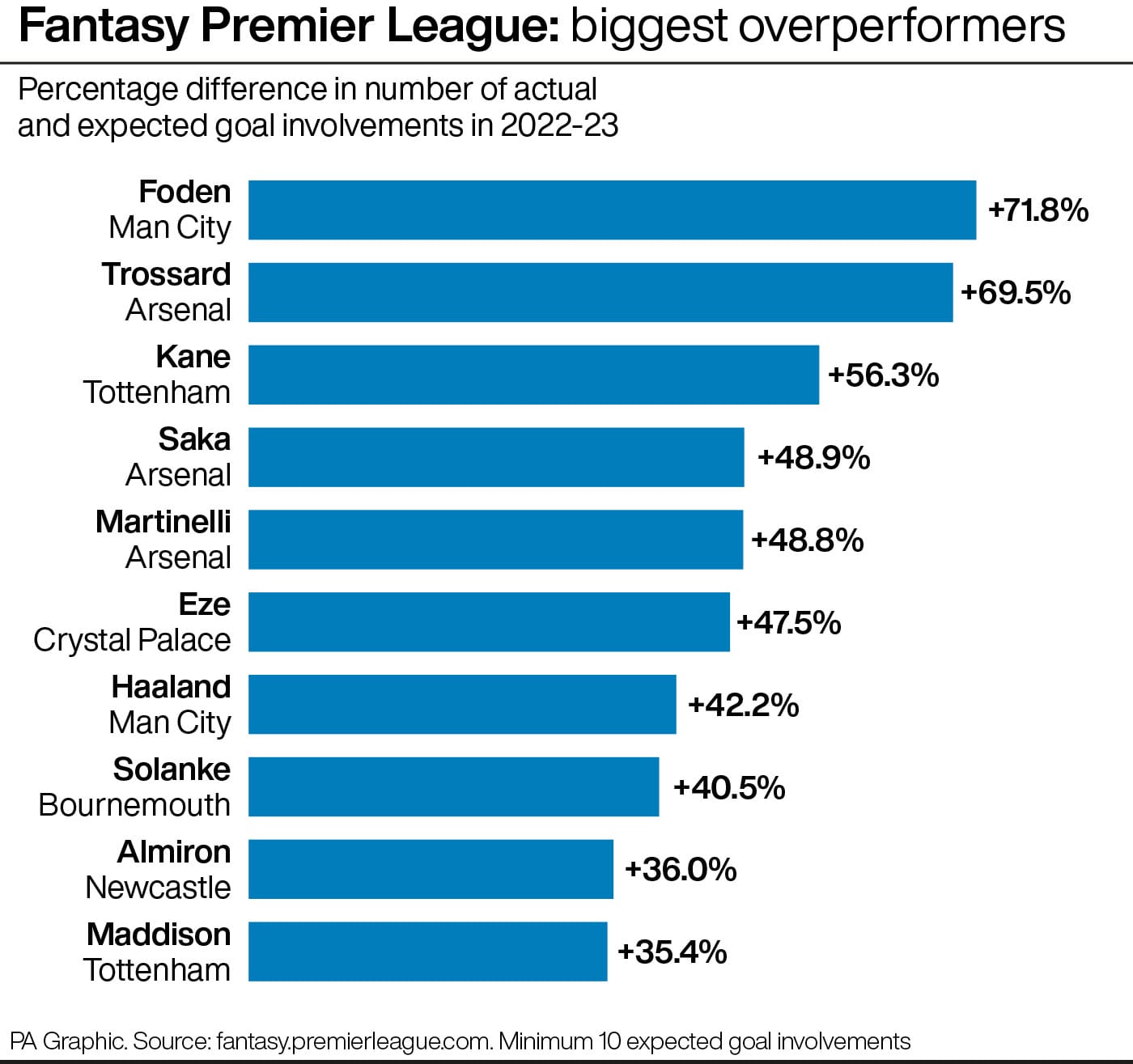 Leandro Trossard registered a similar level of overperformance across spells at Arsenal and Brighton, while Tottenham's Harry Kane racked up 56 per cent more goals and assists than the average player might have managed in the same situations.
Meanwhile, Arsenal's new signing Kai Havertz underperformed in his final season at Chelsea, having mustered only eight goal involvements from an expected tally of more than 14.
Liverpool's Alexis Mac Allister – formerly of Brighton – and Newcastle's Kieran Trippier also underachieved despite enjoying impressive campaigns.
Trippier was the game's highest-scoring defender with 198 points, but his chances created justified up to three extra attacking returns.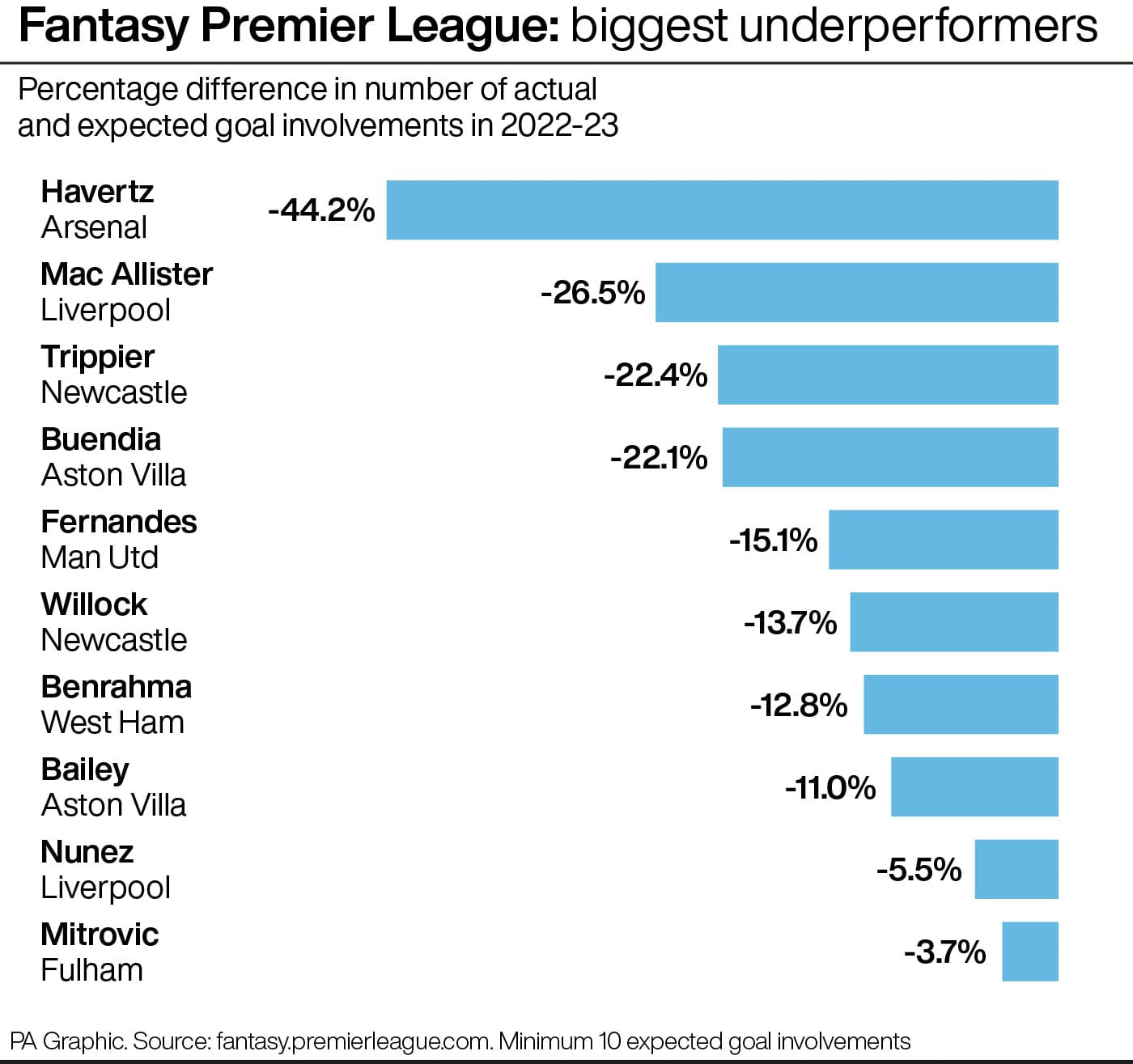 Join bwin today and receive up to £20 money back as a FreeBet if your first wager (3+ selections at odds of 1/2 (1.5) or greater) is a loser! Terms and conditions apply.