The Saudi Pro League recruitment drive continues to gather momentum with the arrival of Liverpool captain Jordan Henderson and Manchester City treble winner Riyad Mahrez.
The moves are the latest in a long line of high-profile transfers from European to Saudi Arabian clubs, with Cristiano Ronaldo's January switch to Al-Nassr triggering something of an exodus this summer.
Is the Middle East's premier division on its way to becoming a 'top-five league in the world' – as suggested by Ronaldo recently – or is it another Chinese Super League destined to fade into distant memory?
We have crunched the numbers to compare the Saudi league with other top tiers around the world.
Which league has the best players?
Despite Ronaldo, Karim Benzema and Lionel Messi – who have shared 13 of the last 14 Ballon d'Or awards – plying their trade in the Saudi Pro League and the MLS respectively, Europe's dominance of club football does not appear to be under any imminent threat.
According to data from Transfermarkt, English Premier League players remain by far the most valuable at a combined total of almost £9 billion. While City's treble winners account for a whopping £1 billion alone, the average Premier League player is still worth £17.8 million – twice as much as a typical professional from any other division.
The remaining four members of Europe's 'big five' leagues come next, with Spain's La Liga (£9.1m) heading Germany's Bundesliga (£7.6m), Italy's Serie A (£7.5m) and France's Ligue 1 (£6.9m).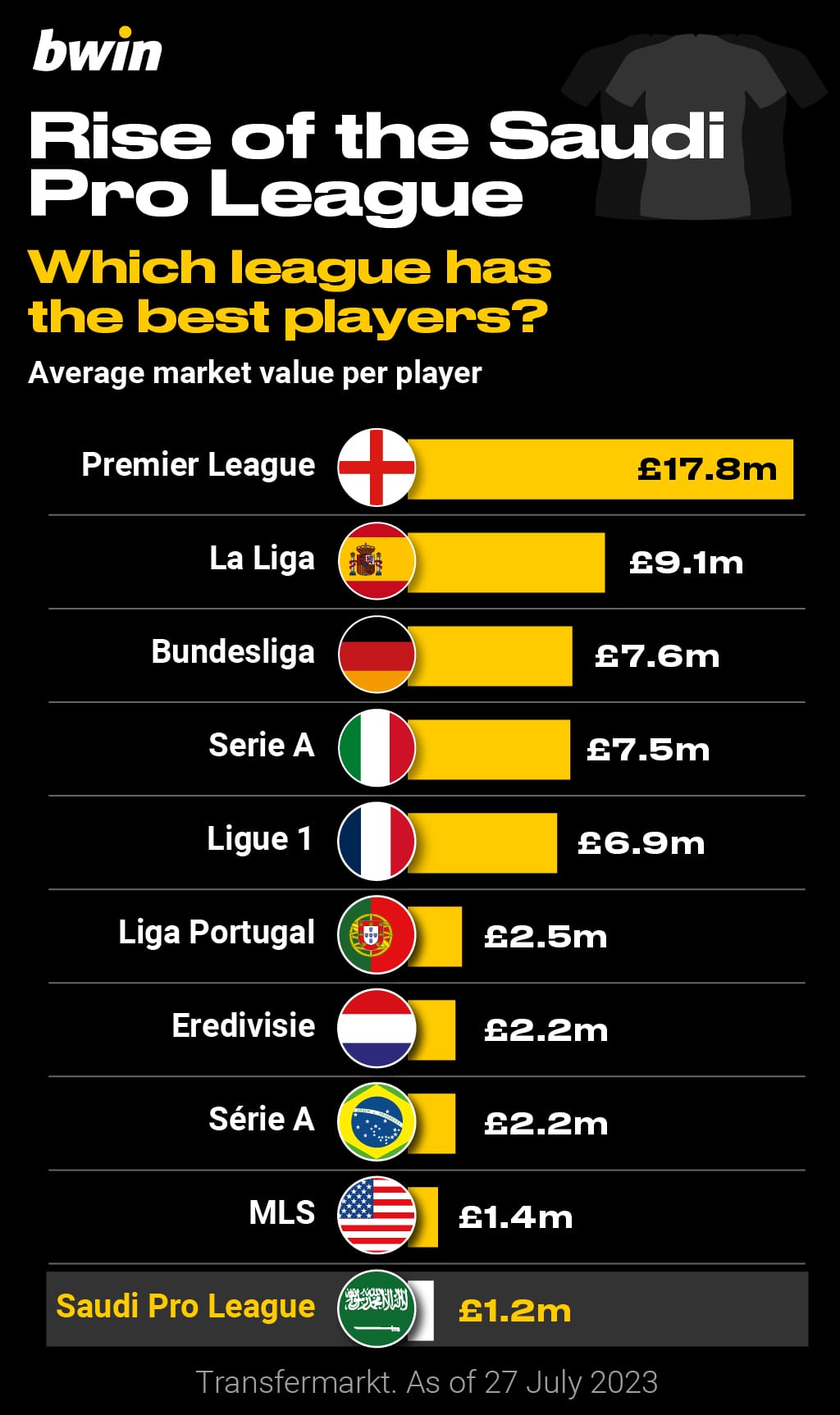 In contrast, the likes of Ronaldo and Benzema remain the exception rather than the rule in Saudi Arabia, where the average player is worth just £1.2m.
This is lower than Liga Portugal (£2.5m) and the Dutch Eredivisie (£2.2m) – leagues that Ronaldo expects to overhaul in coming years – as well as Brazil's Serie A (£2.2m). Meanwhile, Messi's arrival at Inter Miami has helped raise the bar in the MLS to £1.4m per player.
Which clubs are growing fastest?
Although Saudi Pro League clubs continue to trail their European counterparts on overall quality, their squads are rapidly increasing in value thanks to recent spending sprees.
Four Saudi Arabian sides – Al-Hilal, Al-Ittihad, Al-Khaleej and Al-Nassr – have seen their squads more than double in value since last August. Al-Hilal have overtaken Ronaldo's Al-Nassr as the most valuable squad in the country, at £140.6m, having already signed Ruben Neves from Wolves, Sergej Milinkovic-Savic from Lazio and Kalidou Koulibaly from Chelsea.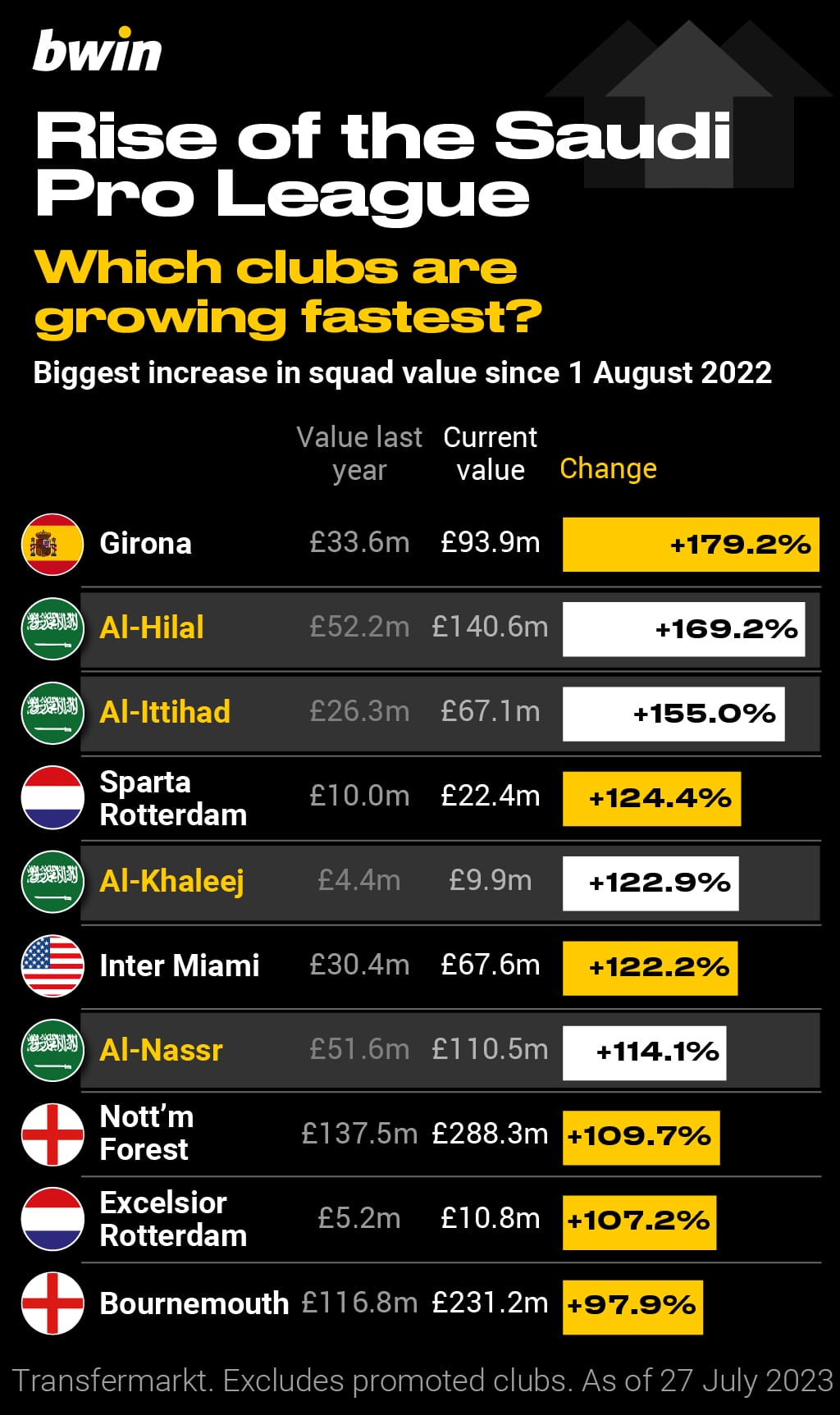 Inter Miami – part-owned by David Beckham – also make the list of fastest growing clubs following the signing of Messi, while Nottingham Forest rank highest among Premier League outfits having invested heavily in new players since their promotion from the Championship in 2021-22.
None, however, can match Spanish side Girona for increase in value since last August. Girona's squad was reduced to the bare bones last summer after a number of contracts expired, but their players are now worth a combined £93.9m, up from £33.6m this time last year.
Which leagues attract the most overseas talent?
More than two-thirds of Premier League players were born outside England – the highest share of foreigners in any major domestic league.
Top divisions in Italy, Portugal, USA, France and Germany are also majority-overseas, while the Dutch Eredivisie and the Spanish La Liga slightly favour homegrown players.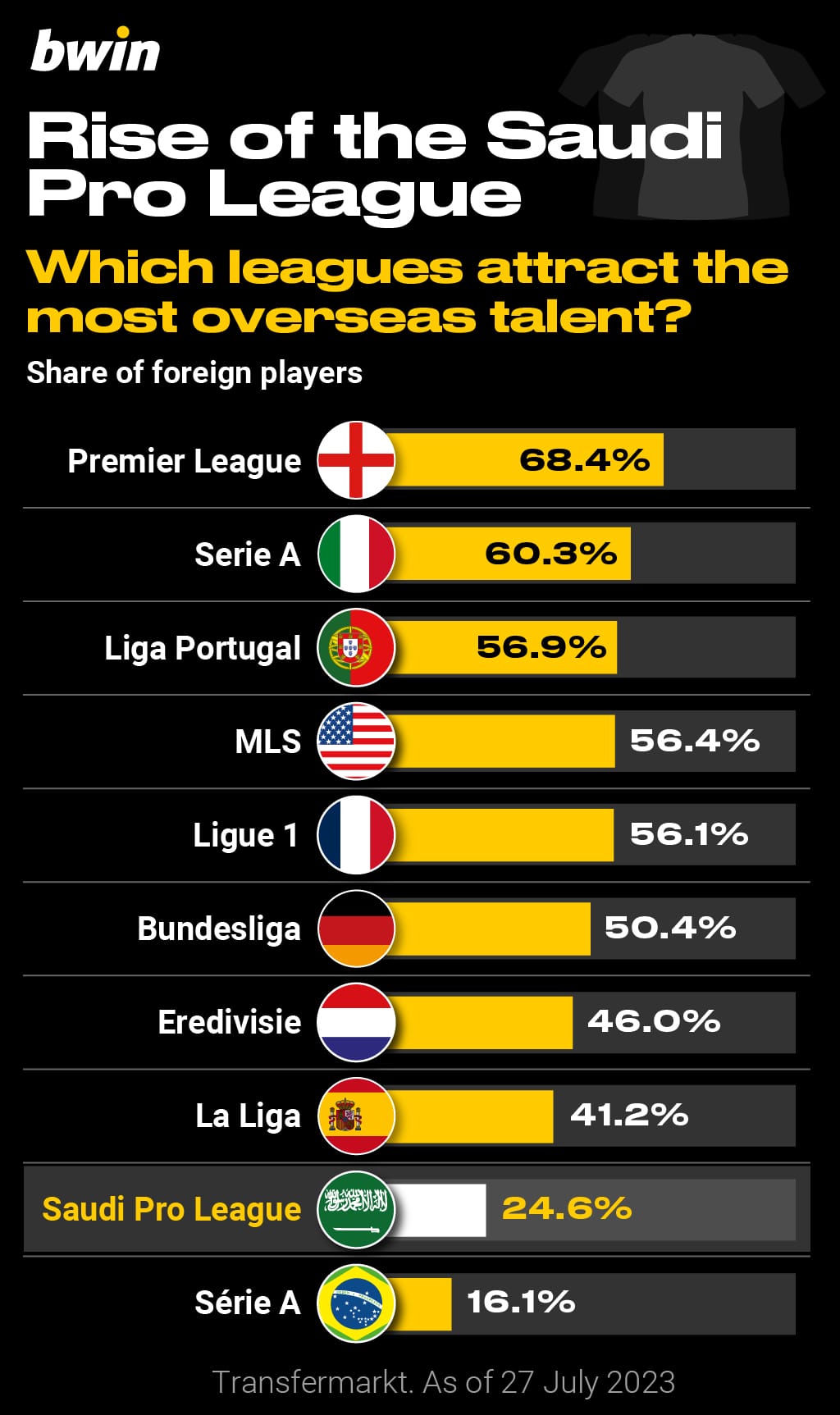 Despite the influx of new faces from Europe, only 25 per cent of Saudi Pro League players were born outside the Gulf state. Only Brazil's Serie A can demonstrate a greater commitment to domestic talent, with just 16 per cent of players having originated from overseas.
Which leagues see the biggest crowds?
With a reputation for delivering incredible atmospheres on matchdays, the German Bundesliga is the top division in the world for match attendance, based on last season's figures.
On average, 42,992 people came through the gates ahead of a typical Bundesliga game in 2022-23, compared with 40,236 in the English Premier League. There is a gap behind those two divisions to Spain's La Liga and Italy's Serie A, which saw average attendances of 29,584 and 29,537 respectively.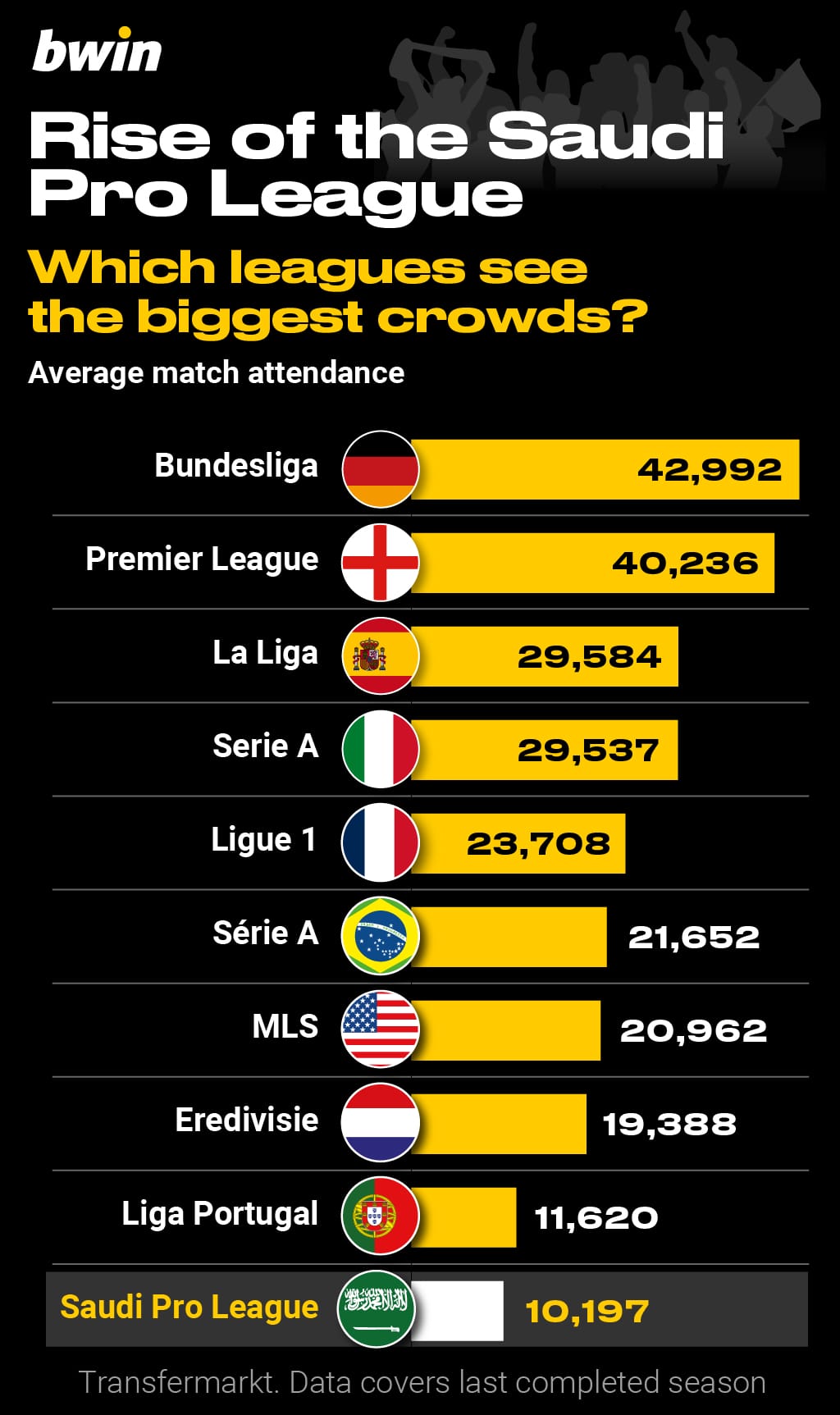 The Saudi Pro League lags far behind its rivals when it comes to people going to stadiums. An average of 10,197 spectators attended each match in 2022-23, which was fewer than the second and third tiers in England over the same period. Championship clubs attracted crowds of 18,795 on average last season, while the League One figure stood at 10,611.
Which leagues provide the most entertainment?
Not only does the Bundesliga attract the biggest crowds, it also produces the most goals at 3.17 per game in 2022-23. Among the other nine top tiers we looked at, the Dutch Eredivisie (3.02) was the only other league to average more than three goals per game.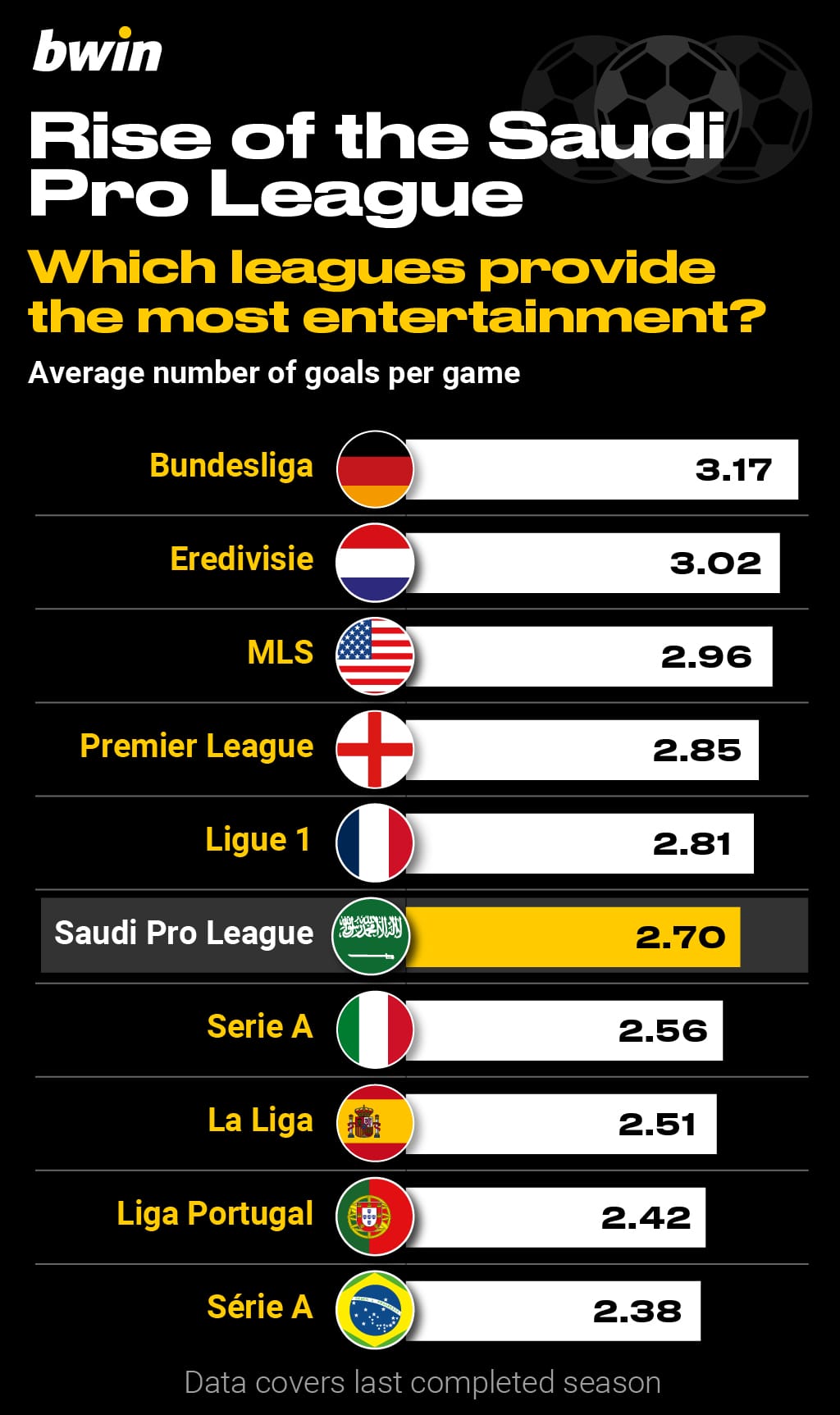 The Saudi Pro League was middle of the road last season when it came to in-game entertainment, with its 240 league matches producing 648 goals at an average of 2.70 per game. That was lower than the MLS (2.96), Premier League (2.85) and Ligue 1 (2.81), but higher than the Italian (2.56), Spanish (2.51), Portuguese (2.42) and Brazilian (2.38) top flights.
Who makes a Saudi Pro League best XI?
We have selected the strongest starting line-up from the players currently under contract at Saudi Arabian clubs. How would this team fare in one of Europe's top leagues?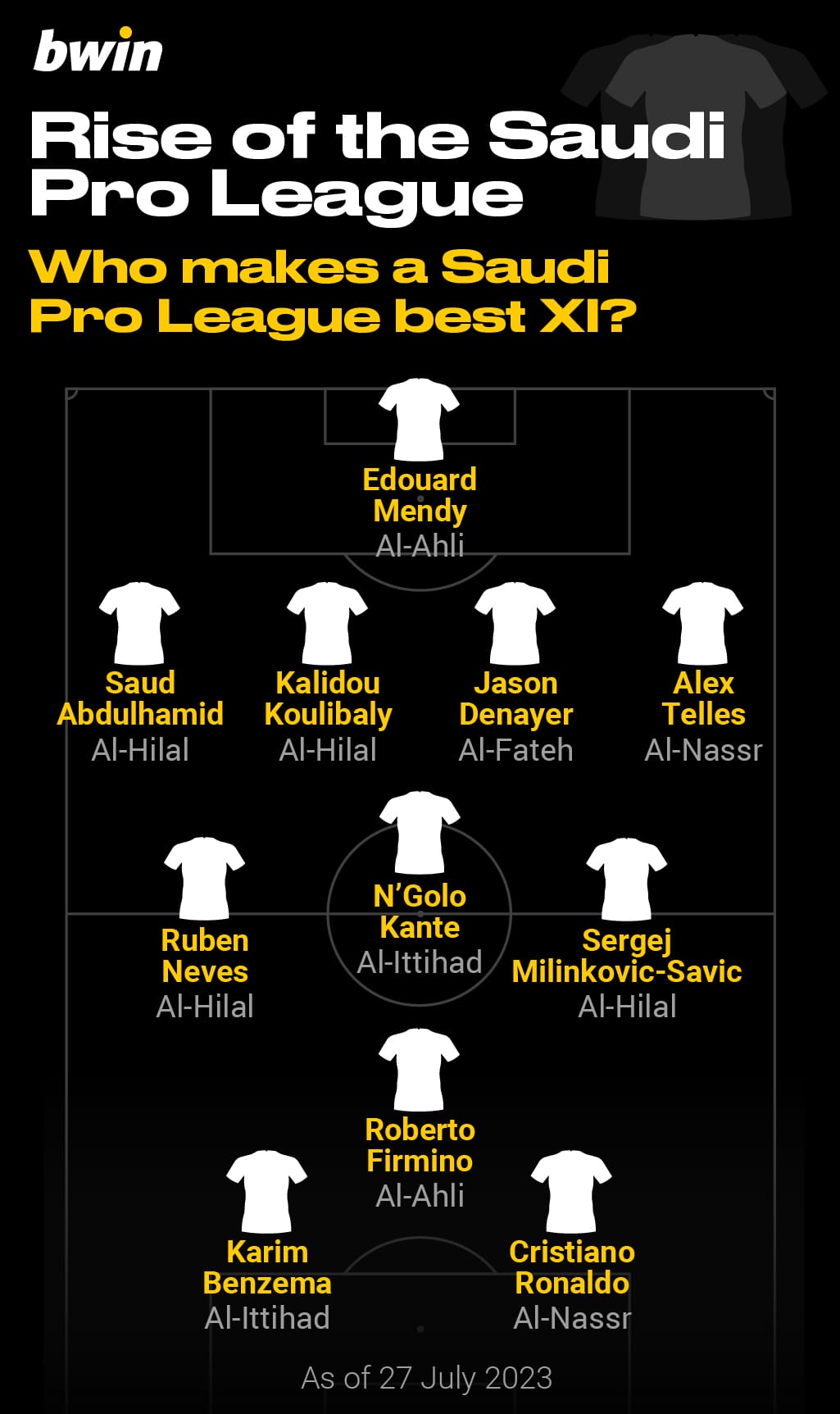 Goalkeeper: Edouard Mendy (Al-Ahli)
Mendy lost his place as first-choice goalkeeper at Chelsea having arrived at the club in 2020. He made just 10 Premier League appearances last season before opting for a move to the Middle East.
Right-back: Saud Abdulhamid (Al-Hilal)
The only homegrown player to make our team, Abdulhamid impressed as Saudi Arabia's right-back while playing in every minute of their 2022 World Cup campaign.
Centre-back: Kalidou Koulibaly (Al-Hilal)
Having spent just a single season at Stamford Bridge, Senegal centre-back Koulibaly departed Chelsea for a fee in the region of £20m, before his team-mate and compatriot Mendy followed suit.
Centre-back: Jason Denayer (Al-Fateh)
Capped 35 times by Belgium, Denayer started his career at Manchester City but failed to make a senior appearance. He joined Al-Fateh this summer from Dubai-based Shabab Al-Ahli.
Left-back: Alex Telles (Al-Nassr)
Brazil defender Telles will be reunited with former Manchester United team-mate Ronaldo at Al-Nassr, having spent last season on loan at Europa League winners Sevilla.
Defensive midfielder: N'Golo Kante (Al-Ittihad)
Two-time Premier League winner Kante headed for the Gulf on a free transfer as he opted to leave Chelsea at the end of his deal, albeit with considerable concerns over his fitness.
Centre midfielder: Ruben Neves (Al-Hilal)
Neves had helped Wolves out of the Championship before enjoying five Premier League campaigns at Molineux, establishing himself as one of the highest-regarded midfielders in the division.
Centre midfielder: Sergej Milinkovic-Savic (Al-Hilal)
Lazio's player of the season in 2020-21 and 2021-22, Milinkovic-Savic had been touted as a midfielder who would make his mark at the highest level of European football.
Second striker: Roberto Firmino (Al-Ahli)
The highest-scoring Brazilian in Premier League history, Firmino enjoyed a long and emotional goodbye to the Liverpool supporters, among whom he was a firm favourite after eight years at Anfield.
Centre forward: Karim Benzema (Al-Ittihad)
Reigning Ballon d'Or winner Benzema left Real Madrid after his contract expired having won five Champions League titles during his 14-year stay.
Centre forward: Cristiano Ronaldo (Al-Nassr)
After his acrimonious departure from Manchester United, Portuguese superstar Ronaldo headed to Saudi Arabia as a statement signing that told the footballing world the league meant business.
Join bwin today and receive up to £20 money back as a FreeBet if your first wager (3+ selections at odds of 1/2 (1.5) or greater) is a loser! Terms and conditions apply.