The new Premier League season is tantalisingly close, with reigning champions Manchester City set to kick things off at Vincent Kompany's Burnley on Friday.
While nothing is decided in the early part of a campaign, managers and players can find themselves under intense scrutiny during the opening weeks.
A positive start can signal the beginning of a brave new era or the vindication of a successful summer, while a string of poor performances can put managers' jobs and clubs' transfer strategies under immediate pressure.
Using 10 years' worth of results, we have assessed the importance of the start of the season, as well as each club's prospects of flying out of the blocks.
How important is a good start?
The way a team performs over the first six matches is generally a reasonable predictor of how they will fare across the entire campaign.
Eight of the previous 10 Premier League champions were within three points of the summit after half a dozen matches, with the only exceptions being Manchester City in 2013-14 and Chelsea in 2016-17, who gave up five and eight-point head starts respectively.
In the last six seasons – a period in which Pep Guardiola's City have dominated – none of the teams that went on to lift the title were more than two points adrift. Hence, any side with designs on deposing City will need to stay in touch early on.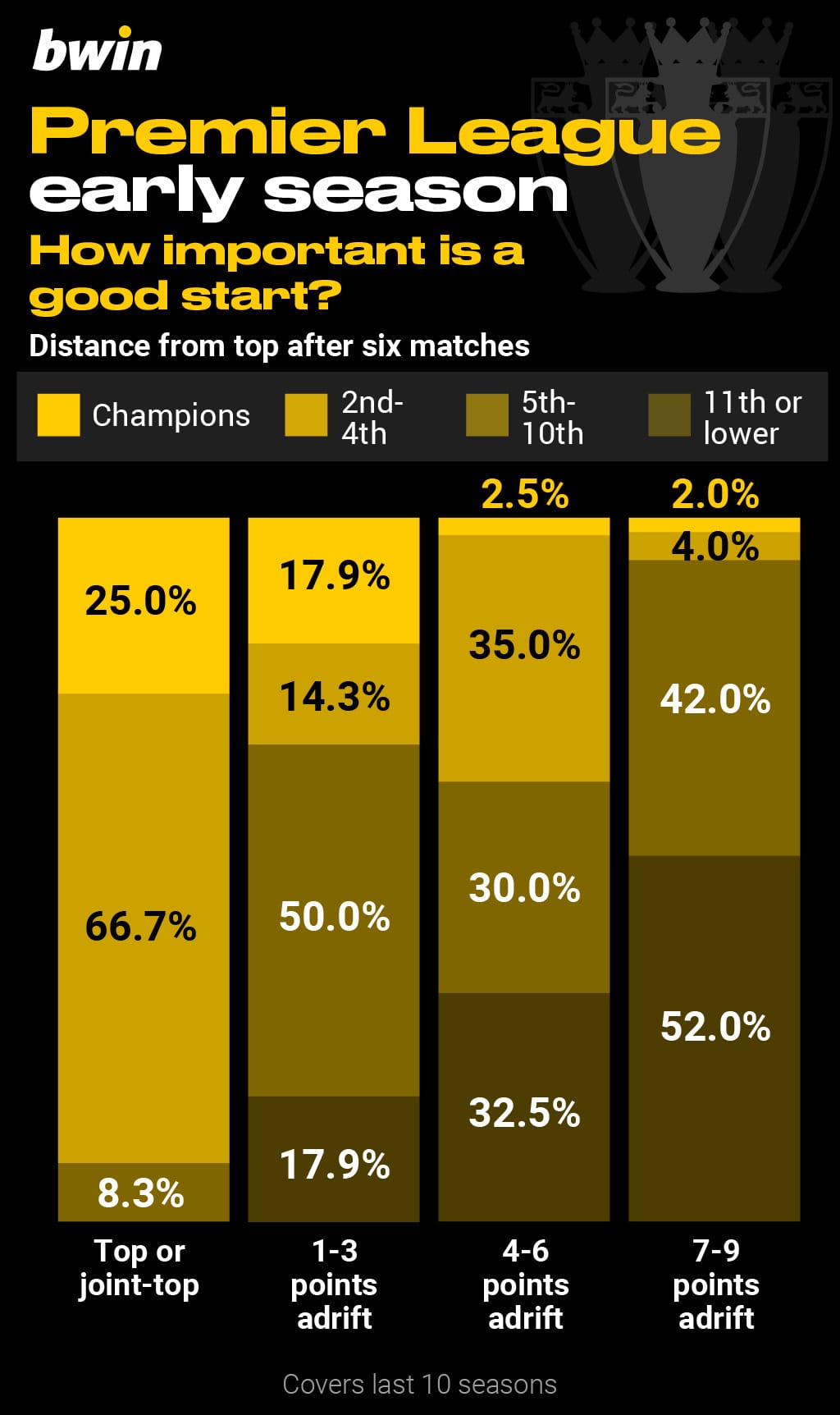 On the other hand, it is very rare to see a team collapse after making a strong start to the season.
All but one of the 12 sides to sit top or joint-top after six matches since 2013-14 went on to qualify for the Champions League. The one anomaly was Everton in 2020-21, who were level with local rivals Liverpool on 13 points but ultimately faded to a 10th-place finish.
The Toffees have since endured back-to-back relegation battles after their manager Carlo Ancelotti departed for Real Madrid.
Can teams recover from a bad start?
A poor run of form in the opening weeks of the season can spell trouble for the rest of the campaign.
Over the past decade, the majority of clubs to sit bottom or joint-bottom after half a dozen games have gone on to be relegated.
This includes Leicester in 2022-23, who – despite taking just one point from their first six matches – were widely regarded as too good to go down having won the FA Cup only two years earlier under Brendan Rodgers.
The Foxes did improve but were left to rue their poor start as they failed to avoid the drop on the final day of the season.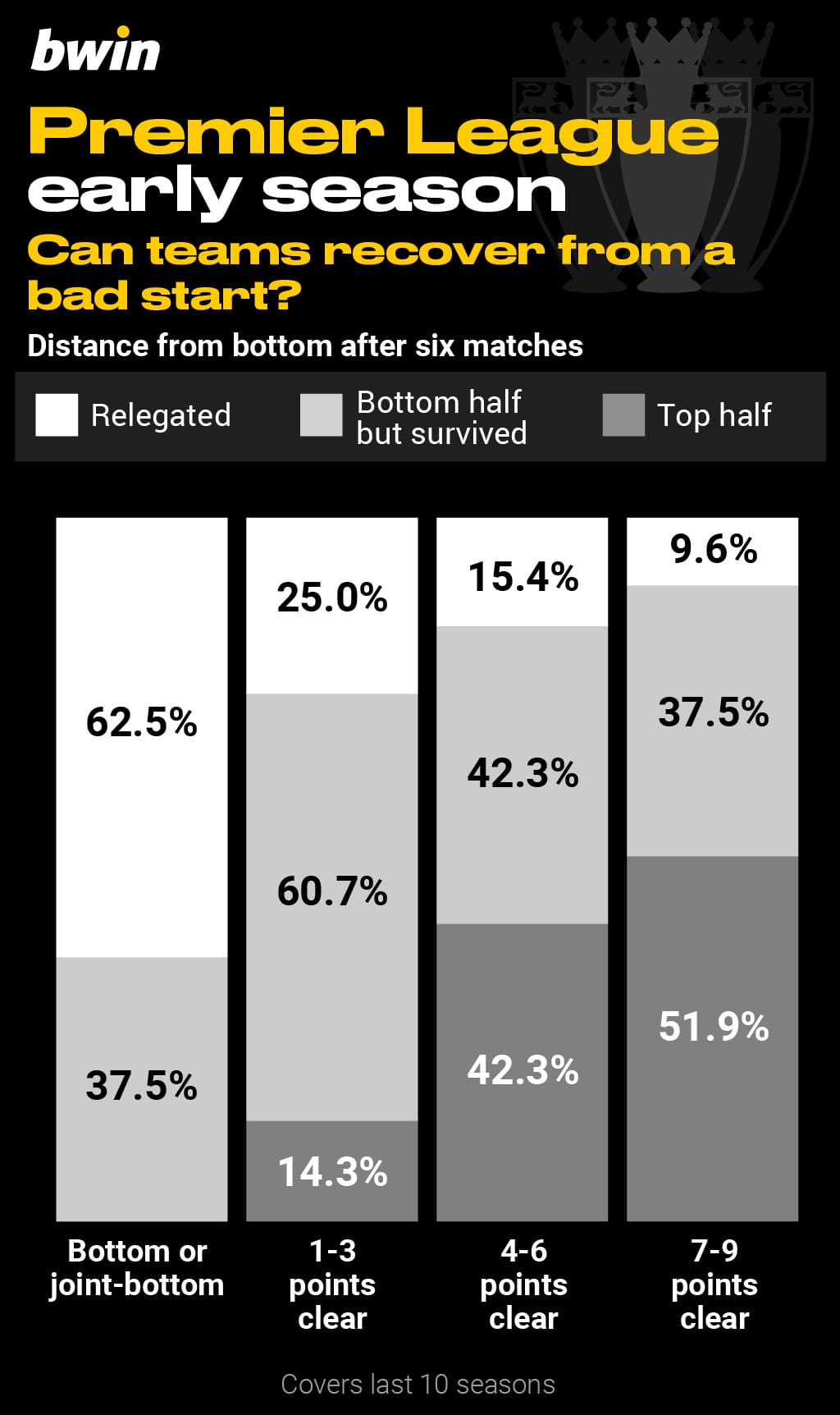 However, Aston Villa proved last season that a bad start is not the end of the world. Villa struggled initially when Steven Gerrard was at the helm, winning just four points from the opening six matches, but enjoyed a remarkable renaissance under Unai Emery to finish seventh and qualify for the Europa Conference League.
Who are the fastest and slowest starters?
Everton have got off to a flying start on a number of occasions during the past decade, before losing momentum in the middle and latter parts of the campaign. The Toffees average 1.50 points per game in the first six matches, compared with 1.32 across the rest of the season.
Brighton rank second for early-season overperformance, ahead of last year's front-runners Arsenal.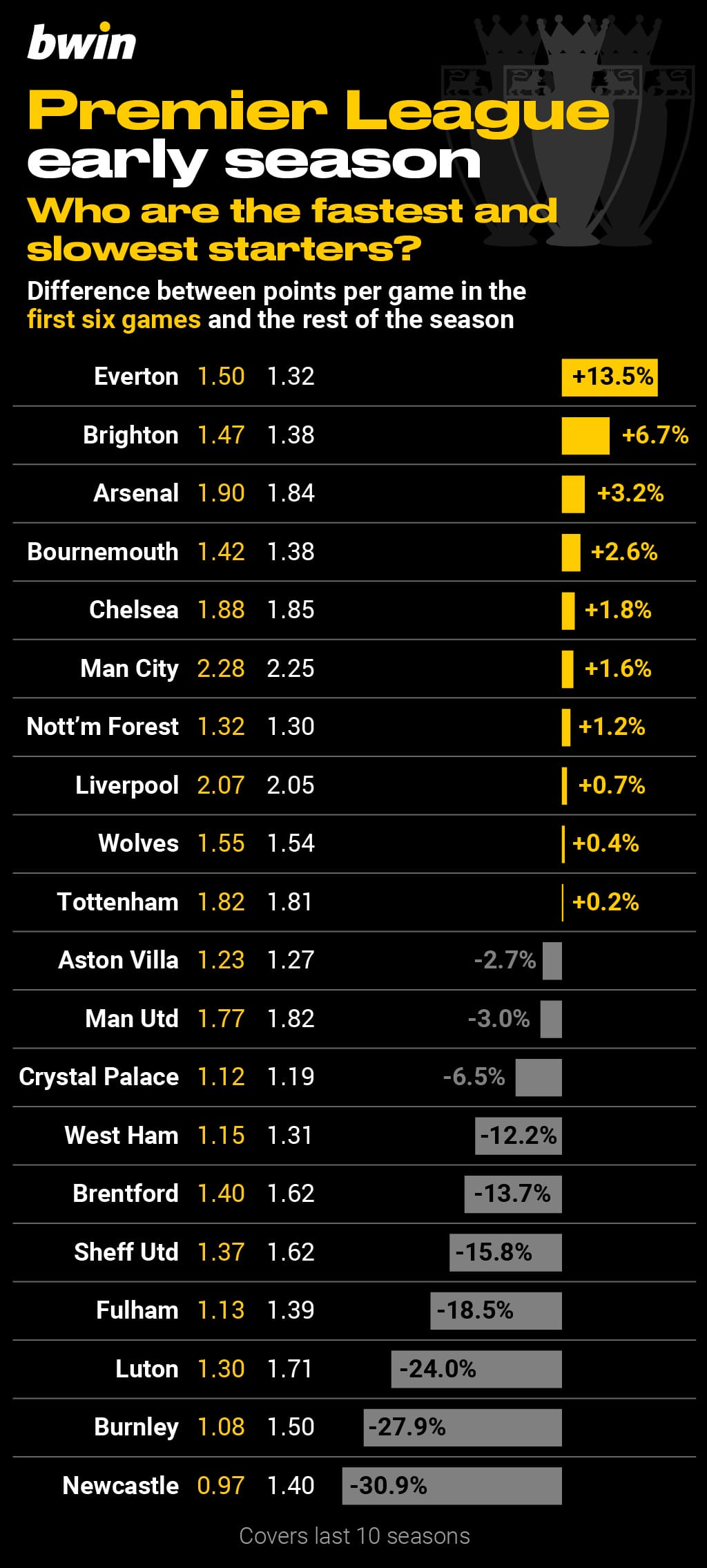 It remains to be seen whether Everton's run of strong starts will continue with Sean Dyche in charge. The ex-Burnley manager was a notoriously slow starter during his time at Turf Moor, with the Clarets having averaged just 1.08 points per game in the first six since 2013-14 – the second-lowest in the league ahead of Newcastle (0.97).
The Magpies will hope for a better return this season following a superb campaign in 2022-23, but the fixture computer has conspired against Eddie Howe's side by scheduling clashes with Manchester City and Liverpool before the end of August.
What impact can a new manager have?
Four Premier League clubs are set to start the 2023-24 season with a new manager.
Chelsea and Tottenham have replaced caretakers Frank Lampard and Ryan Mason respectively, with the Blues having appointed their rivals' former boss Mauricio Pochettino and Spurs having poached Celtic manager Ange Postecoglou.
Meanwhile, Bournemouth's owners decided to sack Gary O'Neil and appoint Rayo Vallecano's Andoni Iraola in his place, with O'Neil favourite to take the vacant Wolves job following Julen Lopetegui's departure.
Of the 33 managers to take over a Premier League side between seasons, 15 oversaw an improvement in results in their first six games compared with the last six of the previous campaign, while an identical number experienced a decline. The remaining three matched the points return achieved by their predecessor.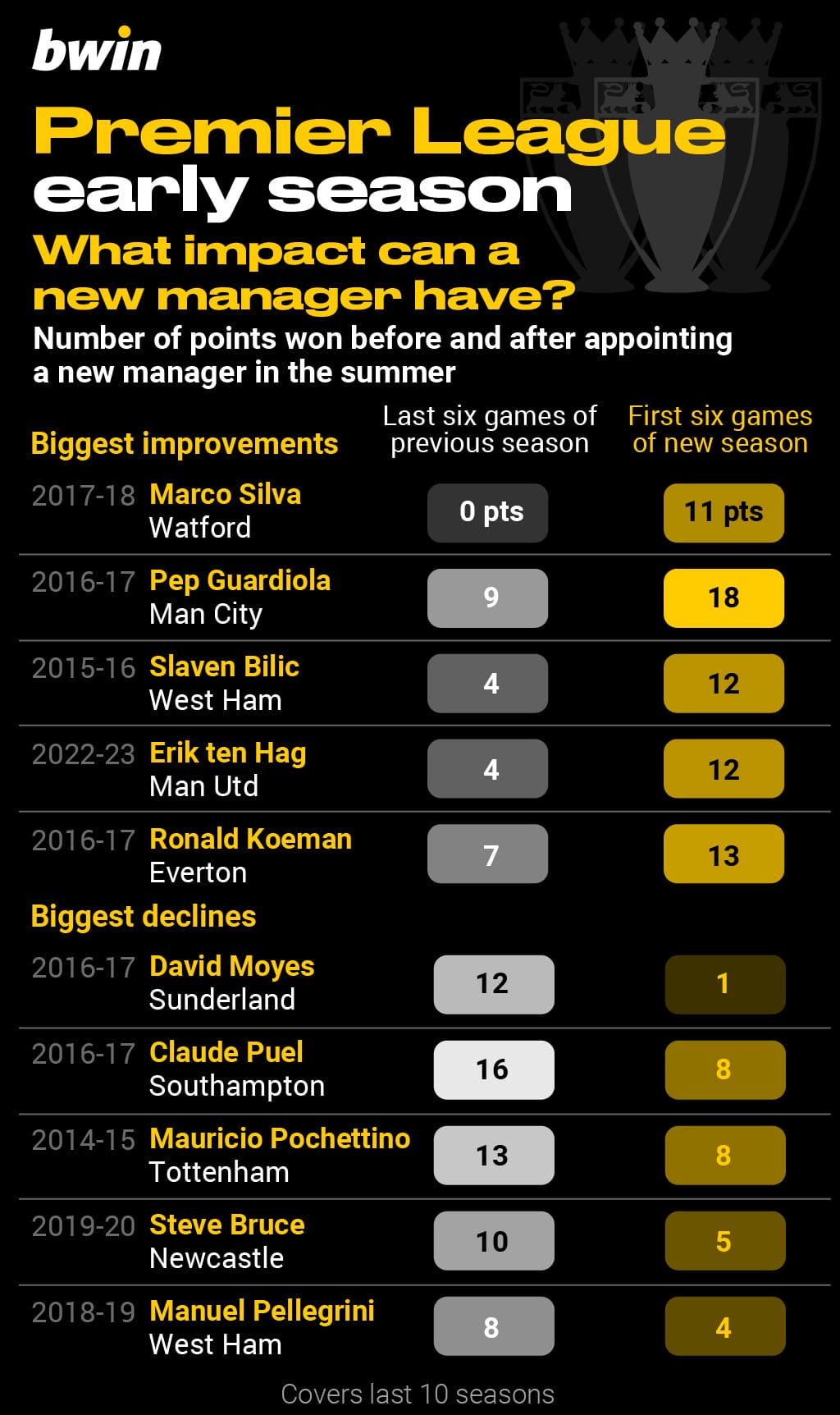 Current Fulham boss Marco Silva masterminded the greatest upturn in a previous job at Watford. Silva saw his side collect 11 points from the opening half-dozen games of the 2017-18 season, with the same squad having lost all of their final six matches under Walter Mazzarri in 2016-17.
Meanwhile, West Ham's David Moyes had the opposite effect after taking over at Sunderland in 2016. The Black Cats earned a solitary point from their first six games, having finished the previous season strongly under Sam Allardyce.
What can we learn from pre-season?
The early stages of a new campaign can provide a few surprises, with results from pre-season friendlies having the potential to set expectations artificially high or low.
Nonetheless, how a team fares in warm-up matches is a useful guide to the mood in the camp at the very least. Thinking back 12 months, Mikel Arteta's Arsenal started strongly having top-scored in pre-season, with players such as Gabriel Jesus and Bukayo Saka carrying their form into the first half of the Premier League campaign.
Tottenham and Liverpool have been amongst the goals this time around, with Spurs netting 14 times in four matches and Liverpool amassing 18 goals from five outings.
Harry Kane scored four in Tottenham's friendly against Shakhtar despite being linked with a move to Bayern Munich, while Mohamed Salah, Diogo Jota and Darwin Nunez linked up effectively on numerous occasions for Jurgen Klopp's side.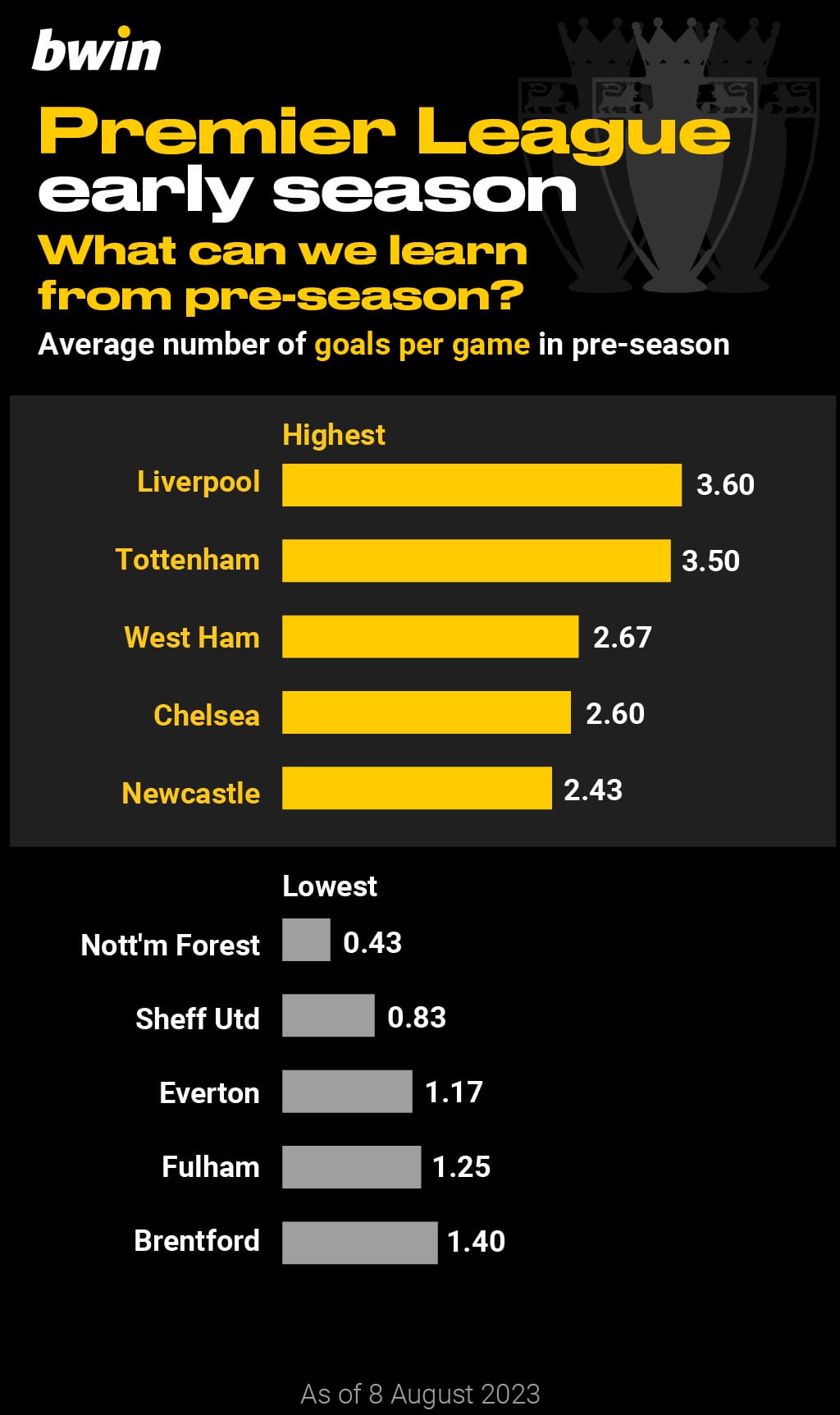 At the other end of the spectrum, Nottingham Forest struggled in front of goal, scoring just three times in seven warm-up matches. Worryingly, Steve Cooper's men drew a blank in each of their last four friendlies ahead of their season opener against Community Shield winners Arsenal.
Join bwin today and receive up to £20 money back as a FreeBet if your first wager (3+ selections at odds of 1/2 (1.5) or greater) is a loser! Terms and conditions apply.