The Easter weekend sees varsity's most-vicious rivalry renewed as the revered academics from Oxford and Cambridge universities put down the books in favour of a battle to see who can row up the Thames fastest.
This year will be the 162nd instalment of the ancient event, with Oxford trailing in the overall standings by 81-79.
Recent years have seen the men from the City of Dreaming Spires close the gap on their pacesetting counterparts; they've won seven of the past ten face offs and it's this period of time we're concerned with in our study that establishes how the modern boat race isn't quite as quintessentially English as it's billed…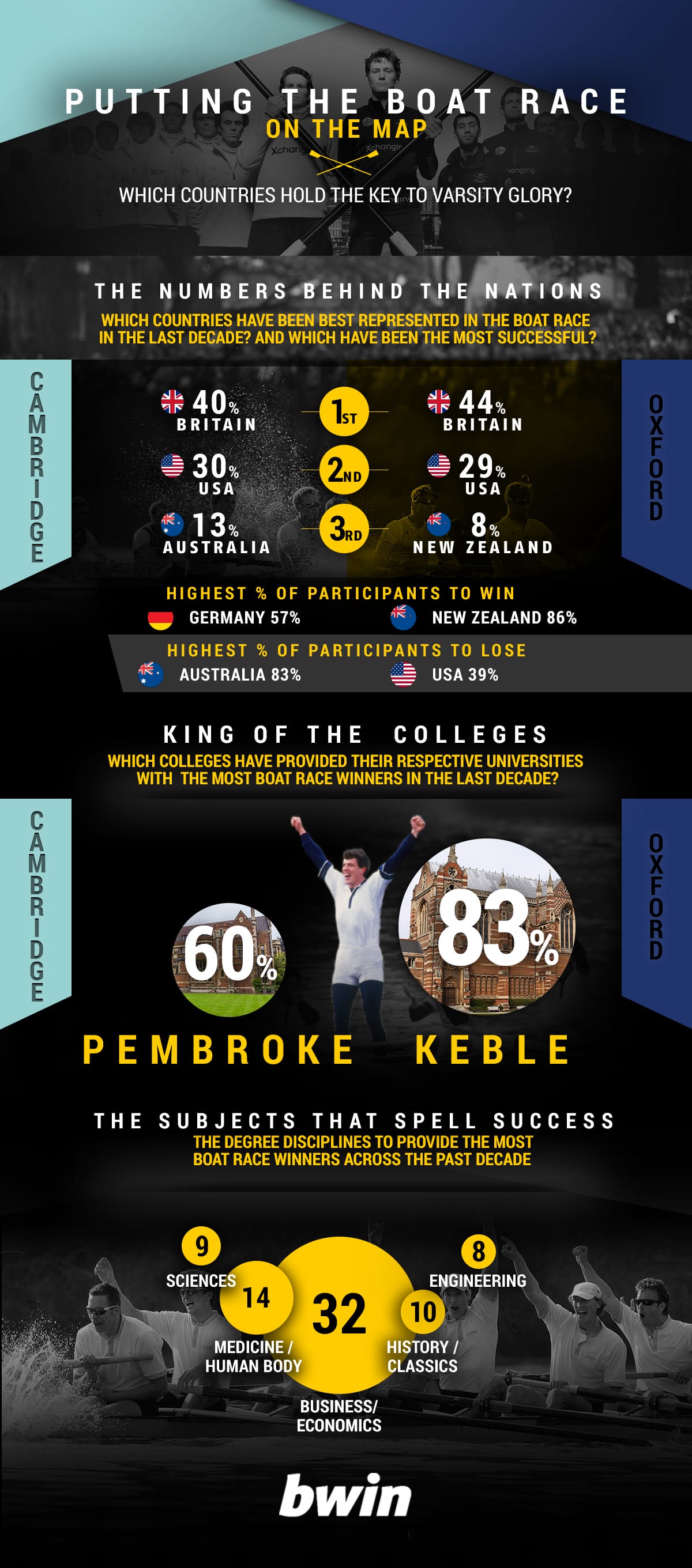 It strikes as no surprise to see Britain as the most well-represented of all the nations to provide a Boat Race protagonist across the past ten years, but a surprising amount of international oarsmen have played a bigger part than one might suspect.
Of the 90 Oxford students to step into the shell since 2006, 30% were USA nationals, while 10% came from Canada.
Cambridge are an even more multi-national outfit, with their Brit-count notably lower at 39% (Oxford's is 42%), with 14% of their stroke-stroke-strokers hailing from Australia.
German inclusions can be closely associated with rare Cambridge glories of late, with 33% of Deutschland natives selected by the light blues ending up on the winning side. It's a strike rate no other nation representing the university can match.
New Zealanders are the rabbit's foot for Oxford, with the dark blues never tasting defeat having selected a Kiwi in their crew.
As far as unlucky countries go, it's the US for Oxford, whose ex-pats have lost 18.4% of the races they've participated in, whereas it's the Aussies for Cambridge, who have been defeated in a whopping 84.6% of the encounters they've been involved with.
It's possible the light blues are aware of this stat, having not selected a single rower from the land Down Under this year, but, in Ali Abbasi, they have a German native aboard and, at 3/4, they're well worth a wager.