Former Arsenal centre-half and potential future Conservative party candidate Sol Campbell jovially suggested that most footballers are "probably" Tories in the Guardian over the weekend. It doesn't take an awful lot of research to conclude that he's probably right.
This wasn't always the case, even in recent years, but it's becoming increasingly difficult to find a footballer willing to speak up for Labour.
Much of the political discourse that emanates from footballers' mouths/Twitter feeds these days is in some way connected to finance; Labour's proposed 'Mansion Tax' gets the brunt of Campbell's ire, understandably so as he owns a £25m house, but others have followed in the 40-year-old's wake.
In 2007, then-Chelsea midfielder Frank Lampard 'outed' himself as a different kind of Blue with this quote:
"I had a really good chat with David. As a footballer I don't want to get involved with the campaigning thing but I am a Tory and I really like David Cameron."
Pro-Tory QPR bruiser Karl Henry had a right ding-dong with talkSPORT presenter and staunch Republican Stan Collymore on Twitter during the Jeremy Paxman-hosted leaders' interviews at the start of the General Election campaign.
The Super Hoops' midfielder has hardly shut up about Cameron's crowd since.
Too many feel that they're entitled to other people's wealth. You're not!! Be smart, work hard, make your own money! #VoteConservative

— Karl Henry (@karlhenry08) April 24, 2015
Footballers aside, why do people demonise our country's high-earners yet have no issue with those who abuse the benefits system?

— Karl Henry (@karlhenry08) April 24, 2015
As the below graphic indicates, there are still a few footballers willing to go against the grain, although where Henry's QPR teammate Joey Barton stands is hard to figure out.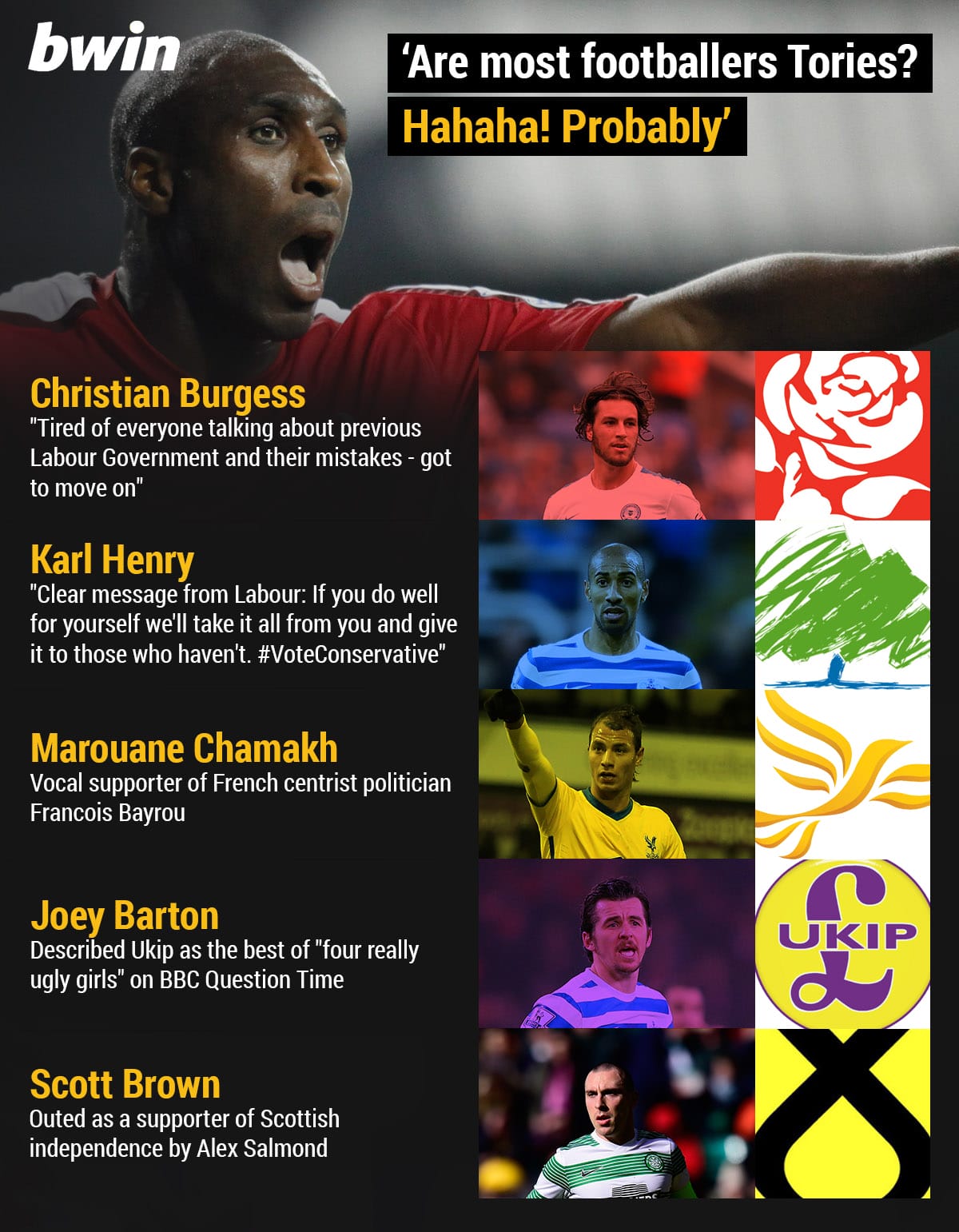 The Liverpudlian's penchant for George Orwell and Friedrich Nietzsche quotes suggest he should be voting to the left of Labour, and not with Ukip.
Crystal Palace striker Marouane Chamakh's political leanings are likely to be close to the Liberal Democrats, as the former Gunner has been a vocal supporter of frequent French presidential candidate Francois Bayrou, who leads the centrist, pro-European 'Democratic Movement'.
That being said, the Lib Dems have shed their yellow skin so comprehensively over the past five years they'll struggle to attract anybody's support, let alone Chamakh's.
Former SNP leader Alex Salmond let slip in his recently released autobiography 'The Dream Shall Never Die' that Celtic captain Scott Brown and former boss Neil Lennon were for Scottish independence ahead of September's lost debate, but neither could quite risk the potential backlash from fans.
Peterborough United's Christian Burgess is an interesting player to watch out for on social media, as the former Middlesbrough and Arsenal defender, who completed a history degree at Teesside University last year, often tweets messages of support for immigration and the NHS.
Evening of politics for me. Spotlight – Ed Milliband on ITV now followed by the BBC election debate! #2015GeneralElection

— Christian Burgess (@Burgey44) April 16, 2015
He even has the odd nice word to say about Labour. In lieu of a dyed-in-the-wool Socialist, such as legendary former managers Brian Clough and Sir Alex Ferguson, or Sky Sports analyst Jamie Carragher, Burgess is about as good as it gets for Ed Miliband's lot on the pitch at present.