New guidelines on added time aimed at clamping down on time-wasting are splitting opinion among football players and fans.
Premier League referees have been instructed to more accurately calculate time lost to stoppages this season – including goal celebrations, substitutions and VAR checks – in line with the approach first adopted at the men's World Cup in Qatar last year.
However, several figures within the game are concerned about the impact of the new rules on player welfare, with Manchester United defender Raphael Varane describing them as 'damaging' and questioning why players' opinions are not being heard.
Having studied matches played in the Premier League and the 2022 World Cup, we look at the impact so far as well as which teams and players stand to be most affected.
How much time was added in the first round of Premier League games?
The first weekend of Premier League action saw an additional three minutes of stoppage time on top of last season's average.
An average of 11 minutes and 34 seconds was added to the first 10 fixtures, compared with eight minutes and 31 seconds in 2022-23.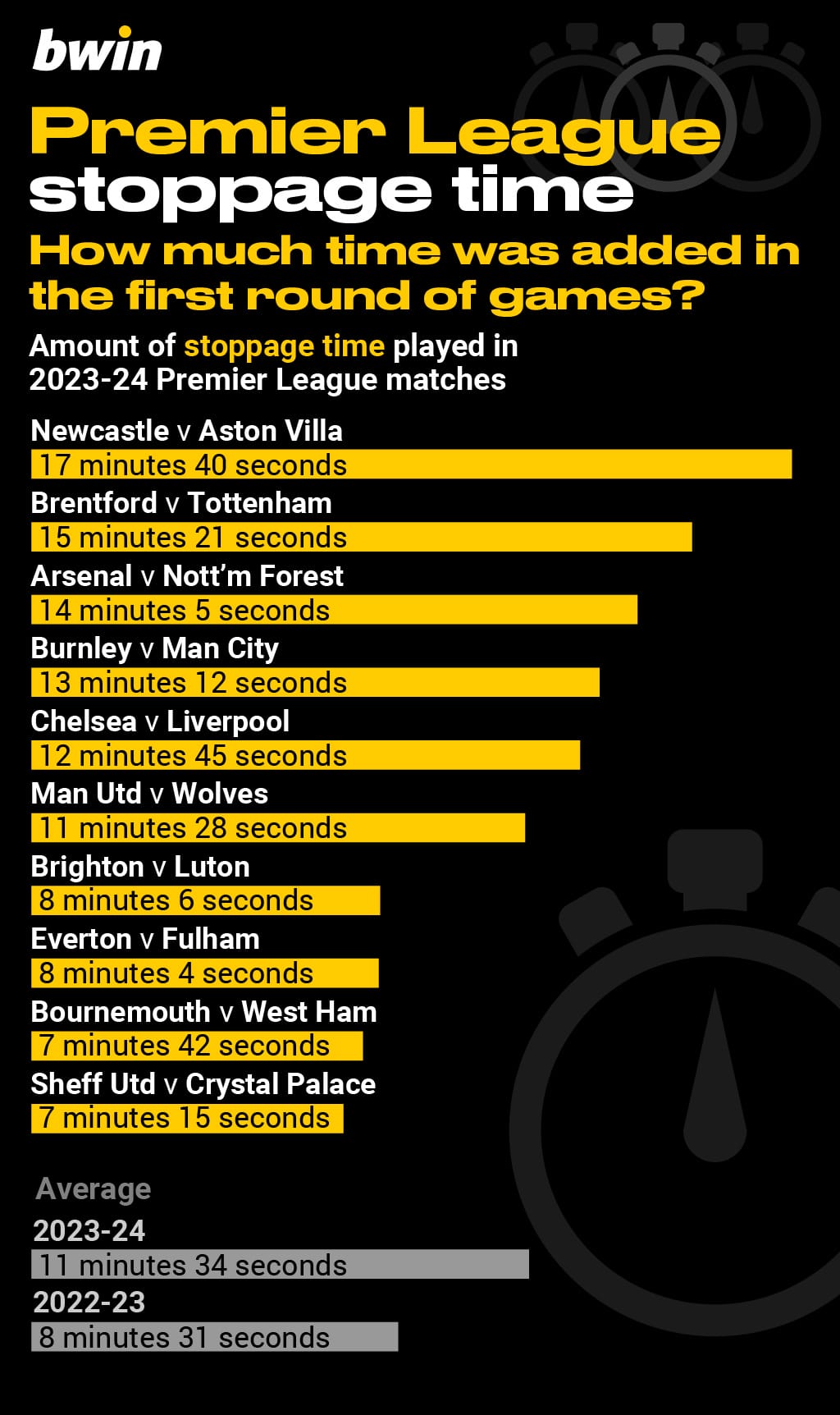 Newcastle's 5-1 win over Aston Villa was the longest match of the opening weekend, with a total of 17 minutes and 40 seconds added at the end of the first and second periods. Six of the 10 games lasted at least 100 minutes, compared with just 25 per cent of matches across the 2022-23 season.
Which teams are likely to benefit?
Last season's Premier League table would have looked decidedly better or worse for some teams had there been no stoppage time.
Tottenham consistently used the additional minutes to their advantage, scoring eight goals and conceding only four in time added on. If those goals were excluded, Spurs would have been six points and two places worse off at the end of the campaign.
New manager Ange Postecoglou saw his side maintain their knack for stoppage-time goals in a 2-2 draw against Brentford, with Emerson Royal netting from distance in the fourth minute of first half added time.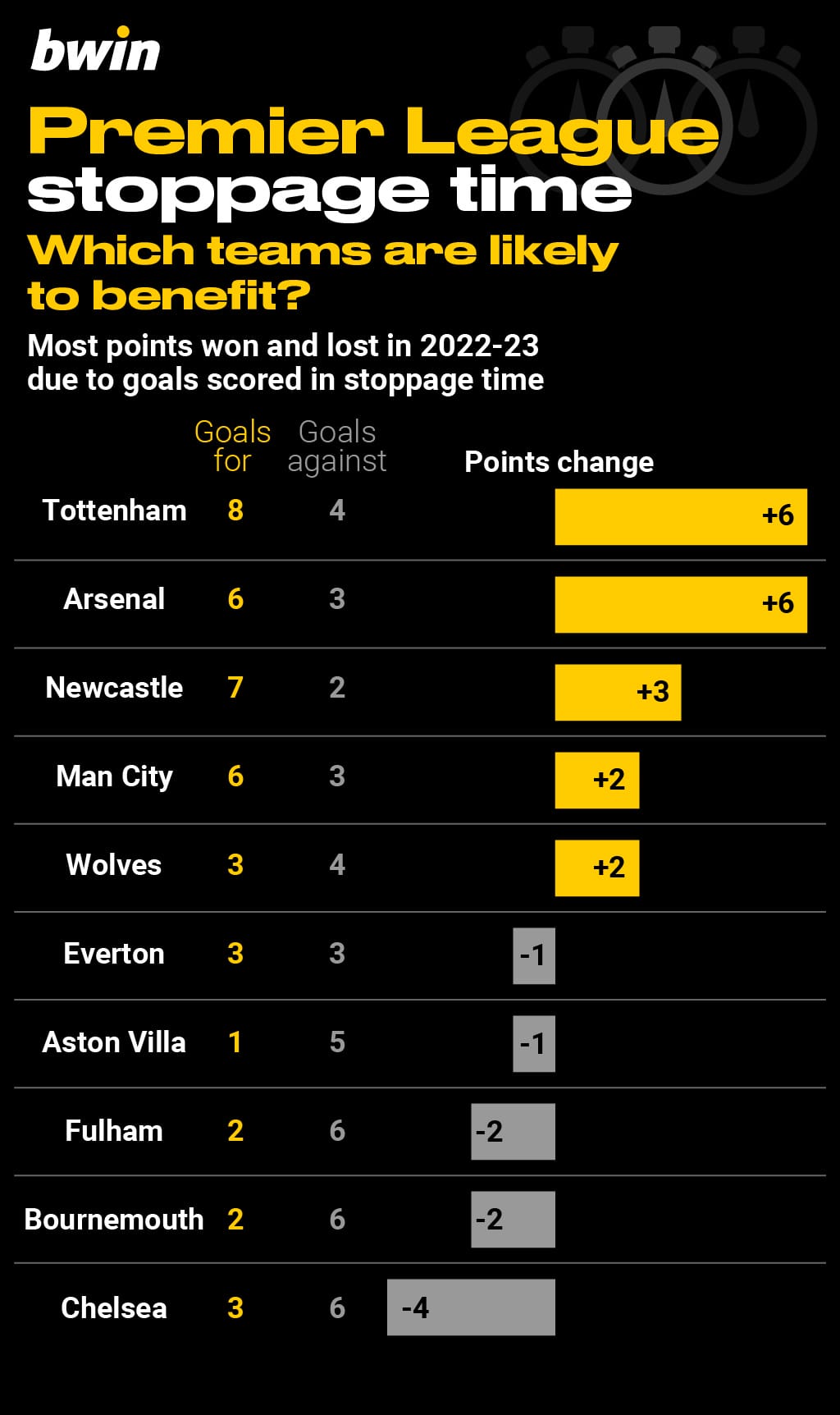 On the flipside, stoppage-time goals cost Chelsea four points last season, with the Blues scoring three and conceding six in additional minutes. The recently-installed Mauricio Pochettino will be looking to ensure his men don't let their guard drop during extended periods of injury time.
Which players will be most affected?
If the early increase in stoppage time persists, teams can expect to play an extra two hours of Premier League football this season before factoring in equivalent rises in other competitions.
Defenders are set to be most affected because they are least likely to be subbed off during matches.
Four in five starting defenders last season were also on the pitch at the final whistle, compared with 50 per cent of midfielders and 43 per cent of strikers.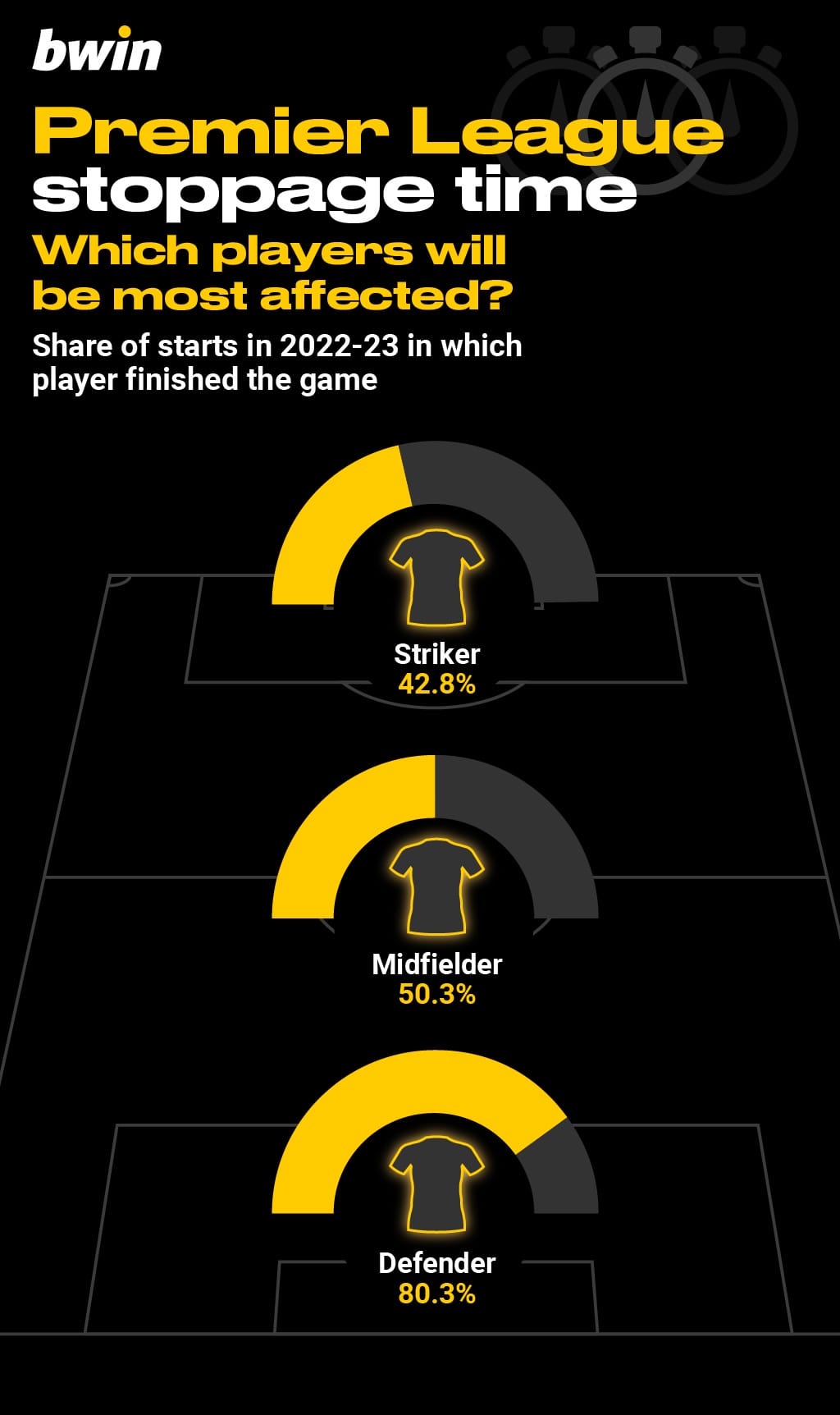 Of the four players who started at least 30 Premier League matches last season without being subbed off, three – Everton's James Tarkowski, Aston Villa's Tyrone Mings and Brentford's Ethan Pinnock – were defenders, with only ex-West Ham captain Declan Rice deployed further forward.
What can we learn from the World Cup?
Stoppage time running into the double digits became commonplace at the 2022 World Cup in Qatar, with England's opening game against Iran being clocked at more than 117 minutes – the longest group match in the tournament's history.
On average, there were 11 minutes and 45 seconds of additional time, up from seven minutes and 28 seconds in Russia in 2018. This had little impact on scorelines, however, with the number of goals scored in injury time falling slightly from 22 to 21.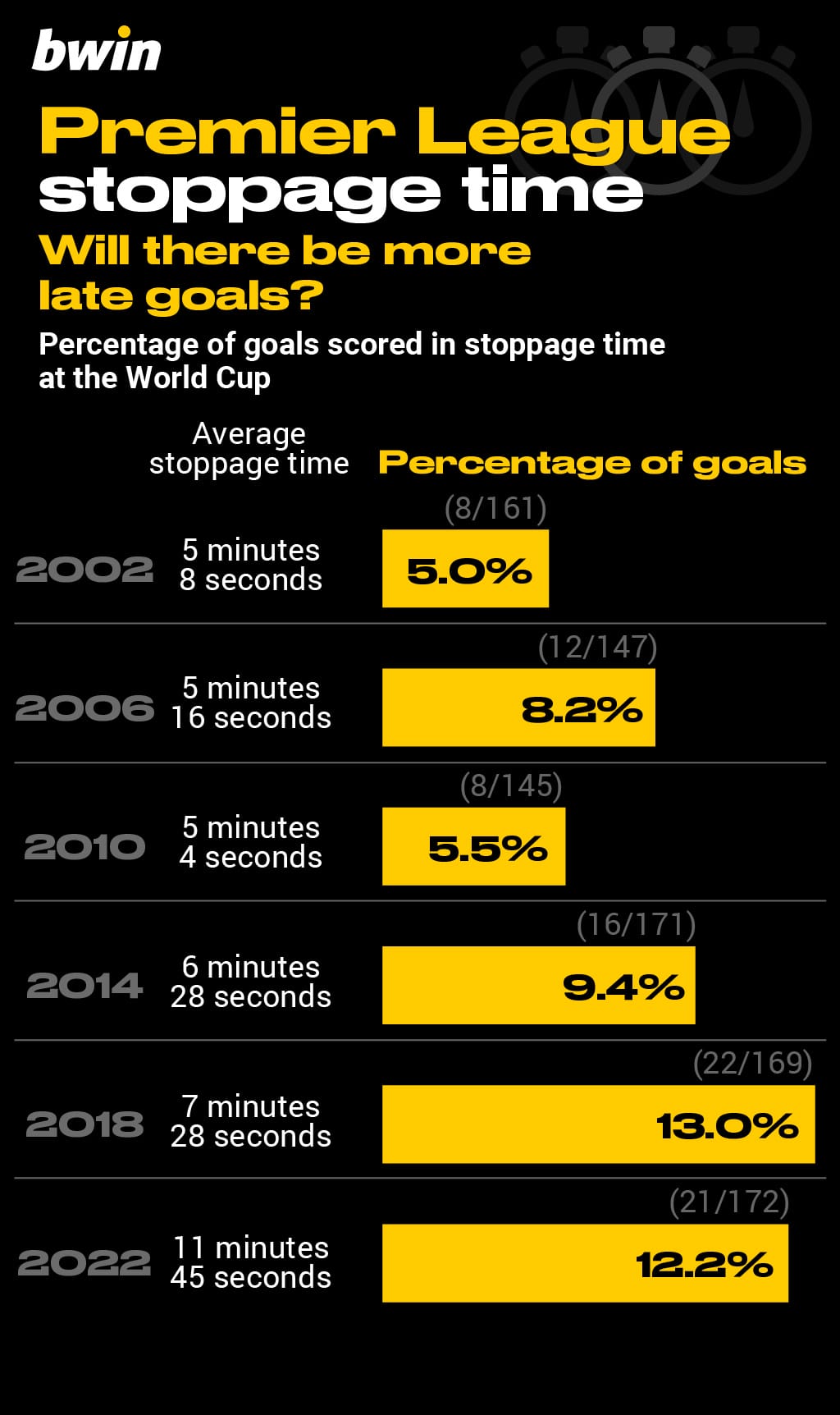 The game's lawmakers are adamant the change in approach will be beneficial, with players quickly realising there is no benefit to trying to waste time.
The statistics from Qatar suggest that players could indeed adapt. The average amount of added time dropped as the tournament progressed, starting out at 12 minutes and 47 seconds in the first round of group games and falling to just over 10 minutes in the knockout stages.
Regardless of differing views on the issue, extended periods of stoppage time are here to stay. FIFA found that the rise in added time at the Qatar World Cup compared with Russia led to an increase in effective playing time from 55 minutes and 41 seconds in 2018 to 59 minutes and 47 seconds in 2022.
Join bwin today and receive up to £20 money back as a FreeBet if your first wager (3+ selections at odds of 1/2 (1.5) or greater) is a loser! Terms and conditions apply.