The 'big five' European leagues have released their fixture schedules for the 2023-24 season, with the opening games barely a month away.
Last season's Treble winners Manchester City will play the first match of the new campaign against Burnley on August 11, with Clarets boss Vincent Kompany set to face his former manager Pep Guardiola.
While every team plays the same opponents twice, timing can be everything. A tough start can easily undermine a positive pre-season, while a gentle run of opening fixtures can provide the momentum necessary for a successful campaign.
To predict what might happen in 2023-24, we have used our latest odds to rank each team by their most likely finishing position and compared their opening and closing runs from the European top five leagues fixture list.
Who has the easiest start?
Serie A outfit Atalanta – who have finished fifth or higher in five of the past seven seasons – have been handed the most comfortable opening schedule of any team in Europe's top five leagues.
They play three of Italy's projected bottom four – Frosinone, Cagliari and Verona – in their first six games.
Clermont Foot of France's Ligue 1 rank second for easiest starts, ahead of Bundesliga runners-up Borussia Dortmund who will hope to move on quickly from losing Jude Bellingham to Real Madrid with a gentle opening run.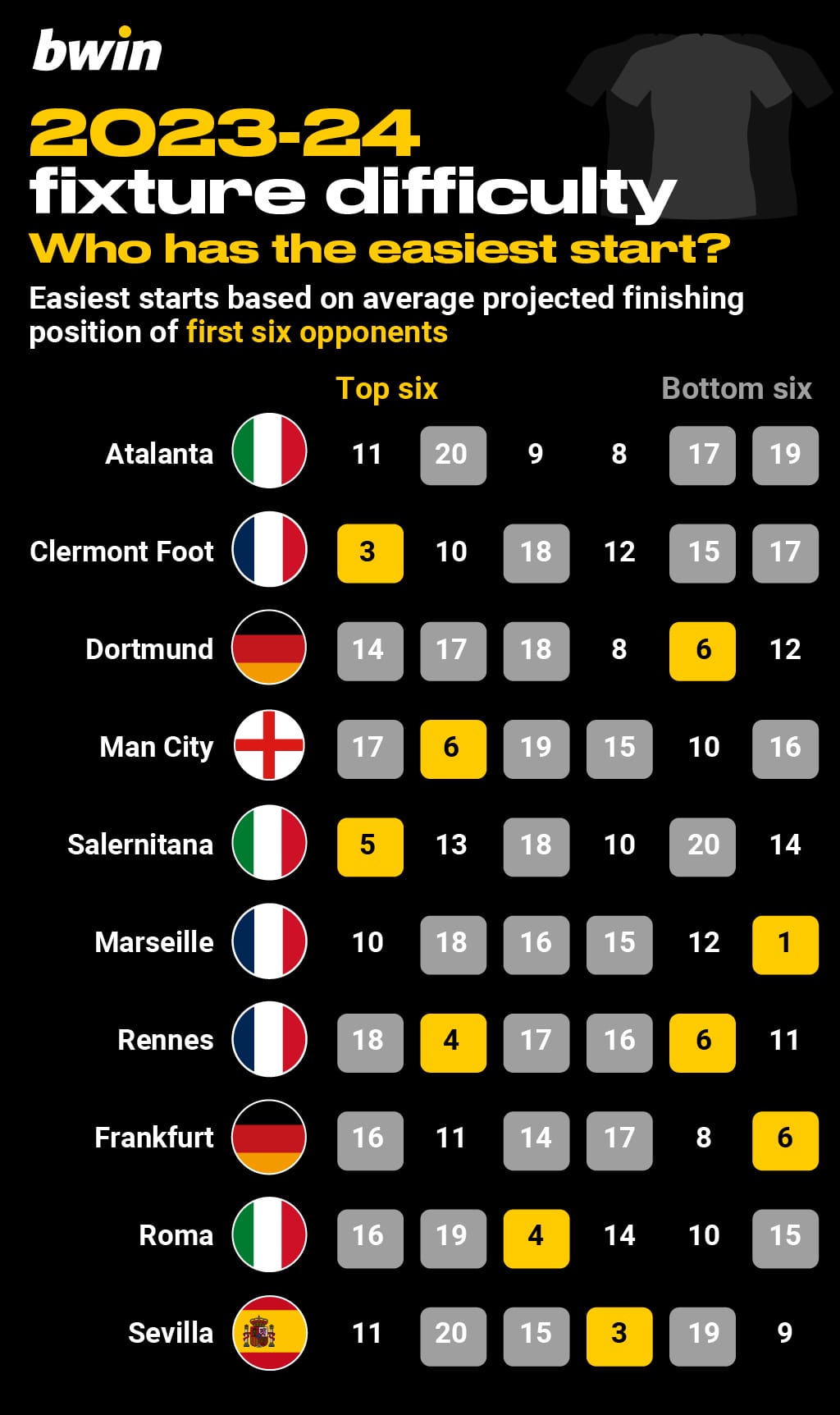 Reigning Premier League champions City have the best start of any English club, with four of the projected bottom six lined up for their first half-dozen fixtures.
After their opening match against Burnley, Guardiola's all-conquering side face Sheffield United, Fulham and Nottingham Forest in the first six weeks of the campaign. A home game against Newcastle in week two is their trickiest assignment until a trip to Arsenal on October 7.
Who has the toughest start?
Nice have been stitched up by the fixture computer, with four teams expected to finish in the Ligue 1 top six lying in wait in the first six weeks of the season. The French Riviera club will play Lille, Lyon, PSG and Monaco before the end of September.
Meanwhile, Bournemouth will hope to avoid a repeat of last season when they travel to Anfield in week two. The Cherries lost 9-0 to Liverpool on that occasion in what proved to be Scott Parker's final Premier League match in charge.
New boss Andoni Iraola has been handed a baptism of fire with Tottenham, Brentford, Chelsea and Brighton also pencilled in for their first six fixtures. An opening home game against Europa Conference League winners West Ham is already looking like an important one.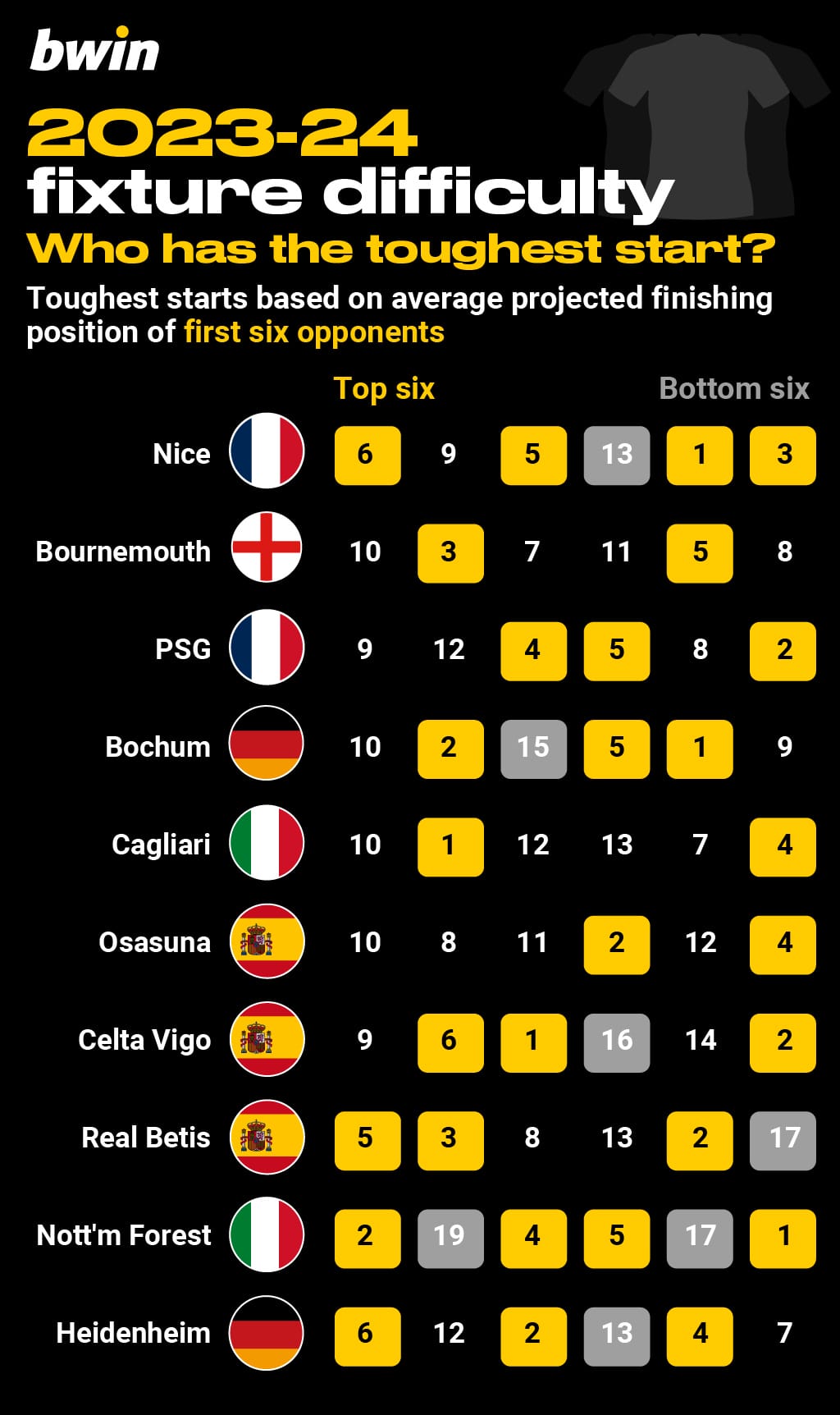 PSG – under new manager Luis Enrique – face several early tests of their credentials with games against Lens, Lyon and Marseille in their first six. Despite a tricky schedule, the Parisians will start the campaign as strong favourites to claim a 10th championship in 12 seasons.
Which teams over and underperform early in the season?
We have analysed results from the past decade to identify the fastest and slowest starters in Europe's top five leagues.
Ligue 1's Toulouse come out on top when comparing records in the first six games with the rest of the season. The French side have earned 61 points from 48 matches in the opening six weeks since 2013-14, which represents a 26 per cent improvement on their average across the remainder of the campaign.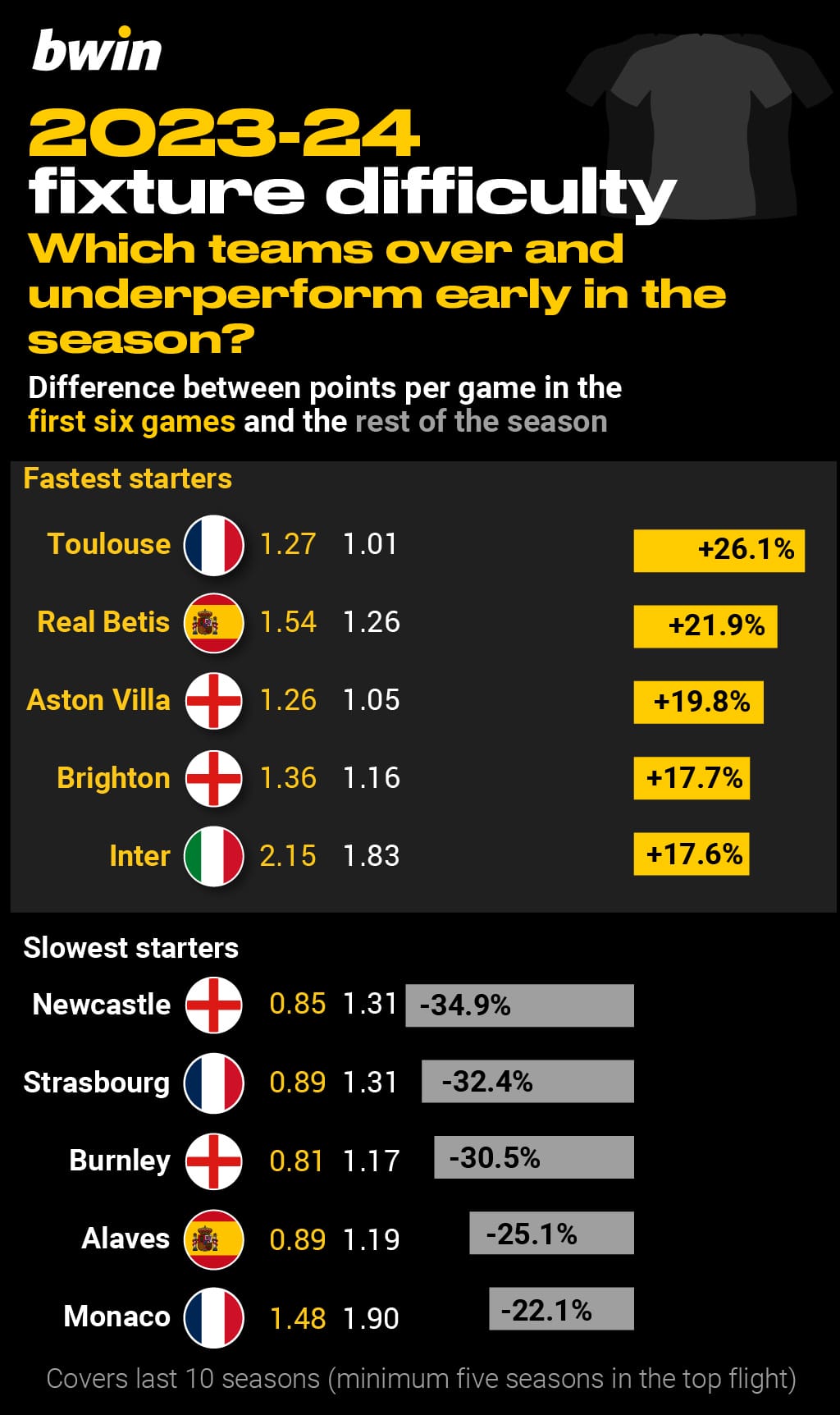 On the other hand, Newcastle are the worst starters in Europe based on Premier League matches played in the last decade.
The Magpies average a paltry 0.85 points per game in the first six matches, compared with 1.31 in the rest of the season. They most recently lived up to their slow-starting reputation in 2021-22 by taking just three points from their opening half-a-dozen games, before a change of management and ownership saw them recover impressively and finish in 11th place.
Who has the best run-in?
Premier League Brentford can expect to end the campaign strongly with Sheffield United, Luton, Everton, Fulham and Bournemouth among their final six opponents. The Bees will also be boosted by the return of the banned Ivan Toney as they look to improve on a ninth-place showing last term.
As well as enjoying one of the kindest starts on paper, Manchester City's title chances are strengthened by an innocuous-looking run-in. Guardiola's men host Luton, Wolves and West Ham in their final six fixtures, with the remaining matches away at Tottenham, Nottingham Forest and Fulham.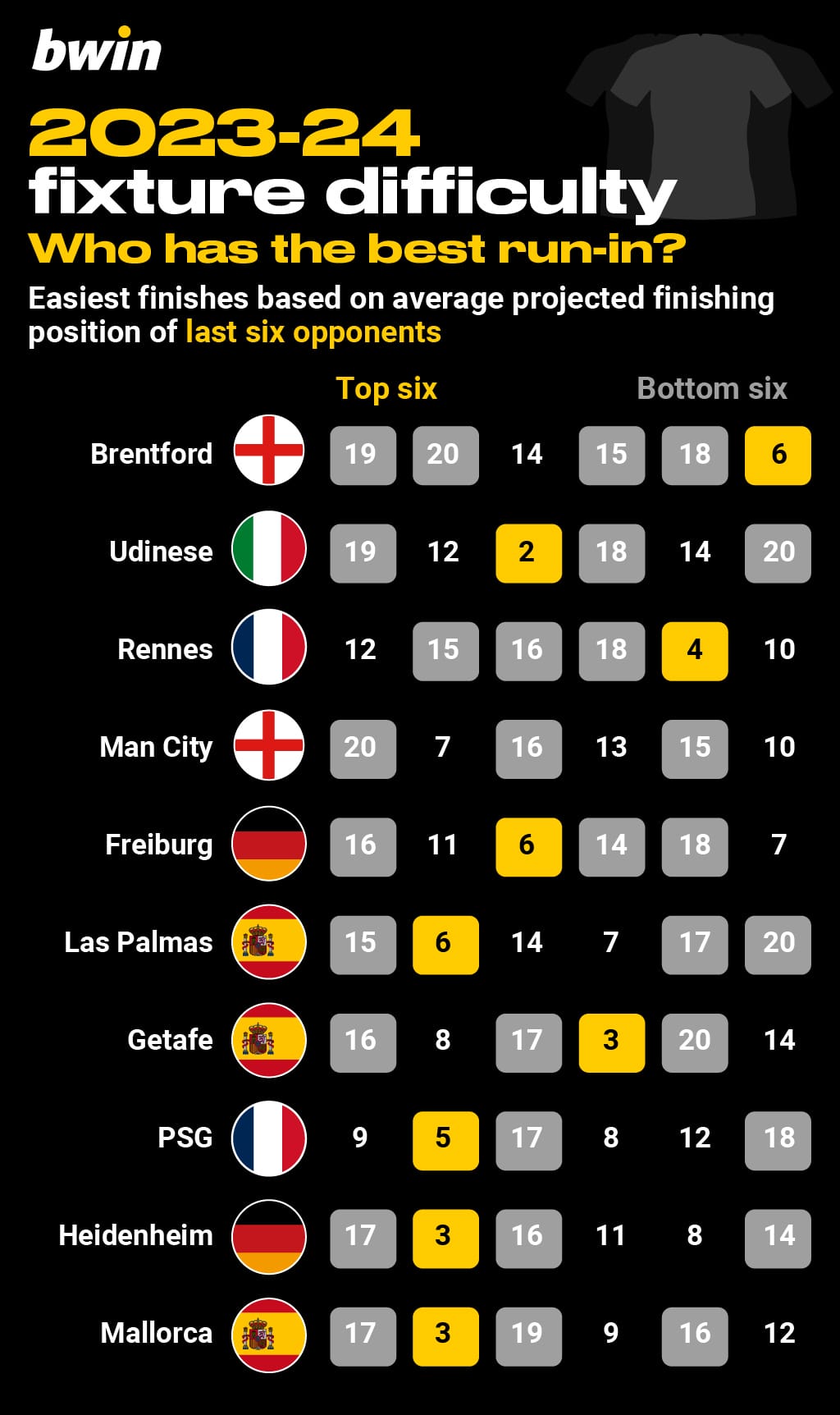 Scanning the rest of Europe, Udinese will hope to secure their first top-half finish in more than a decade having been handed a generous closing schedule in Serie A. Rennes will benefit from the best run-in in Ligue 1, while Freiburg and Las Palmas are the equivalent beneficiaries in the Bundesliga and La Liga respectively.
Who has the most difficult run-in?
Bournemouth's run-in is even more daunting than their tricky start, with Iraola's side due to face three of the Premier League's predicted top six – Manchester United, Arsenal and Chelsea – in their final half-a-dozen games. What's more, their remaining opponents (Villa, Brighton and Brentford) are expected to finish 11th or higher.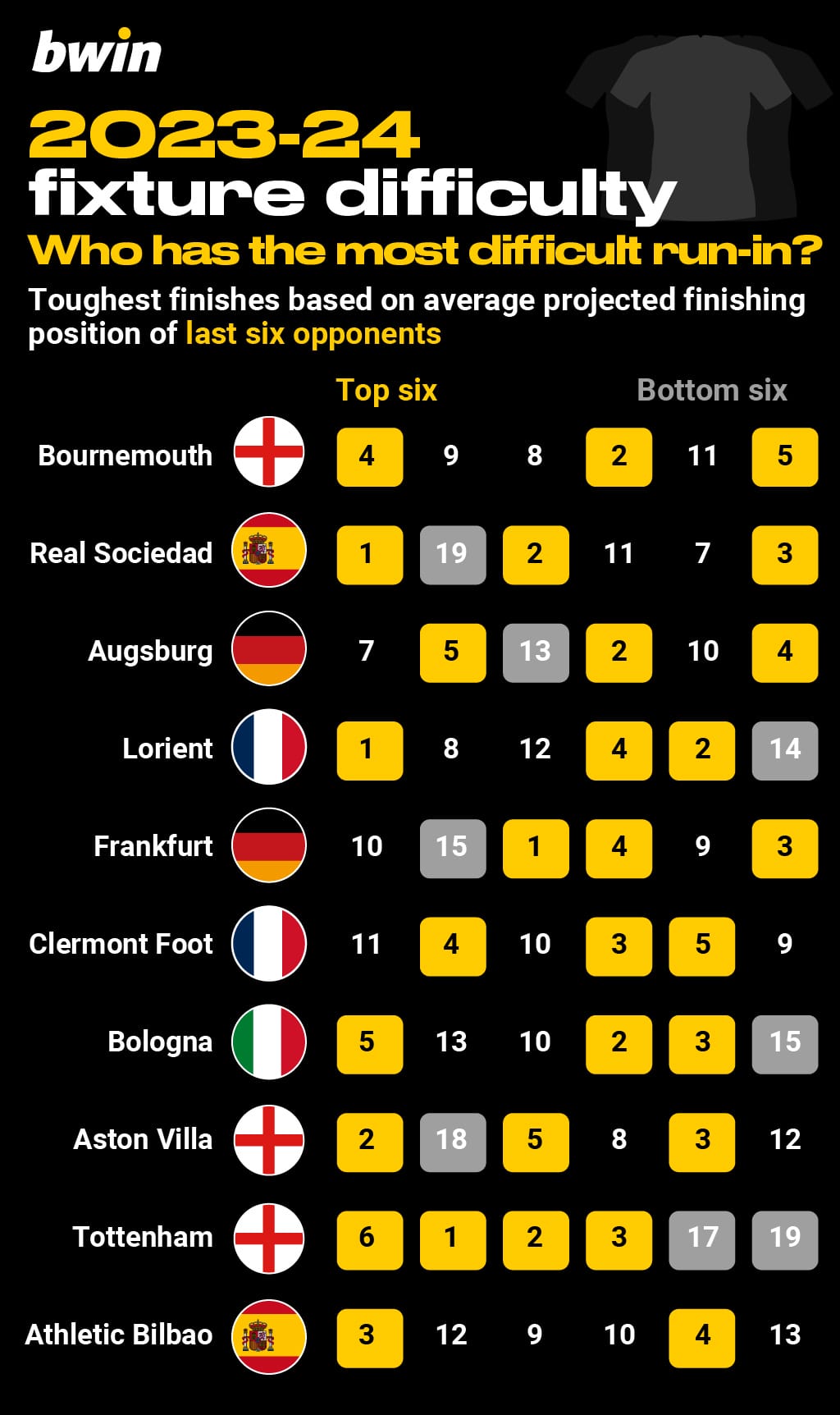 Meanwhile, Real Sociedad and Tottenham are the only two teams in Europe's leading leagues who will face all of the projected top three in their final six fixtures.
Sociedad – who qualified for the Champions League last season for the first time in a decade – play Real Madrid, Barcelona and Atletico in the final month of the campaign, while Spurs and their new manager Ange Postecoglou are set to face Manchester City, Arsenal and Liverpool back-to-back in late April and early May.
Who ups their game and who struggles at the end of the season?
Empoli are Europe's biggest overperformers in the final six games of the season with an average improvement of 28 per cent compared with the rest of the campaign, while Granada, Sassuolo, Lorient and Stuttgart complete an unheralded top five.
In contrast, Wolves have seen the biggest drop-off in the past decade, averaging just a point per game in the last six compared with 1.39 in the first 32 matches. Last season was no different as the Midlands club slumped to crushing defeats at Brighton and Arsenal during a poor closing run.
Manchester United are also among the biggest underperformers, averaging 23 per cent fewer points per game in the final six matches compared with the rest of the season. The Red Devils' worst downturn came under caretaker manager Ralf Rangnick in 2021-22, when they lost four of their final half-a-dozen fixtures.