Max Verstappen drove his way into the Formula One history books by claiming his 10th-consecutive victory at the Italian Grand Prix.
Verstappen sat behind Carlos Sainz for 14 of the 51 laps at Monza's Temple of Speed before fighting his way past the Ferrari pole-sitter at the second chicane.
From there, the Dutchman never looked back to better the mark he shared with Sebastian Vettel and become the first driver in Formula One to reach double figures for straight victories.
"I never would have believed that it was possible," said Verstappen. "But we had to work for it and that definitely made it a lot more fun."
Since he claimed his maiden title at the controversial season-ending Abu Dhabi race in 2021, Verstappen has won 27 of the 36 races staged. In his last 25 appearances, he has failed to win just four times.
"What Max is doing is breaking records and driving at an unbelievable level," said Red Bull team principal Christian Horner.
"You have to recognise and applaud what Max is doing. It is very special to achieve what he has achieved and we shouldn't detract from that in any way.
"In sport, it is very rare that something like this happens and it is a golden moment for him and certainly a golden moment for the team."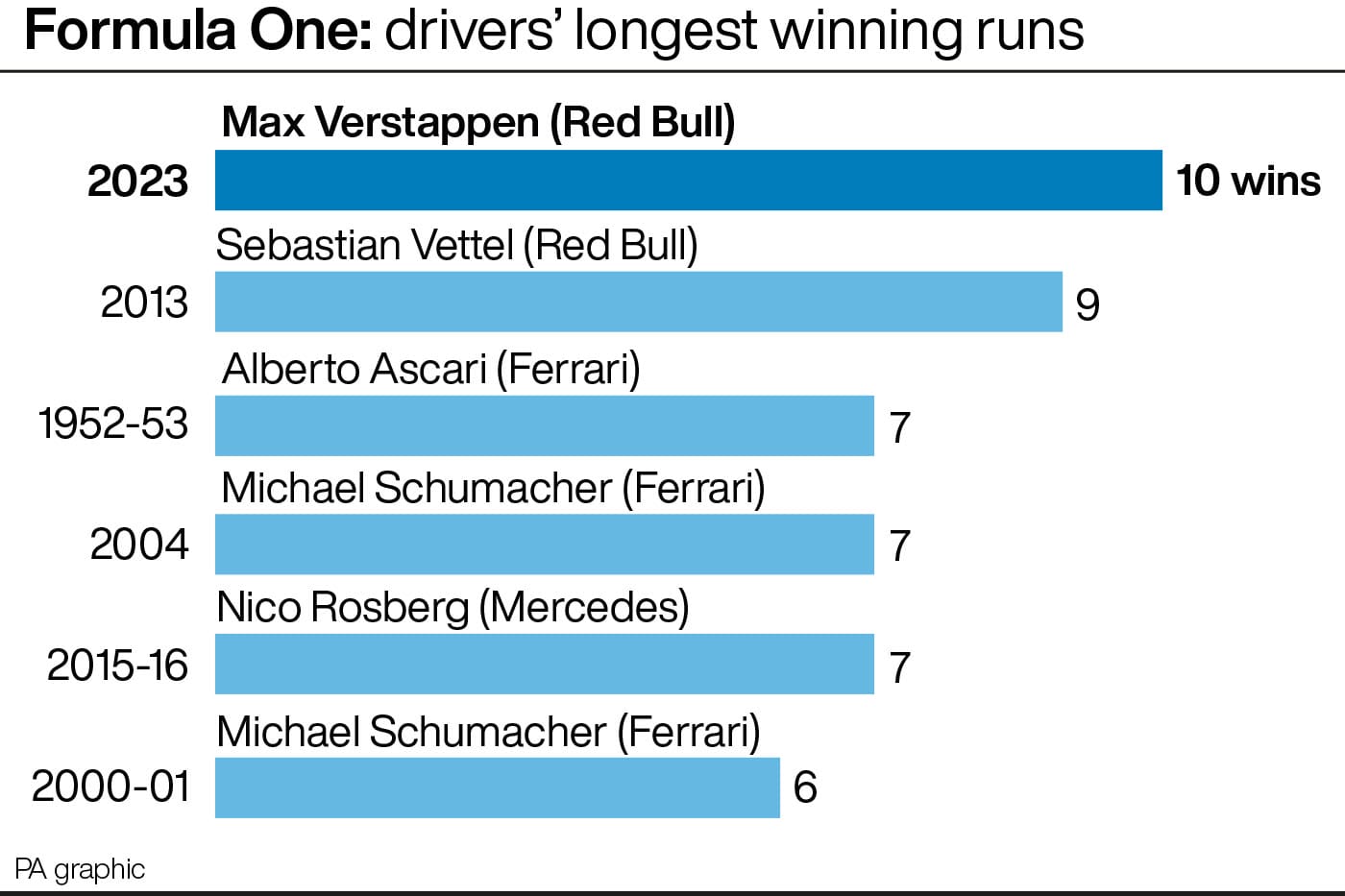 Verstappen has won 12 of this season's 14 races – with team-mate Sergio Perez taking the other two as the duo surpassed the great McLaren pairing of Ayrton Senna and Alain Prost's run of 11 straight wins in 1988.
Since Perez's win in Azerbaijan on April 30, Verstappen has won the Miami, Monaco, Spanish, Canadian, Austrian, British, Hungarian, Belgian, Dutch and now Italian Grands Prix.
He won from ninth on the grid in Florida, passing Perez with nine laps to go, and his team judged the rain correctly to hold off Aston Martin's Fernando Alonso in Monaco.
Dominant wins in Spain and Canada brought him level with Senna's career tally of 41 race wins, which he quickly overhauled in Austria.
Victory at Silverstone took him 99 points clear in the drivers' standings and he shot past pole-sitter Lewis Hamilton on the run to the first corner in Hungary before clinching Red Bull the record for consecutive team wins.
His attention could then turn to the individual landmark and after surging through from sixth on the grid at Spa, he returned from the summer break to beat Aston Martin's Fernando Alonso in a six-lap dash to the chequered flag on home turf to match Vettel's streak, set in 2013.
Verstappen went behind enemy lines in Ferrari's backyard to fight his way past Sainz's scarlet car and become the first driver in the sport's 73-year history to win 10 consecutive races.
History repeats for Red Bull
Vettel set the record – also driving for Red Bull, for whom Adrian Newey has been in post as chief technical officer on both occasions – when he won the final nine races of 2013 to surge clear of Alonso and win the title.
His run began in Belgium, where he overtook Hamilton early on and was untroubled thereafter, before dominant wins in Italy, Singapore and Korea and a strategic success in Japan.
The German clinched the title in India and added further wins in Abu Dhabi and the United States before a season-ending success in Brazil made it nine in a row and 13 for the season.
Alberto Ascari had a claim to a share of the record, having won the last six races of the 1952 season and his first three starts of 1953. The run was interrupted by Ascari not entering the Indianapolis 500, which at the time was part of the drivers' championship and was won by American Bill Vukovich.
Michael Schumacher won seven in a row in 2004, as did Nico Rosberg at the end of 2015 and the start of his 2016 title-winning season.
Schumacher also had a run of six across the 2000 and 2001 seasons while Hamilton's longest run is five wins, as was Verstappen's before his current streak.
Verstappen is on track to be the first driver ever to win over 80 per cent of races in a season – beating Ascari's 75 per cent in 1952, when there were only eight races in total.
Join bwin today and receive up to £20 money back as a FreeBet if your first wager (3+ selections at odds of 1/2 (1.5) or greater) is a loser! Terms and conditions apply.