Max Verstappen is now as short as 1.16 in the F1 Championship winner odds after extending his lead at the top of the table at the Canadian Grand Prix.
The title holder moved 46 points clear of Sergio Perez with victory in Montreal, where his Red Bull teammate failed to finish.
Virtual safety cars led to a spate of pit stops which made the race an interesting spectacle.
However, Verstappen just had the edge late on and took the 26th win of his career – and his fifth in the last six races.
Ferrari's Carlos Sainz was fast in the closing stages but could not find a way past Verstappen and had to settle for second place.
The pair were joined on the podium by Lewis Hamilton, with the seven-time world champion taking third for Mercedes.
Hamilton's team-mate George Russell continued his record of top-five finishes all season as he took fourth ahead of Charles Leclerc, who recovered well from starting 19th.
"The last few laps were a lot of fun," commented Verstappen. "It was really exciting at the end.
"I was giving it everything I had. Of course, Carlos was doing the same and Ferrari were very quick in the race.
"It was good racing. It's always more enjoyable to be able to really push in a Formula 1 car instead of just saving your tyres."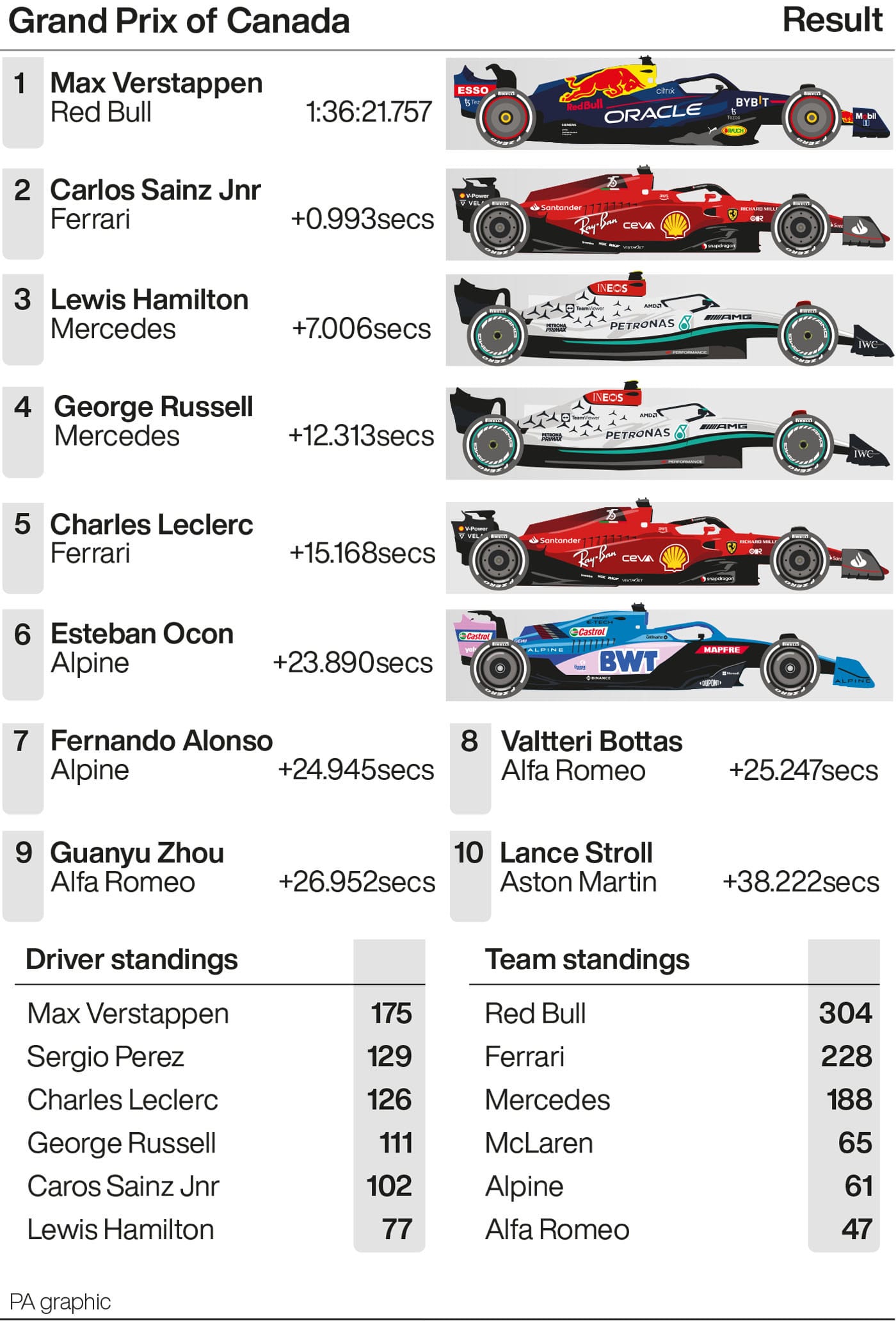 Perez remains second in the table despite his retirement but is now out to 34.0 for the title heading to the next race on the F1 calendar in Britain.
"The gearbox was at the end of its life, so we have to keep on top of these things," said the Mexican.
"The reliability is very painful and having a zero for the championship, it's also very painful, very costly.
"It's still a very long championship but this hurts a lot, I want to forget about today and move on to Silverstone. Hopefully, I can have a straighter weekend than I've had here."
Leclerc picked up a decent haul of points considering he had been handed a grid penalty for changing engines.
The Ferrari number one is now 49 adrift of Verstappen but rated his main threat at 7.0.
Verstappen added: "There's still a very long way to go. I know the gap is quite big, but I also know it can switch around very quickly.
"I mean, race three I was 46 behind, so we just need to stay calm, we need to focus and we need to improve, because today we were not the quickest."
Mercedes duo Russell and Hamilton are 64 and 98 back respectively and both can be backed at 41.0.
In the constructors' championship, Red Bull are 76 points clear at the summit and are 1.22 for the title, with second-placed Ferrari quoted at 5.0 and Mercedes 15.0 to overcome a 116 deficit.
Join bwin today and receive a 100% Deposit Bonus up to $200. Terms and conditions apply.
Drivers Championship betting Formula 1 betting