Serena Williams has reached her 27th Grand Slam final, and it is against someone still searching for their first title on such a stage. What could possibly go wrong? Plenty, as these six reasons why Garbine Muguruza is a better bet to win the French Open at 6/4 than the holder is at 4/7 highlight:
Muguruza has done it before…
These two have met on clay just once before, in the second round at Roland Garros two years ago when the Spaniard was yet to truly emerge and had limited big-match experience, yet she absolutely destroyed the top seed and defending champion 6-2 6-2.
…and has firmly established herself since
If anyone thought that result was a fluke then, the results of the past 24 months have confirmed otherwise. This is the third straight year that she has ventured to the quarter-finals or beyond at the French Open – a current streak that nobody else on the WTA Tour can rival – while this isn't even her first Grand Slam final, having been runner-up at Wimbledon last year, pushing Serena 6-4 6-4.
Losing your first two major finals isn't that common
There is only one example from the past five-and-a-half years of a women's singles star reaching the second Grand Slam final of her career having previously lost the first and being beaten again, and that was when Caroline Wozniacki followed up her 2009 US Open final defeat with another in 2014. Another player granted a second chance in that timeframe was French Open 2010 runner-up Sam Stosur in the 2011 US Open final and she took it against Serena, stunning the American 6-2 6-3.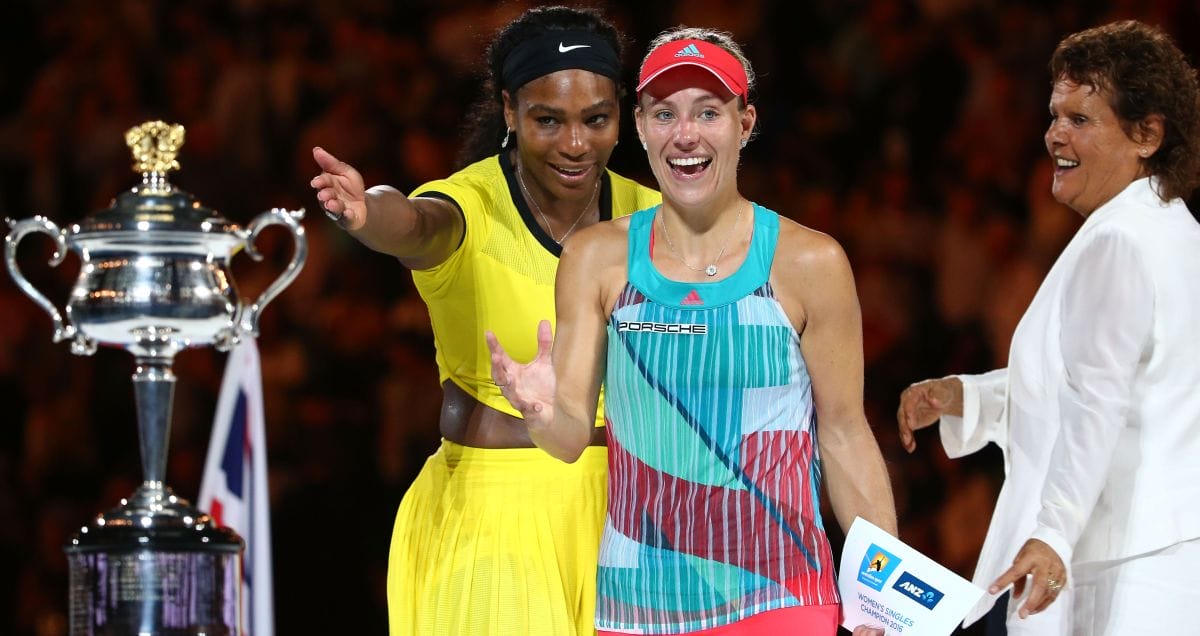 Serena has lost her latter-round invincibility
It used to be the case that complacency was Serena's sole obstacle, and that provided she got to the quarter-finals of a Grand Slam, she would win it. Between the 2013 French Open and last year's Wimbledon, there were four times that she was eliminated in the fourth round or earlier. The six times she wasn't, she took the title.
That record crumbled in the latest two Slams though, and it could be argued that being taken to the limit by Muguruza at SW19 last summer was the turning point. She went on to lose to unseeded Roberta Vinci in the US Open semi-finals when two matches shy of the Grand Slam – bossing all four majors in a calendar year – and was then shocked by Angelique Kerber in the Australian Open final.
Muguruza is the woman in form
The most important factor of all, and a situation that the favourite isn't used to dealing with, is that her opponent has actually outperformed her at this tournament, prevailing in 12 straight sets and surrendering a mere 14 games across the quarter-finals and semi-finals.
By contrast, the 34-year-old legend of the sport conceded 22, dropping the first set against Yulia Putintseva and needing a tie-break and a 6-4 second set against Kiki Bertens. Both of those players who rattled the 21-time Grand Slam singles champion were unseeded too, so this clash with the fourth seed demands a significant improvement that may prove unfeasible in the space of a day.
The bête noire factor
Just in case five reasons aren't enough for you, here is one more thing to consider: the French Open is the Grand Slam that Serena has won fewer than any other – half as often as the other three in fact, with three triumphs in 14 appearances. But she was victorious last year? Sure, but it is also the sole Slam that she has never successfully defended, and her previous reign was halted by Muguruza.