We've analysed every match since the start of the year to highlight each team's most interesting fixtures in today's evening tournament for our Liga Pro predictions.
For an explanation of the Liga Pro, we have created a betting guide here.
Ez1d 11
Ez1d 11 are the narrow favourites to win this tournament according to our performance index, which rates every team based on their long-term record and factors in the strength of their opponents.
With a superior head-to-head record over three of today's opponents in their last 10 meetings, Ez1d will be disappointed not to make the final.
The only team here they didn't defeat at the most recent time of asking are forZe, but three victories from their last six encounters means that even this game is winnable.
One team unlikely to offer much resistance is iNACTIVEtv, who have lost six of their last seven matches against Ez1d, conceding 24 goals in the process.
Pele Warriors
The other likely finalist today, Pele Warriors haven't fared too well against Ez1d lately but have dealt with the other three teams comfortably.
Four wins in a row against Dimonchello and three victories from their last four meetings with forZe are convincing, while iNACTIVEtv have only gotten the better of Warriors once in their last eight attempts.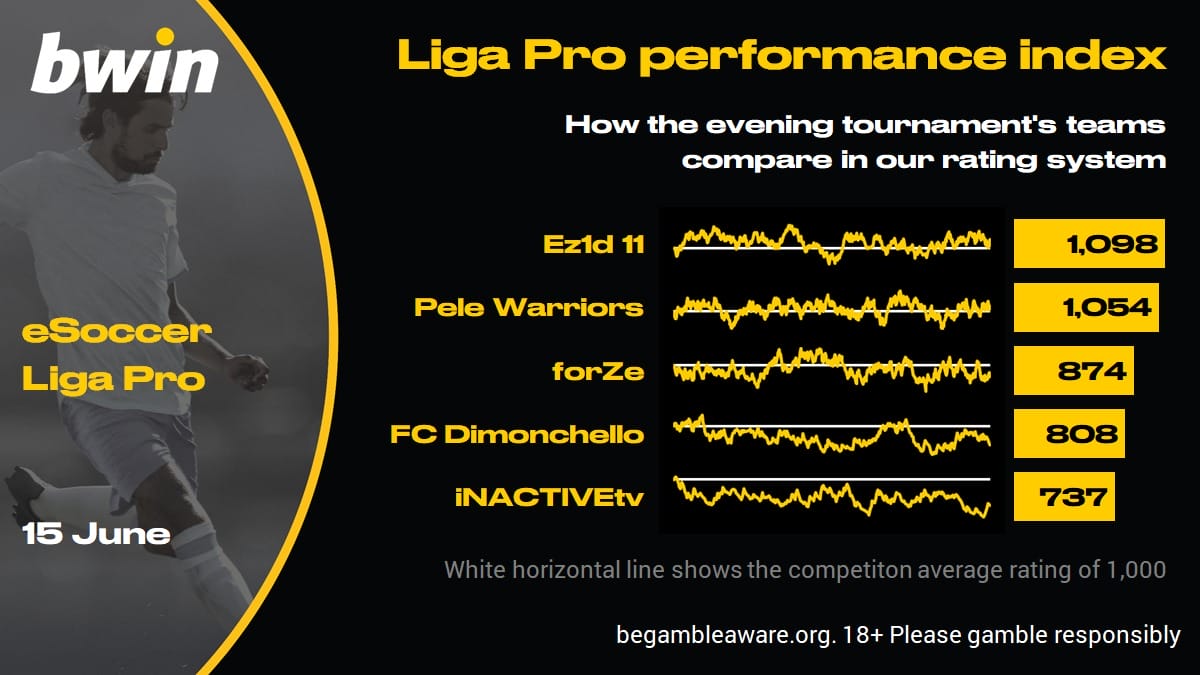 forZe
While four of forZe's last five games against iNACTIVEtv have gone their way, it's hard to be optimistic about their prospects as only one of their last five against Pele Warriors and Dimonchello ended in a win.
Their group game against Dimonchello could be a cracker, however, with an eye-watering average of 5.4 goals scored in their last 10 encounters.
Their last three meetings have ended with massive scorelines of 3-5, 3-5 and 4-5.
FC Dimonchello
Dimonchello are another team whose recent performances don't inspire much optimism but offer interesting angles.
Their high-scoring rivalry with forZe has seen both teams score in every one of their last 10 meetings and the same is true for their previous 10 matches against iNACTIVEtv, which have seen an average of five goals scored in total.
iNACTIVEtv
While things haven't gone as badly as usual for iNACTIVEtv lately, getting out of the group would still be an achievement this evening.
They have an inferior head-to-head record against all four of their opponents across their last 10 meetings and lost to three of them in their most recent encounter.
As the exception, Pele Warriors could find themselves frustrated today as their meetings with iNACTIVEtv have tended to be low-scoring affairs.
Five of their last 10 have seen fewer than three goals scored, including two goalless draws in their last six.
Join bwin today and receive up to £10 money back as a FreeBet if your first wager at odds of 1/1 (2.0) or greater is a loser! Terms and conditions apply.