If Swansea were Southampton, this summer would be a different story.
If Swansea were Southampton, they'd be fielding plenty of enquiries for their overachieving squad. If Swansea were Southampton, a new manager would be in the dugout by now. But Swansea aren't Southampton, and there is no rebuilding to be done.
For some reason, nobody in the Premier League wants any of the south Welsh club's squad, nor their manager. That's despite both parties combining to deliver their record top-flight points haul and their highest finish.
When that happened for the Saints, both in the 2013/14 campaign and last term, they were pilfered for players by the league's leading lights, while their manager Mauricio Pochettino, who engineered the first success, was poached by Tottenham.
Of course, nobody connected to the Liberty Stadium outfit will mind their club's unpopularity in the transfer market. The only player of note the Swans have had to replace in the last two seasons is Wilfried Bony and even then they were significantly remunerated enough to be able to bring in two new faces up front.
Aside from Manchester City's purchase of the Ivorian goal getter, few of the remaining Swans are even linked with bigger clubs, let alone the subject of bids.
Perhaps it is that Swansea tend to reinvigorate a player's career after a sorry spell at another club, rather than build them from the ground up like Southampton, that puts potential suitors off.
Jonjo Shelvey, Gylfi Sigurdsson and Lukasz Fabianski all shone for the Welsh outfit in 2014/15, but all had to move to the Liberty Stadium after failing at Liverpool, Tottenham and Arsenal respectively.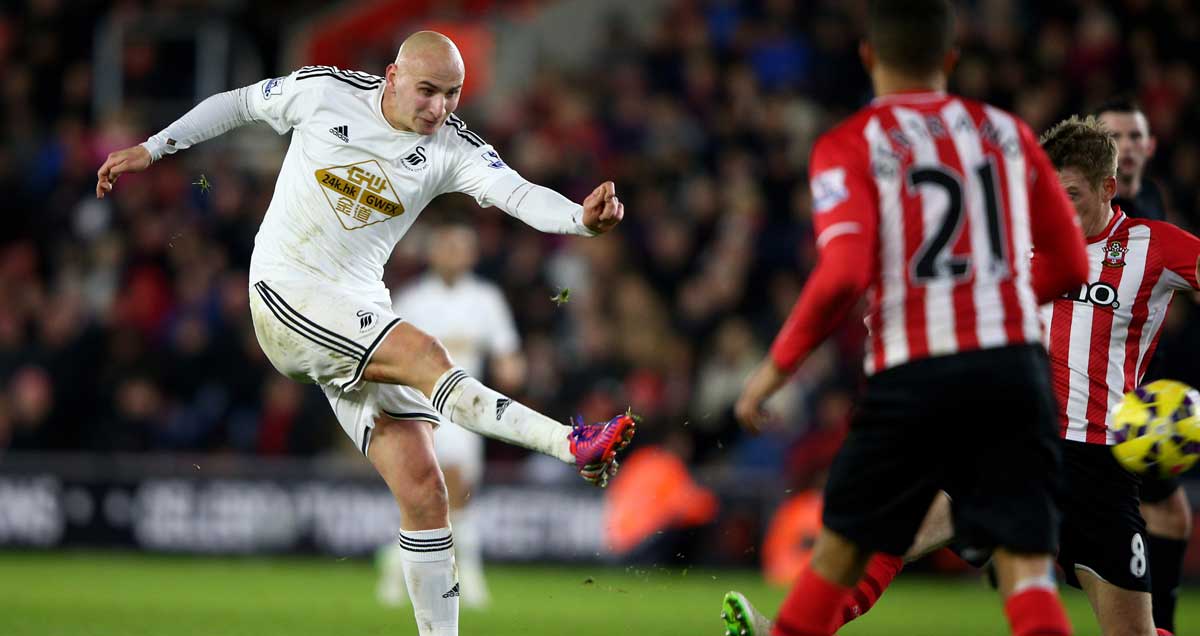 Not all of Swansea's squad are on a career-rebuild though. Ki Sung-yeung played for Celtic before his stint at Swansea (with a loan spell at Sunderland in between) and has shone for some time in the Premier League, yet cannot seem to muscle his way in to Arsenal, Spurs or Liverpool rumours.
Ashley Williams has proven to be a capable top-flight defender during his time leading Swansea and, in fairness, did find himself linked to the Gunners a year ago.
The Wales international has sunk from a potential Champions League centre-back last season, to Crystal Palace's chief target in the current window however, despite showing no signs of a dip in form.
In order to ward the Eagles off their skipper, Swansea placed a £25m price tag on his head which should be enough to do the trick. And that's the thing about Huw Jenkins' club, it is supremely well run.
In the same way that Southampton made sure they drew every last drop of blood from Liverpool each time they returned to prise away their stars, Jenkins will ensure the big boys pay a premium to weaken their squad.
Williams' £25m price tag proves that, as does £28m received for Bony. But while the lack of interest in their players and manager may be seen by some as an insult, considering the job their doing, you won't hear any complaints coming out of the Liberty.
With their continuity in no danger, Garry Monk's men are 14/1 for a top six finish with bwin.com.