How seriously should the potential of Everton be regarded following Iranian businessman Farhad Moshiri's 49.9% investment in February? Very, judging by the state of their next manager market.
Despite finishing in the bottom half in 2014/15 and 2015/16, their vacancy is perceived to be so attractive that among the top six in the betting are two Premier League winners – Manuel Pellegrini at 7/2 and Roberto Mancini at 12/1 – the guy who has steered Southampton towards Europe in successive seasons – Ronald Koeman at 8/1 – and four-time Eredivisie winner Frank de Boer at 9/4.
The current joint-favourite is arguably the most decorated of the lot, with three-time Europa League champion Unai Emery, who has been heavily linked with giants of European football like Real Madrid and AC Milan in the past, joining De Boer as a 9/4 market leader.
It's hard to imagine many Evertonians objecting. This is a guy who led Valencia to three straight third-place finishes at the start of this decade – as opposed to one in four years before his arrival and none in three since – before restoring Sevilla to La Liga's top five while excelling on the continent.
However, four of the other coaches to lift the UEFA Cup or Europa League with a non-Premier League club over the decade have ended up in England and none have them lasted very long.
The most memorable example, and indeed the most spectacular failure, was that of the other tactician to guide Sevilla to multiple European triumphs, Juande Ramos. The Spaniard clung on for less than a year at Tottenham, as a stint that began encouragingly with League Cup success concluded with Spurs bottom of the Premier League on two points after eight games.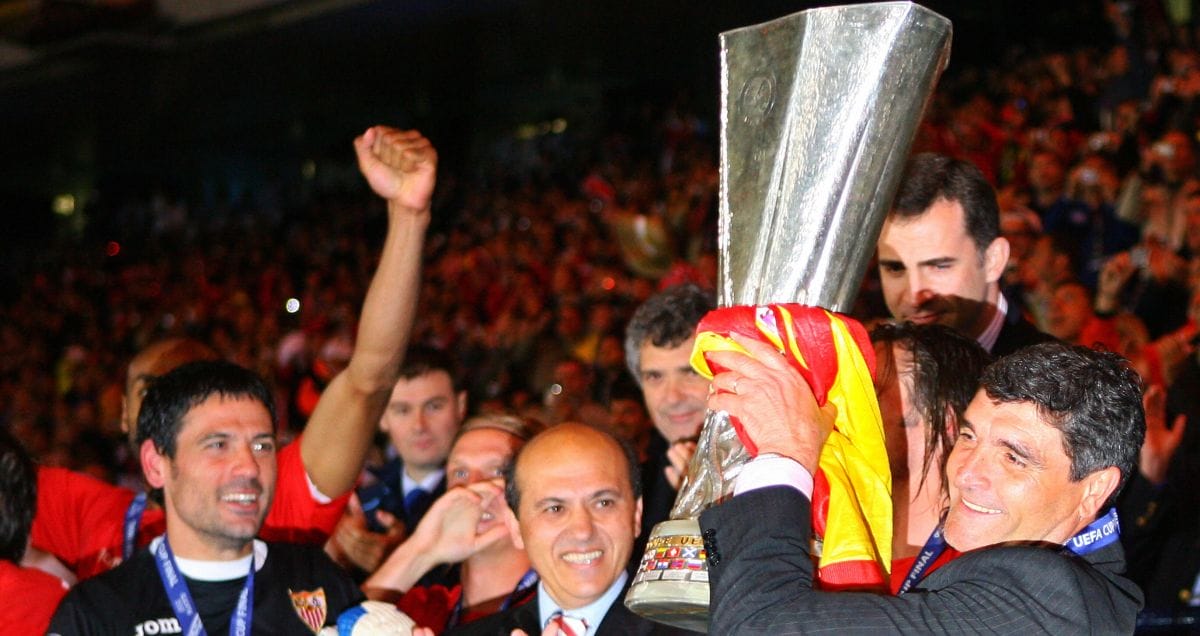 Dick Advocaat, a victor with Zenit St Petersburg in 2008, endured just 17 Premier League matches at Sunderland – prevailing in a mere three – in continuing their pattern of narrowly avoiding relegation and then re-entering the drop zone the following autumn last year.
Andre Villas-Boas, for whom the Europa League was the crowning accolade of a treble at Porto in 2010/11, became the second shortest-serving full-time boss of the Roman Abramovich era at Chelsea the next campaign, being axed in early March, and didn't survive much longer at Tottenham – less than 18 months.
Then there was Quique Sanchez Flores, Atletico Madrid's dugout patroller in 2010, who was a hit at Watford in terms of league performance (13th place after promotion), cup progress (FA Cup semi-finalists) and popularity, but not for longevity, being ditched in favour of Walter Mazzarri at the close of his debut term.
It certainly isn't the worst ensemble of managerial minds in Premier League history, as all four achieved something of note – Ramos won a trophy, Advocaat kept Sunderland up, AVB oversaw Spurs' best Premier League points finish and Flores was the first Watford coach to resist relegation from the top tier since the 1980s.
Yet none of them possessed any staying power, with their average maiden Premier League reign lasting ten months, hinting that Emery might not be Everton's man for the long term.